Biblical Self-Esteem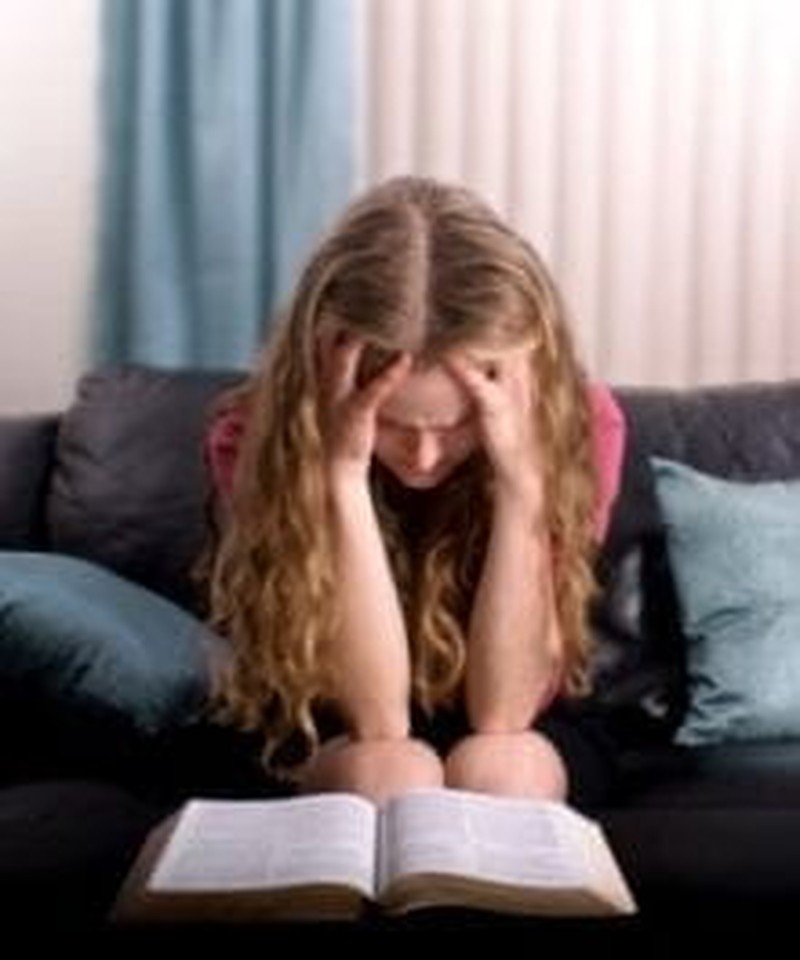 A friend comes to you in tears. She has had a rough week, and everything seems to have climaxed as she pours out her emotions on your shoulder and seeks your support and encouragement.
"Nobody likes me," she sobs. "I'm too shy. Whenever I'm around other people, nobody even notices me. I'm too much of an introvert and will never be popular. My self-esteem is non-existent."
How do we, as Christian women, help a friend at a time like this? What is at the root of her problem?
Would it be in her best interest for us to try to boost her view of herself? Would we be doing our friend a service to make her feel better about herself for the time being, or would that only be a temporary plaster that would inevitably come off in a day or two?
Let's be honest, most of us have experienced a similar situation, haven't we? If not with a friend, perhaps we've even had similar thoughts and feelings ourselves.
I know I've had days when I haven't received a single e-mail or text message on my phone, and the temptation is there to mope about it and think to myself, "Nobody is thinking about me today." But is it really about me?
Sugar-sprinkled egos
Sadly, even in Christian circles recently, the pattern has been to focus on self rather than God, even if it is in subtle, sometimes unnoticeable ways.
But where does this notion come from? Is it a biblical mandate, that we should sprinkle sugar on top of each other's egos?
In actual fact, the term 'self-esteem' only became popular as a result of the rise of psychology in the 1960's. Now it's a household term. Schools have entire curriculums based around the so-called importance of thinking highly of oneself.
But even in the church, we have fallen for the scam. After all, don't we all long to be built up, to be admired, to be made to feel worthy?
What's your status?
Take Facebook, for example. Facebook is fantastic, I love it - but it has its pros and cons. It's an amazing way to stay in touch, to see photos, to encourage one another.
But isn't there always the temptation to update our status in a way that will draw attention to ourselves? We want to be loved, to be noticed, to be liked.
We post about how miserable we're feeling, either physically or emotionally, so that people will feel sorry for us and make us feel better about ourselves through public gushing. We post about how terrible our day has been so that our 'friends' will build us up and tell us that tomorrow will be better.
I know I've done it. I can't tell you how many times I've waited for my husband to come home from work so I could nudge him to notice my hard work and accomplishments of the day.
As a family of five, our dirty laundry basket is almost never empty. So on the rare occasion that I actually do conquer the mountain of smelly socks and grass-stained pants, I want to be sure that he notices, so he can say, "Wow, well done!" (Okay, I'll admit that there may have been one occasion where I even posted my accomplishment on Facebook.) But why? So people will commend me? So I can get an emotional pat on the back? In truth, yes. I want to feel like I'm doing my job as a stay-at-home mom well, that my efforts actually pay off and don't go unnoticed.
But is that really what I need? Do I need to feel better about myself? How much do I rely on the comments and approval of others to boost my self-esteem?
Is our view of ourselves determined by the way the world sees us, or do we look at ourselves through the lenses of God Himself, according to the truths of His Word?
A biblical image of self
Every time we say or think to ourselves, "I'm not pretty enough. I'm not smart enough. I'm not skinny enough. I'm not funny enough. I'm not successful enough," we are denying that we are fearfully and wonderfully made (Psalm 139:14). We are disapproving of the Creator Himself. Who are we, as mere clay, to argue with the potter?
We mustn't forget that we were created by God, in His image. He knew exactly what He was doing when He knit us together in our mother's womb (Psalm 139:13); He didn't make a mistake in the way that He uniquely designed and formed each one of us.
But as much as we should remember our worth in God's eyes, we shouldn't neglect what's inside – we are fallen, wretched sinners, desperately in need of God's grace and mercy every hour of every day (Romans 3:23). We are completely incapable of doing anything good whatsoever, apart from the enabling of His Holy Spirit (Romans 3:10-12).
Sufficient grace
In society today, the norm is to boast about our strengths, not our weaknesses. Take arm wrestling, for example. Whenever my husband poses an arm-wrestling challenge to one of our kids, all three of them pile onto the table to be part of the action. But at the end of the match, who is boasting? Not the one who lost, that's for sure. It's against our nature to boast about our weakness. No, we take every opportunity to boast about our strength.
But again, is this what we are taught to do in Scripture?
In the book of 2 Corinthians, Paul writes about how the Lord gave him a thorn in his flesh to keep him from becoming conceited. Paul asked God three times to remove the thorn, but instead the Lord said to him, "My grace is sufficient for you, for my power is made perfect in weakness" (2 Corinthians 12:7-9).
Notice the reason given for the provision of the thorn. Could it be that the Lord gives us weaknesses to keep us from becoming conceited?
Paul went on to write, "Therefore I will boast all the more gladly about my weaknesses, so that Christ's power may rest on me. That is why, for Christ's sake, I delight in weaknesses, in insults, in hardships, in persecutions, in difficulties. For when I am weak, then I am strong" (2 Corinthians 12:9-10).
How often do we boast about our own weaknesses?
I know a couple that is very good at this. They are quick to admit their own faults, their weaknesses, their fallibility. They are quick to admit their need for grace on a daily basis. They don't mope around like Eeyore from Winnie-the Pooh, but they do consistently speak of their need for the Lord and His help.
Like this couple, instead of elevating ourselves, we should be elevating the only one to whom glory and praise is due.
A healthy God-esteem
The Bible is full of examples of men and women who thought they were 'nobodies' – in this day and age, we might be tempted to say they suffered from a low self-esteem.
Take Moses, for example. When the Lord appeared to him in the burning bush, Moses formulated a series of questions and objections. Finally, he admits the root of his fear: "I have never been eloquent, neither in the past nor since you have spoken to your servant. I am slow of speech and tongue."
How does God respond to Moses' low view of himself? Does he lavish on the compliments and tell Moses he is wrong to think such things? Does he point out all of Moses' positive qualities to overshadow the negative?
No. Instead, He points to Himself and says, "Who gave human beings their mouths? Who makes them deaf or mute? Who gives them sight or makes them blind? Is it not I, the LORD?" (Exodus 3:11)
Then the Lord says to Moses, "Now go; I will help you speak and will teach you what to say" (Exodus 3:12). I will help you. Isn't that all we really need? The promise that the Lord will help us and be with us?
Consider the account of Gideon in Judges 6, when God tells Gideon to go and save the people of Israel from the hand of the Midianites.
Just like Moses, Gideon comes with an objection. "Pardon me, my lord," Gideon replied, "but how can I save Israel? My clan is the weakest in Manasseh, and I am the least in my family" (Judges 6:15).
Again the Lord's answer was the same. He did not say, "Don't worry, Gideon, it's okay that you're small and weak. You have good qualities, too." No, instead He assured Gideon with the same words He used with Moses: "I will be with you ..." (Judges 6:16). What a wonderful promise.
A plan of action
So to answer our opening question, what do we do when our friend comes to us in tears because of her low view of self? What do we do when we struggle with our own feelings of inadequacy and need for approval
According to Scripture, it is not helpful or healthy to elevate ourselves or our friends for the sake of "feeling better." Instead, we should be honest about our failings – we should boast about our weaknesses so that Christ may be exalted.
If a friend comes to you in need of an ego massage, do her a favor and don't give her one. Instead, paint her the most beautiful picture you possibly can of the glory and majesty of the One she serves. Elevate Him, not her. Help her to rest secure in His love, in His grace, in His mercy, in His presence, in His power, in His ability, in His promises…not in the need for approval from a hostile and fallen world.
This article was first published in the November/December issue of Radiant Magazine.
Portions of this article have been borrowed from a sermon preached by my husband, Kagiso Motaung, at The Message Church in Mowbray, Cape Town, in July 2012.
Kate Motaung is the wife of a South African pastor and homeschooling mom of three. She has contributed to Ungrind, Radiant Magazine, (in)Courage, StartMarriageRight.com, Thriving Family, MOPS and Young Disciple magazine. You can read more from Kate at her blog, Heading Home or on Twitter @k8motaung.
Publication date: July 2, 2013