3 Biblical Women Who Show Us What Real "Marriage Material" Looks Like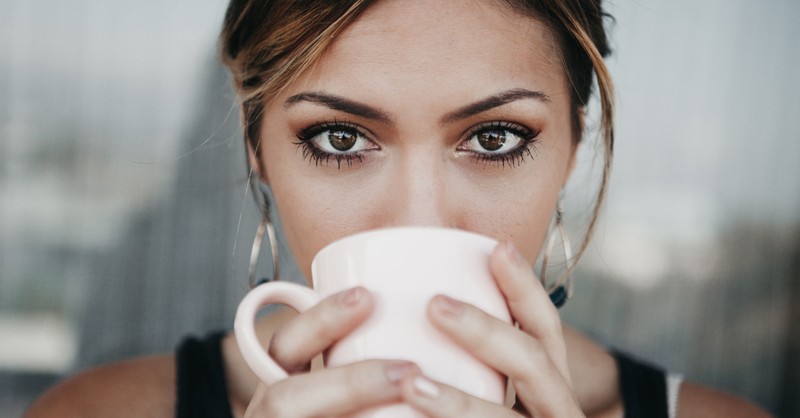 Our conversation begins in a coffee shop, where I'm sitting by the fireplace typing an article about how single women in Scripture met their future spouses. The chair next to me is empty—that one's for you. Across from us are two more seats for the other women coming, although we'll need to pull up a fifth chair as well.
Did I mention who's joining us? They're three women with stories to tell—stories which show how finding a future spouse isn't just about looking for the right person. It's about being the right person.
Through their stories, these women can mentor us to develop three traits which contribute to becoming the persons God intended us to be. All three women are from different centuries, so hearing what they have to say will take a little imagination. Wait—this must be them now!
Of the trio walking towards us, the shorter lady with the nose ring has to be Rebekah. The willowy one sporting the tiara is unmistakably Queen Esther. So, the woman with the gentle smile must be Ruth. Let's hear what they have to say.
1. Rebekah: Open Eyes
Rebekah, pulling a nearby chair into our circle, sits the other women down and hands them their tea. After the initial introductions, she leans forward to tell her story.
"Did you hear how I met my Isaac? There's a God story. One day when I still dwelt in my father's house, I was walking to the well outside the city to draw water. Coming closer, I could see a cluster of lumpy figures gathered near the well—a lone stranger and ten kneeling camels. The stranger's mouth moved like he was speaking to someone, but I couldn't hear his words. He turned and saw me, then came running near. I wondered what could be wrong, but all he asked for was a drink from my pitcher."
She smiled, remembering, and took a sip of tea.
"'I let down my pitcher and said, 'Drink, my lord.' As he drank, I looked at his camels. Surely, they needed water too. I told him, 'I will draw water for your camels also, until they have finished drinking.' He didn't say anything; just watched as I drew pitcher after pitcher for the livestock. Then he produced this nose ring, along with these bracelets, and asked, 'Whose daughter are you?'
"I learned later his master Abraham had sent him to find a bride for Abraham's son. As I'd been walking to the well, the servant was praying that God would show him Isaac's future spouse—someone who would offer to draw water for the camels."
"That IS amazing," I respond, taking notes on my laptop. "You didn't know what the stranger had just prayed, or that you were being tested. You were just naturally attentive to the needs of others. You lived with open eyes, ready to serve. All along, God was shaping you into exactly the right wife for Isaac."
When I ask Rebekah for practical tips on cultivating servant-mindedness, these are the points we come up with:
Practice keeping an eye out for needs that require meeting. Look for opportunities to make others' days brighter, or their loads lighter.
Be ready to meet needs above and beyond others' expectations, remembering you're not just serving humans, but God (Colossians 3:23).
Find likeminded people you can intentionally commit acts of kindness with, not because you're scheming to meet a romance interest, but because you're serving your First Love.
Pray for opportunities to serve. Ask God to make you sensitive to His voice, obedient to His nudge, and empowered by His loving strength as He brings those opportunities to your attention.
2. Esther: Listening Ears
As Rebekah leans back in her chair, I turn to Esther. "What about your story? Unlike Rebekah, who could choose whether to marry Isaac, you were basically kidnapped into marriage!"
"That's true. As the orphaned daughter of Hebrew captives, I lived with my Uncle Mordecai in Babylon. I'll never forget the day the palace guards took me away from him. Everyone in the kingdom knew King Ahasuerus had recently banished his queen, Vashti, and now sought a new bride. When all eligible women in the kingdom were being taken to the palace—and I along with them, Uncle Mordecai commanded me not to reveal my Hebrew heritage.
"I listened to him, even when my turn came to see the king. Before I went to Ahasuerus, I asked the haram keeper's advice regarding what to wear. He answered well, for Ahasuerus soon proclaimed me queen."
"And then Mordecai told you about some servant's plot to kill the king," I remember.
"Yes. I listened to Uncle Mordecai then—and again, when he'd found out the nobleman Haman convinced King Ahasuerus to decree a genocide of our people. Uncle Mordecai urged me to speak to the king, though I originally resisted, knowing that approaching the throne uninvited meant risking death. But at last my uncle persuaded me, encouraging me that I'd been brought to the kingdom 'for such a time as this.'"
"I can't imagine how much wisdom you must have needed for the next steps," I mused, "as you urged others to pray, approached the king, invited him to your banquets, exposed Haman, and figured out how to reverse the king's decree. But your story reminds me of a verse I read: 'Listen to advice and accept instruction, that you may gain wisdom in the future.' (Proverbs 19:20, ESV) By spending time with Mordecai, you grew attuned to wise advice—and even sought advice from the haram keeper. Your years of living with listening ears let you become the wise wife Ahasuerus needed to prevent your people's genocide."
Together, we brainstorm practical ideas for becoming women who seek godly counsel:
Seek mentorship opportunities. Look for people who know their God—people you want to emulate—and be intentional to spend time with them, talk to them, and serve them.
Cultivate a spirit of teachability by seeking wise feedback and being open to correction.
Read Proverbs, the advice column of God's word! With 31 chapters, Proverbs contains a wealth of wise counsel for every day of the month.
Remember: you can also be mentored by some of the greatest men and women of God in history by reading their stories, whether in Scripture, biographies or autobiographies.
3. Ruth: A Faithful Heart
Throughout the conversation so far, Ruth has been listening quietly, attentively.
"How about your story?" I ask her.
Laugh-lines crinkle at the corners of her coffee-coloured eyes.
"When my first husband died," she begins, "I thought my season for marriage was over. Earthly marriage is for a season, but love is forever. Love is of God. And because of love, I could not part with my mother-in-law, Naomi. We were only two widows, and I, a foreigner. But everyday, God showed Himself faithful, providing fields to glean, grain to gather—and a husband to cherish."
"And you were faithful too," I reply. "Faithful to God, faithful to Naomi, and faithful to every task set before you—even the mundane work of gathering grain. It was that faithfulness which drew Boaz, your second husband, to you (Ruth 2:10-13). You didn't know God had another marriage in store for you. You were just being the most committed person you could in every role God called you to, out of love for Him."
As we discuss practical ways to develop a heart of faithfulness, the following ideas emerge:
Pay attention to the little things. By being faithful in little details, we end up being faithful in the bigger picture, because the 'big stuff' is so often made up of the 'little stuff.' As Jesus taught in Luke 16:10 (ESV), "One who is faithful in a very little is also faithful in much."
On the flip side, cull the little compromises. Like little foxes that destroy an entire harvest (Song of Solomon 2:15), little compromises ultimately add up. Catching these "little foxes" of compromise doesn't start when you're married, but when you're single. Then if you do marry, you, like the Proverbs 31 woman, will have been doing your husband "good and not evil, all the days of (your) life." And you'll have been faithful to your First Love.
Remember Whose you are. You're not paying attention to the little things or catching the little foxes because you want to please your (future) spouse, but because you belong to and are serving God.
Faithfulness is an intrinsic aspect of God's character (Deuteronomy 7:9). Because He is faithful, we reflect His faithfulness as His Spirit bears fruit in us (Galatians 5:22). The key to being faithful, then, is to abide in Christ (John 15:1-11).
The Key to Being the Right Person
This last point reveals the key to being the right person: walking with God. Like Rebekah, we can serve with open eyes because Jesus possesses the heart of a servant (Philippians 2:5-8). Like Esther, we can live with listening ears, attentive to advice, because God is the source of wisdom (Proverbs 2:6). And like Ruth, we can be faithful in everything because our Bridegroom is.
That doesn't mean we'll never make mistakes—even Esther, Ruth and Rebekah had their failures. (Just ask Rebecka about the goat-cooking incident in Genesis 27 if you need convincing.) But we serve a God who can redeem those mistakes and keep us from falling—all without making even one mistake of His own. Ultimately, whether single or married, we can become the right person to fulfill every role God gives us by pursuing our First Love.
Photo Credit: ©Unsplash/CandicePicard
Patricia Engler is a Christian apologetics speaker, writer and Youth Outreach Coordinator for Answers in Genesis Canada. After 12 years of homeschool and a B.Sc. degree, she backpacked 360°around the world documenting how Christian students keep their faith at university. You can follow her stories and get connected at www.patriciaengler.com or answersingenesis.org.