Furthering Christ's Ministry in a Divided World
Kathi Macias

Author, Beyond Me

2008

22 Nov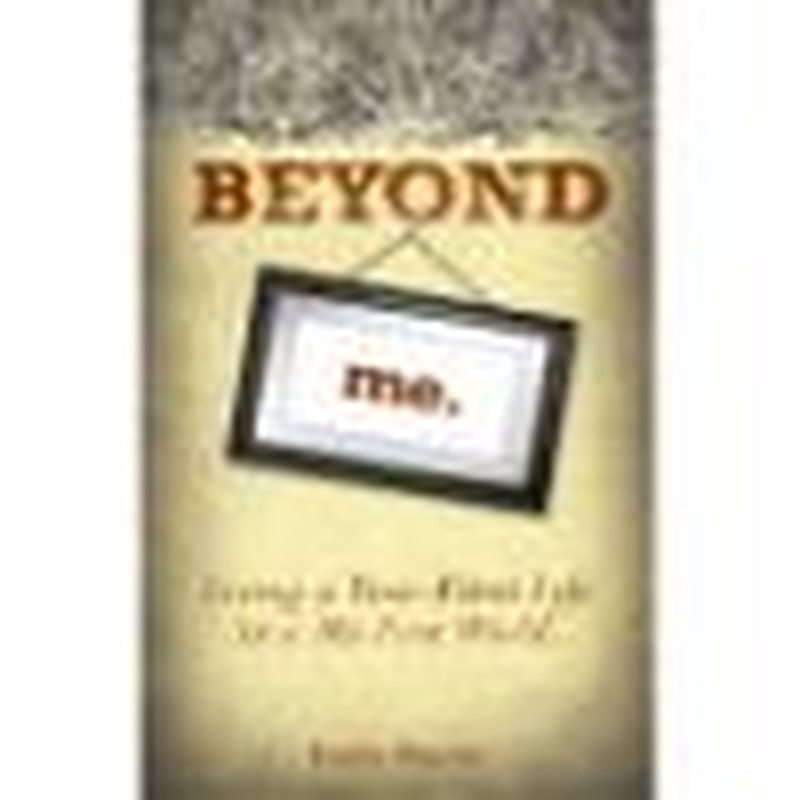 Editor's Note: This article is excerpted from Kathi Macias' book Beyond Me: Living a You-First Life in a Me-First World (New Hope Publishers, 2008). To purchase Beyond Me, click here.
"Therefore, whatever you want men to do to you, do also to them, for this is the Law and the Prophets." Matthew 7:12
Before I became a Christian, I found that one of the first questions people would ask me at a party or gathering was, "What's your sign?" They were, of course, referring to astrological signs, seeking to find out which sign I was born under so they might better understand what makes me tick. To some degree I found that interesting, but for the most part I found it annoying to be pigeonholed.

Once I came to believe in Jesus as my Savior, I began to move in somewhat different social circles, where the question was no longer "What's your sign?" but "What's your ministry?" To be perfectly honest, I found that question even more disturbing than the one that had been posed to me by unbelievers. I suppose that was because I didn't have a clue how to answer it. Yet so many others in Christendom seemed to know where they fit; why didn't I?

In seeking out the advice of more mature Christians, I was told, "Don't worry about it. God has a place for you. Just try different things, and you'll know when you find the ministry that's right for you." And so, I did just that. I spent time in the nursery and with the toddlers; I tried my hand at working with teens; I became involved with jail ministry and working with the homeless, as well as alcoholics and drug addicts; I led Bible studies and taught Sunday school and leadership training classes; I wrote devotionals, poems, short stories, and books; I even served for a while as a biblical counselor at a large southern California church. Some of these endeavors I enjoyed more than others; some seemed to produce more positive results than others; some, including writing and teaching, I continue to be involved in to this day; but none seemed to be the one and only slot with my name on it.

Why is that? Why do some people seem so confident in the knowledge that their ministry is working with children or visiting people in hospitals or singing in the choir, while others of us feel backed into a corner when someone asks, "What's your ministry?"
After many years of praying about and studying this issue, I have come to believe this uneasiness stems from ignorance regarding the ministry that has been assigned to all believers. At least, I know that was true in my case. Things began to clear up for me one day as I was reading through a familiar passage of Scripture:

For the love of Christ compels us, because we judge thus: that if One died for all, then all died; and He died for all, that those who live should live no longer for themselves, but for Him who died for them and rose again. . . . Now all things are of God, who has reconciled us to Himself through Jesus Christ, and has given us the ministry of reconciliation, that is, that God was in Christ reconciling the world to Himself, not imputing their trespasses to them, and has committed to us the word of reconciliation.
Now then, we are ambassadors for Christ, as though God were pleading through us; we implore you on Christ's behalf, be reconciled to God. (2 Corinthians 5:14–15, 18–20 emphasis added)

Did you notice those highlighted words? The ministry of reconciliation. The word of reconciliation. Be reconciled to God.

Our ministry is not simply working in the nursery or singing in the choir or visiting the sick. Our ministry is the ministry of reconciliation! Jesus was in the world, reconciling people to God, calling them out of death and into life. But now He has gone back to sit at the right hand of the Father and to await His Father's command to return for His bride. And while He is gone, what are we—His bride—to be doing with our time? We are to be continuing the ministry of reconciliation that Jesus began while He was here, calling people out of the culture of death into the assurance of eternal life. Ultimately, it remains His ministry and His work; we are simply privileged to participate in it.


Now I realize that our part in His ministry of reconciliation will manifest in different ways in each of us. For some it may very well be working in the nursery or singing in the choir or visiting the sick. For others it may be writing or teaching. But for all of us, everything we do must be centered in the ministry of reconciliation, calling people from death to life, and we must understand it is His ministry and not ours. Without that clear understanding and corresponding behavior, we will not be faithful ambassadors who are fulfilling the task that has been committed to us. Nor will we be walking in the you-first life of Christ.

All of our ministry takes place in the context of relationship. As the saying goes, there are no Lone Ranger Christians. We are a body of believers, interconnected with and interdependent on one another, so that we may fulfill Jesus' ministry of reconciliation. As we begin to understand the connection between reconciliation and relationship, we also begin to understand how God has gifted and equipped each of us individually to carry out our part in this awesome ministry that has been entrusted to us.

People who are not yet reconciled to God and to His people are, whether they realize it or not, looking for a way to connect, a way to develop and sustain healthy, fulfilling relationships. Questions like "What's your sign?" And "Haven't we met somewhere before?" are nothing more than futile, impotent attempts to do just that. And yet, those very questions can be an opportunity for us as Christians to address the searching and need in their lives. We simply have to allow ourselves to be compelled by the love of Christ to step into those openings and risk whatever results may come our way. Sadly, that's where the process most often breaks down.

Applying the Golden Rule

So how do we practically apply Jesus' ministry of reconciliation, to which we have all been called? Jesus said it this way: "Therefore, whatever you want men to do to you, do also to them, for this is the Law and the Prophets" (Matthew 7:12).

This verse, commonly known as the Golden Rule, epitomizes the kingdom law that is at the heart of all relationships. If this kingdom law were understood and put into practice, it would revolutionize society. The problem is that few have understood this law; even fewer have actually put it into practice. Of course, we can't expect those without hearts of flesh, who are not subjects of God's kingdom, to live by His rules or laws. But what about those of us who have already been tranported from the kingdom of darkness into the kingdom of God's Son (see Colossians 1:13)? How faithful are we in applying this basic kingdom law to relationships? Do we willingly and regularly place the needs and desires of others ahead of ourselves? Do we model a you-first life to a me-first world?
Maybe.
But I can't help but think that if we did, hurting people would be more likely to go to a church rather than a bar for help. If we did, unbelievers would think of us as joyful people rather than critical ones. If we did, the world would be more apt to see God as an unconditional lover rather than a judgmental, unmerciful ogre.

Author Philip Yancey, in What's So Amazing About Grace?, tells the story of a homeless prostitute in such dire straits that she couldn't even feed her two-year-old daughter. When asked why she didn't go to a church for help she answered, "Why would I ever go there? I was already feeling terrible about myself. They'd just make me feel worse."

Yancey then goes on to write:

What struck me about my friend's story is that women much like this prostitute fled toward Jesus, not away from him. The worse a person felt about herself, the more likely she saw Jesus as a refuge. Has the church lost that gift? Evidently the down-and-out, who flocked to Jesus when he lived on earth, no longer feel welcome among his followers. What has happened?

Yancey's contention is that we have ceased to be amazed by grace, that we take for granted God's incredible and costly gift of grace that purchased our pardon from hell. Thus we fail to extend that grace to those who need it most.

Yancey explains it this way in the book:

The world thirsts for grace in ways it does not even recognize. . . . Some of us seem so anxious about avoiding hell that we forget to celebrate our journey toward heaven. Others of us, rightly concerned about issues in a modern "culture war," neglect the church's mission as a haven of grace in this world of ungrace.

Now I'm not saying that if we suddenly begin extending grace to everyone we meet that they will all fall on their knees and accept Christ. Some people will always reject our message and actively persecute us for it, regardless of our actions. But, if we acted more like Christ, then it would certainly give them less justification to brand us as hypocrites, and a lot more incentive to consider the truth of the gospel.

Fulfilling the Golden Rule is loving our neighbors as ourselves, always keeping in mind that our neighbors include even those who are considered the least in our society. Fulfilling the Golden Rule is as simple—and as difficult—as responding with kindness to someone who is antagonistic toward us, realizing that kindness rather than hurt is what we would like to receive ourselves. It is treating with dignity the one who has sunk to such depths of depravity that virtually all vestiges of the image of God have faded from his being. It is taking the chance to once again reach out with generosity to the one who bit our hand the last time we offered it in love.

Above all, it is the humble realization that we do not have the capacity to do any of these things in our own strength. We have to put God first. Only He can empower us to live above and beyond our own fallen, sinful, me-first nature. And He has done that through His substitutionary death and resurrection and the subsequent sending of His Spirit to live within us. It is that Spirit—the same Spirit who "raised Jesus from the dead"
(Romans 8:11)—who is more than sufficient to enable us to model a selfless, you-first life to a desperate and dying world.

The Story of Mark

Years ago I was working on a writing project about homosexuality and AIDS, and how the church should respond. My focus was a call to unconditional love without condoning sinful behavior. However, that call didn't become real for me until I began to work with a young man named Mark, a homosexual activist with AIDS.


Though he agreed to work with me on the project so I could more clearly understand and explain his position, he also told me from the outset that he hated people like me (Christians) and blamed us for all his problems. He also made me promise I wouldn't "preach at him" during the time we worked together on the project.

I honored my promise, and though it was a rocky relationship, we grew close during the months we worked together. I never preached at him, but he read every chapter, every page, every word of the manuscript, including the Scriptures interspersed throughout. One day, only a couple of weeks after the project was completed, Mark called me and said, "Kathi, do you really believe all that Jesus stuff you wrote about in the book?" I assured him I did, and then he said, "OK, you've got five minutes to tell me why I shouldn't kill myself right now."
It took much longer than five minutes, but by the time we concluded our conversation, Mark had prayed to receive Jesus as His Savior. Two weeks later, he died, but not before calling me one last time, just two days before his death. "Kathi," he said, struggling to breathe, "I'm so tired. I can't wait to go home and see Jesus."
For months I had bit my tongue, forcing myself to remain silent when I wanted so much to preach the gospel to that young man. It wasn't easy, but God's Spirit was speaking to Mark's heart, even when I couldn't. And He was speaking to my heart as well. Where once I would have focused on Mark's behavior and his need for repentance, I learned to focus on loving him instead, on putting his feelings above my own, even when he made snide and sarcastic remarks about my faith. In the end, I realized I had been privileged to partner with God in the ministry of reconciliation, and I now rejoice to know that I will one day see that precious young man again.
Before concluding this chapter, let me clarify one point. Living a you-first life does not mean that we refuse to actively stand for righteousness, or that we accept sin and neglect to lovingly point people in the right direction. We cannot ignore the evil around us. However, we must remember Paul's words to the Ephesians: we don't wrestle with flesh and blood; rather our battle is against unseen forces of wickedness (see 6:12).
No matter how rude, obnoxious, or hateful those who want to be our enemies may seem, we must treat them with love. They may be blinded, deceived individuals, but their souls are precious to our Lord, as I learned so clearly in my relationship with Mark. And so, we fight for them, not against them, and we do it on our knees, because "the weapons of our warfare are not carnal but mighty in God for pulling down strongholds" (2 Corinthians 10:4).
By overcoming evil with good and by fighting for others in prayer rather than against them in the flesh, we model a you-first life in a me-first world. We will be doing unto others what we would have them do to us. And people will recognize there's something different about us, something in absolute contrast to the dying, me-first world around them. Sadly, many will choose to remain in that dying world. But others will respond by choosing life, joining us in the privileged ministry of reconciliation to which our Lord has called us—regardless of the cost.


---
This article is an adapted excerpt from Kathy Macias' book, Beyond Me: Living a You-First Life in a Me-First World (New Hope Publishers, 2008.) Used with permission. All rights reserved.
---
Kathi Macias, popular speaker and prolific author, is an Angel-award winning writer who has published twenty-one books and hundreds of articles. Whether keyboarding her latest book, keynoting a conference, or riding on the back of her husband's Harley, Kathi "Easy Writer" Macias is a lady on a mission to communicate God's vision. Her insightful words—filled with passion, humor, and soul nourishment—refresh audiences from all walks of life, and her Spanish devotionals, "Desde el Corazon del Padre," (with English translations) can be found on Crosswalk.com each Monday. Her latest book, BEYOND ME: LIVING A YOU-FIRST LIFE IN A ME-FIRST WORLD, named "top pick" in the Christian Living category by Christian Retailing magazine, released July 1, 2008, from New Hope Publishers. It's available at bookstores nationwide, as well as at online bookstores and on Kathi's website, www.kathimacias.com.