How to Be There for a Friend Who Has Miscarried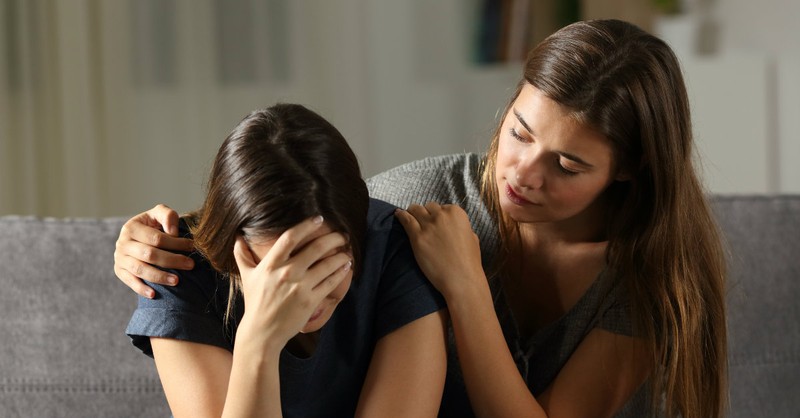 Just like becoming a widow or countless other heartaches, having a miscarriage grants you instant admission into a secret club. It is a club, of course, that no one wants to join, and it's one with a lifetime membership. It's a club I found myself in unwillingly after finding out about Alex.
I found out about Alex one hot July evening, but something was different about this pregnancy. I knew it but I didn't know what it was. I was so excited to have conceived without medical intervention. She was wanted and so loved. But then when we went in for a routine ultrasound, she was no more. They couldn't find a heartbeat.
But here's the surprising part, miscarriage is extremely common. 15 to 20 percent of pregnancies end in miscarriage. So for a short time, she connected with that child, and dreamed of a future. But instead of being able to watch this child toddle outside of her body, the child is no more.
This means one in four babies that took up residence in their mother's womb never got to be known or held. Women may go through feelings of anger and depression in the grief process before finally being able to accept what happened.
What Not to Say to Someone Who Suffered a Miscarriage
After my miscarriage, I never expected to feel isolated. I didn't expect other moms to avoid eye contact. And I certainly didn't expect well-meaning Christians to say:
You have three kids, this is God's way of saying you have enough.
Be thankful you even have kids.
It's God's will.
It wasn't meant to be.
Your baby must have had a disability that would have prevented it from living anyway.
God doesn't give you more than you can handle.
God just wanted this angel with Him.
At least you know you can get pregnant.
At least you can try again.
It was so early, at least you hadn't felt it move yet. That would have been a much more painful loss.
It's important to provide comfort but it's in how we deliver that comfort. Jesus understood grief, especially when His friend Lazarus had died.
Jesus didn't say any of these things like, "At least you have your sister," or "It just wasn't meant to be," when Mary and Martha were weeping over their brother. In fact, Jesus never trivialized anyone's grief. He did the opposite. He stood in their grief with them.
Remember your friend wanted this baby and is mourning this baby. Strangely enough comfort for my loss came in the form of a text message from my Dad. He also texted a Bible verse, "A voice is heard in Ramah, weeping and great mourning, Rachel weeping for her children, and refusing to be comforted, because they are no more," (Matthew 2:18 and Jeremiah 31:15).
My Dad captured provided comfort in helping me grieve. And honestly, it's all any of us. So how do we support friends, co-workers, and family who suffer a miscarriage?
How to Support a Friend Who's Miscarried
With Jesus' example in John 11:35, we follow His lead. He wept. He wept bitterly when He learned His friend Lazarus had died. But He was troubled over Mary and Martha's suffering and grief. In John 11:33, we find, "When Jesus saw her weeping, and the Jews who had come along with her also weeping, he was deeply moved in spirit and troubled."
We read further in John 11:35–38 that Jesus was weeping and still groaning within Himself, this time in response to death itself and the disbelief of the people.
Romans 12:15 puts it best, "Rejoice with those who rejoice, weep with those who weep." If someone you loved has experienced a miscarriage, here are the following suggestions to provide true, genuine comfort.
The Most Meaningful Thing to Say When Someone Has a Miscarriage
Before you try to find the words, pray and ask God for wisdom. Ask Him to comfort for your friend. Then try to put yourself in her shoes and truly consider all of the emotions she might be feeling.
If you don't know what to say, it's actually the most comforting thing we can say. In fact, your presence often speaks louder than words. When I learned my friend miscarried, I brought dinner for her family so she wouldn't have to cook or clean that night. And instead of saying I'm sorry, I showed up on her doorstep and said, "I'm here."
Sometimes in just saying I'm here, you're giving so much more comfort than when you're talking.
Jesus didn't mince words because there is beauty in simplicity and His presence. There is beauty in your presence and there is so much beauty in actions. Bring a meal, give her a hug, weep with her.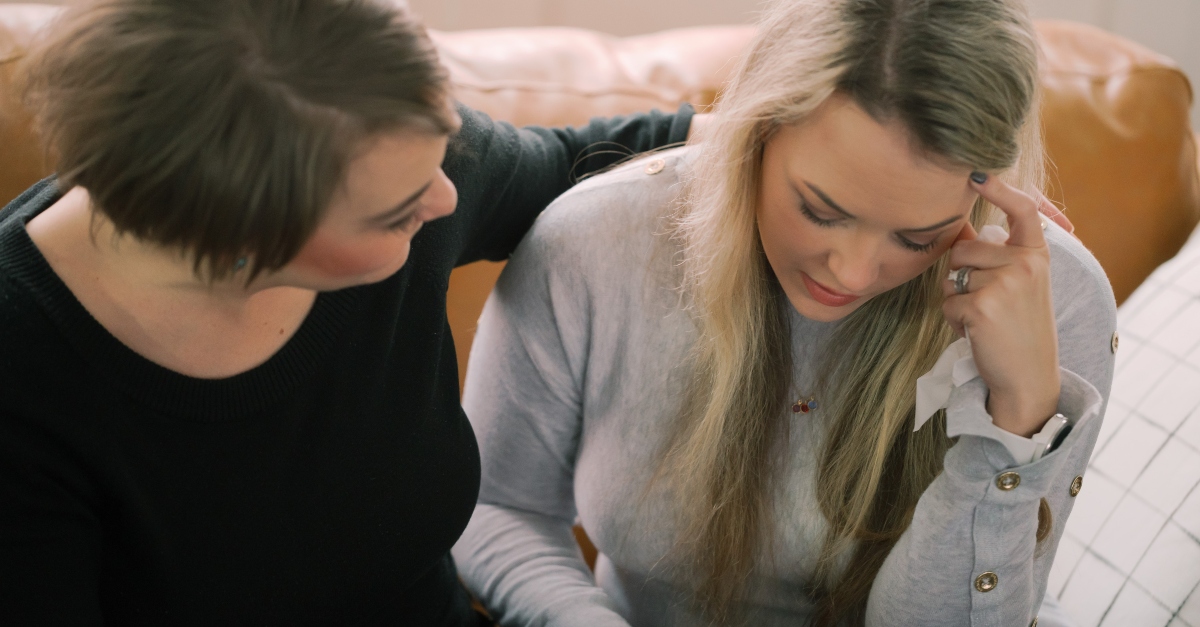 Photo Credit: ©Sparrowstock
What Can You Say to Someone Who Has Miscarried?
I'm sorry to hear the news.
This baby was wanted and loved.
I'm not sure what to say or do, but I am here and I am so sorry.
Let me pray for you.
I'm here if you need to talk.
It's vital not to ask, "how far along were you." This question trivializes all of her hopes and dreams that she is currently grieving for this child.
7 Comforting Bible Verses When a Friend Miscarries.
Your friend may need space as she goes through the grief process. But there are several Bible verses you can include as words of comfort to pen in a note, text, or card.
Psalm 34:18 "The LORD is close to the brokenhearted; he rescues those whose spirits are crushed."
Psalm 56:8 "You keep track of all my sorrows. You have collected all my tears in your bottle. You have recorded each one in your book."
John 16:33 "I have told you these things, so that in me you may have peace. In this world you will have trouble. But take heart! I have overcome the world."
Psalm 139:13-16 "For You formed my inward parts; You wove me in my mother's womb. I will give thanks to You, for I am fearfully and wonderfully made; Wonderful are your works, And my soul knows it very well. My frame was not hidden from You, When I was made in secret, And skillfully wrought in the depths of the earth; Your eyes have seen my unformed substance; And in Your book were all written The days that were ordained for me, When as yet there was not one of them."
Matthew 11:28-29 "Come to Me, all who are weary and heavy-laden, and I will give you rest. Take My yoke upon you and learn from Me, for I am gentle and humble in heart, and you will find rest for your souls."
1 Peter 5:10 "And the God of all grace, who called you to his eternal glory in Christ, after you have suffered a little while, will himself restore you and make you strong, firm and steadfast."
1 Peter 5:7 "Give all your worries and cares to God, for he cares about you."
What to Say When Your Friend Miscarries While You're Pregnant
This is a tough position to be in. Your friend lost her baby and you're belly is growing by the day. On one hand you want to supportive, but you don't want your pregnancy to be rubbed in her face. It's normal to be confused about this situation.
But your friend isn't asking you to read her mind. It's best to be honest. Ask her what she needs. If she needs distance—that's okay. She is grieving the loss of her child. So, let her have her space for awhile but don't let the distance go on forever. It can be hard on her to come out of her grief and get back into life 'socially' and it may have nothing to do with you.
She may be afraid that you're actually afraid of being around her as you continue your pregnancy.
The best step is to be patient and continue praying for her. If you invite her out for coffee, be prepared to invite her again and again. Good friendships take work and time.
Find a way to honor the child she lost. Send flowers on the due date, or another simple way to commemorate this child. Ask her how she wants to proceed. Your friend and her family may hold a private ceremony, or she may ask you to be a part of it. Even small gestures of practical help can be very comforting.
Lastly, after providing words of comfort, providing a place for honesty, and being present, the most important action to help your friend is to just listen.
She may say bitter things. She may not be rational; she will be sad and angry. She needs an outlet to rid herself of the pain drowning her heart. Like Jesus provides us the strong shoulders to let us rail against Him, and rage, and weep, she needs the same.
This is a part of the healing process and your presence, care, and concern will help her navigate the stormy waters she's in.
Photo Credit: ©Getty-AntonioGuillem
---

Heather Riggleman is a believer, wife, mom, author, social media consultant, and full-time writer. She lives in Minden, Nebraska with her kids, high school sweetheart, and three cats who are her entourage around the homestead. She is a former award-winning journalist with over 2,000 articles published. She is full of grace and grit, raw honesty, and truly believes tacos can solve just about any situation. You can find her on GodUpdates, iBelieve, Crosswalk, Hello Darling, Focus On The Family, and in Brio Magazine. Connect with her at www.HeatherRiggleman.com or on Facebook.