How to Invite Others to the Story of Christ with Your Story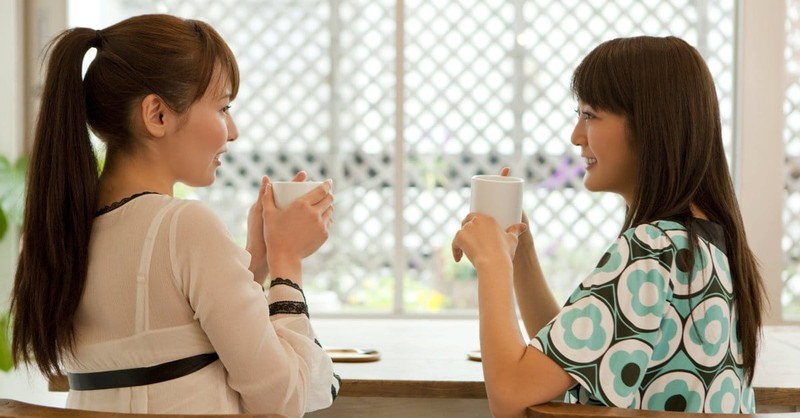 On a crispy Orlando morning, I pulled my suitcase on wheels with one hand, and with the other, I carried my white cane. After giving my husband a kiss goodbye at the counter outside the airport, I began my adventure.
As usual, every trip I take is a true journey to the unknown. Although I know the destination, I don't know whom God will put in my path as I travel.
It might be the escort who helps me navigate through the airport. Or the person beside me at the gate. Or it might be the one in the seat next to me in the plane. But what I do know is that as we chat, curiosity will surface.
It did recently with the escort who helped me to the gate. I held his arm and we made our way through the crowd. We walked across the security point and to the gate. 
I asked about his job, his family, etc.
As we drew closer to the gate, he said, "May I ask you a personal question?"
I predicted what it would be. So I gave a joyful smile. "Sure, go ahead."
He hesitated a bit. "Were… were you born blind? Or did you have an accident?"
Inwardly I grinned because I knew the door had been opened. The opportunity just knocked and the chance to share my story had arrived.
"No, I wasn't born blind," I said. "When I was 30 years old, a hereditary retinal disease took my sight completely."
I heard a gasp. "Wow! You mean you see nothing at all? Or do you see a little bit?"
"No, I see nothing." I chuckled a bit. "In fact, I see the same with my eyes closed as with my eyes open."
"It must be so hard."
"No," I said, "actually, it's not. Let me tell you how my life turned out…"
I began the brief version of my story. I related the emptiness that ached in me when I was sighted. The fear that overcame me at times. The insecurities I spent time covering up. And even the nagging desire to reach the stuff that often eluded me.
And when I lost my sight, I was horrified at first. Then came God's Word, His promises and His instructions to seek Him first. I did. And my life was restored. I had asked God for what I wanted—my eyesight back. But He gave me what I needed—20/20 spiritual vision to see who Jesus is, what He offers, and how He restores what's broken.
Thirty years after losing my sight, opportunities to share that same story happen frequently. And although for most, the story may not be about losing their eyesight, the fact Christ dwells within is worth sharing, worth repeating and worth re-telling over and over again.
Those opportunities will arrive, in unexpected moments and come about more often because the world is becoming darker, more cruel and violent. And rather than remain silent, let's embrace divine audacity to share Christ and follow these 10 tips:
1. Be aware. God may open the door for us to recount our story—in our home, at the doctor's office, at work, at the mall. Being aware is the key as one may find opportunities in strange places. Jesus glanced up the sycamore tree and there was Zacchaeus. "When Jesus reached the spot, he looked up and said to him, 'Zacchaeus, come down immediately. I must stay at your house today.' So he came down at once and welcomed him gladly." (Luke 19:5-6)
2. Be willing. The desire to share God's goodness burns inside when willingness remains alive till the end. "The love of most will grow cold, but he who stands firm to the end will be saved. And this gospel of the kingdom will be preached in the whole world as a testimony to all nations, and then the end will come." (Matthew 24:13-14)
3. Be diligent. Whether blind, deaf or with limitations, God's call is urgent. And we take firm steps as we move forward to share the Good News through our story. "As it is written, 'How beautiful are the feet of those who bring good news!'" (Romans 10:16)
4. Let passion shine through you. The story of our transformation can impact the most when it's shared with sincerity, conviction and passion. The woman at the well encountered Jesus and "Then, leaving her water jar, the woman went back to the town and said to the people, 'Come, see a man who told me everything I ever did. Could this be the Christ?'" (John 4:28)
5. Love them anyway. When someone turns to be unlovable, stubborn and challenges our story, love that person anyway. Better to show them the right kind of love, than strive to be right.  "He causes his sun to rise on the evil and the good, and sends rain on the righteous and the unrighteous. If you love those who love you, what reward will you get? Are not even the tax collectors doing that?" (Matthew 5:46)
6. Prepare. Each encounter is a beautiful experience when we're prepared, truly prepared to share the hope we have, why we have it and how we obtained it. "Always be prepared to give an answer to everyone who asks you to give the reason for the hope that you have. But do this with gentleness and respect…" (1 Peter 3:15)
7. Allow your light to shine. Even without a great ability to recite Bible verses, recite the details of your journey instead. "You are the light of the world. A city on a hill cannot be hidden. Neither do people light a lamp and put it under a bowl. Instead they put it on its stand, and it gives light to everyone in the house. In the same way, let your light shine before men, that they may see your good deeds and praise your Father in heaven." (Matthew 5:14-16)
8. Relinquish the responsibility to God. Though a person might not be converted right before our eyes, God is at work. Sharing the Christ in our lives might be only a solitary but necessary link in God's chain of events. He and only He can bring about the results. "Neither he who plants nor he who waters is anything, but only God, who makes things grow." (1 Corinthians 3:7)
9. Rejoice. When ridiculed or labeled, we rejoice because Jesus said, "Blessed are you when people insult you, persecute you and falsely say all kinds of evil against you because of me. Rejoice and be glad, because great is your reward in heaven…" (Matthew 7:11)
10. Feed hungry sheep. They're closer than we think—the repair man who knocks at our door. The annoying telemarketer, the rude cashier across the counter at the store, the crabby neighbor, the teenager who challenges our patience—all bring opportunities to feed them God's Word. "Peter was hurt because Jesus asked him the third time, 'Do you love me?' He said, 'Lord, you know all things; you know that I love you.' Jesus said, 'Feed my sheep.'" (John 21:17-18)
Our sharing brings glory to Christ. Our willingness brings awareness of opportunities. And our passion to love others brings life to God's Word.
Janet Perez Eckles is an inspirational speaker and author of four books. Her latest release Contagious Courage: Your 30-day Journey to Overcoming Stress and Anxiety is a daily companion that invites you to be set free from fear and worry in order to embrace a triumphant life.
Publication date: May 3, 2016