How to Live in the Small Moments of a Fast-Moving World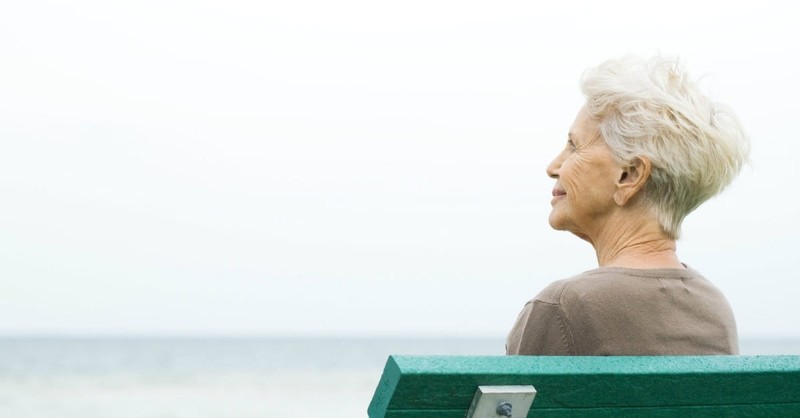 Our house sits at the top of a cul-de-sac, nestled between one neighbor who has lived here over forty-five years and a retired couple who have been here only a few years longer than we have. On the other side of that couple are John's brother, Frank, his wife, Mercedes, and their two young girls. They moved here first, and a few years later when this house had sat empty for a while, they suggested we try to buy it. After some stuff and things and negotiating, we did.
Our kids and our nieces were still riding tricycles at the time, so we often sat outside in the grassy center of the cul-de-sac to watch. Other kids from down the street would often come to join in, and John, Frank, Mercedes and I pulled out lawn chairs from the garage or spread out blankets on the grass to watch the kids play.
One afternoon while John's mom was visiting, she mentioned how nice it would be to have a couple of benches in the center of the circle, more permanent seating so we wouldn't always have to drag our lawn chairs out every time the kids wanted to play. Not one to suggest ideas without taking responsibility, she showed up several days later with a bench in a box in the back of her car. Days later, a neighbor bought a matching one.
Now we have two benches facing each other in front of our houses, like our little community of seven homes finally has a living room.
As I was preparing dinner one afternoon, I glanced out my kitchen window and noticed three of our neighbors leave their homes at nearly the same time, making their way at various shuffling speeds to meet at the benches in the middle.
I'd seen them outside in the past, chatting over newly fetched mail or exchanging comments about the weather, but they had never stayed out for more than a few minutes as their aging bodies wouldn't cooperate with the demands of standing for so long. Now that we had benches, everything was different. Unable to resist the community, I went outside to check the mail and crossed the street to talk with them for a few moments. We spoke of children and grandchildren, aging siblings and friends, the weather. We enjoyed the breeze and waved at the occasional passing car. We lingered.
With dinner still cooking inside, I made my way back to the kitchen but kept my eye on them through my window. They stayed out for nearly an hour. I'd not seen them do that before. It wasn't that they didn't want to be together, but before it wasn't so easy. Now they had benches to sit on. And the benches made all the difference.
The benches didn't give them something to talk about. The benches weren't fancy, expensive, impressive, or flashy. They weren't a complicated solution to an unsolvable problem, and they didn't offer answers to difficult questions. The benches simply gave us neighbors a place to be, a place to rest, a place to come together on an ordinary day.
I've thought of this often in many areas of life when I try to make things too complicated. When I feel myself getting carried away, when I feel tempted to turn and build a city rather than accept my right-now home, I ask this simple question: Where is the bench in this moment?
In my work, when I see all the reasons why what they're doing over there is more important, impactful, and effective than what I'm doing over here, I'm tempted to make the platform wider and put brighter lights in the bulbs because I have to dazzle, you know. I am determined to make my work the best, the most excellent. When I want to climb the ladder, what if instead I tore the ladder apart and used the wood to build a bench?
In my relationships, when I see a need I think needs fixing, a conversation I don't know how to tackle, a grief I have no words for, I'm tempted to make things complicated and fast-moving—let's pull out the city plans, build the roadways and sidewalks straight to your heart. But people don't need fancy and flashy, they probably just want regular. They don't need a fixer, they need a journeyer. They just need to sit on a bench with someone else so they know they're not alone. I know this because it's what I need too.
In my own soul, when I feel the need rise up in me for recognition, appreciation, and validation; when I feel my soul grasp and grope for worth, significance, a city to call my own, I want to look for the bench instead. How can I sit down on the inside?
A city is big and bright, loud and fast, important. A bench is small, quiet, and still with only enough room for a few.
Let's look beyond our first impressions of the bench as a place only for the players who aren't skilled enough to start, the second-string, the substitutes, the leftovers, the lazy, the overwhelmed, and the overlooked.
Let's explore city building and bench dwelling and be willing to allow the lights to go out in the city and see what we find above, around, and within us.
In our society, city lights are proof of life, progress, and growth; a sign of privilege, productivity, and opportunity. But when we bring all this to the inner life, the city lights we burn in our souls can begin to overpower the hidden life in Christ.
What happens when we are required to walk through darkness? What happens when we can't see our way? What happens when we don't know answers to our soul's deepest questions or the questions of those around us? The temptation is to start to build a city right there, a plan to find the answers, to fix the problem, to light the darkness once more.
But Christ himself is the light and any light I try to manufacture outside of him will be a false light at best. He has called me to a life of burden bearing and by-faith walking. Co-suffering, co-death, co-burial.
These are not the city way. These are the way of the lowly, the criminal, and the marginalized. But the mystery of Christ in you is that there, on the bench, God ushers you into his kingdom.
Or have you forgotten that when we were joined with Christ Jesus in baptism, we joined him in his death? For we died and were buried with Christ by baptism. And just as Christ was raised from the dead by the glorious power of the Father, now we also may live new lives. Since we have been united with him in his death, we will also be raised to life as he was. (Rom. 6:3–5 NLT)
So what is this new life? It is relief that comes from learning to lean back into small-moment living rather than trying to keep pace with a fast-moving world.
When confronted with heartbreak, fear, questions, longing, frustrations, and grief, this new life means instead of running to build our cities of protection, we can set out on a different road. This road that may include loneliness, obscurity, hiddenness, and silence. It may be narrow, lined with danger, and filled with darkness at times. But we have a light that will not go out and cannot be turned off. The light of Christ burns bright within us, and wherever we go we will not go alone. This is our promise, our protection, and the place where our voice comes from. When we turn our back on the city, we may find heartache—but we will also find something else.
We're headed down the new way of Christ, and all roads away from the city lead to the kingdom of God. The road to the kingdom is lined with invisible benches where the great work of love, service, listening, community, prayer, change, and transformation will occur.
This is an excerpt from Simply Tuesday: Small-Moment Living in a Fast-Paced World (Revell, a division of Baker Publishing Group, 2015) by Emily P. Freeman. Used by permission.
Publication date: October 8, 2015