How to Make Life Better for Your Fellow Moms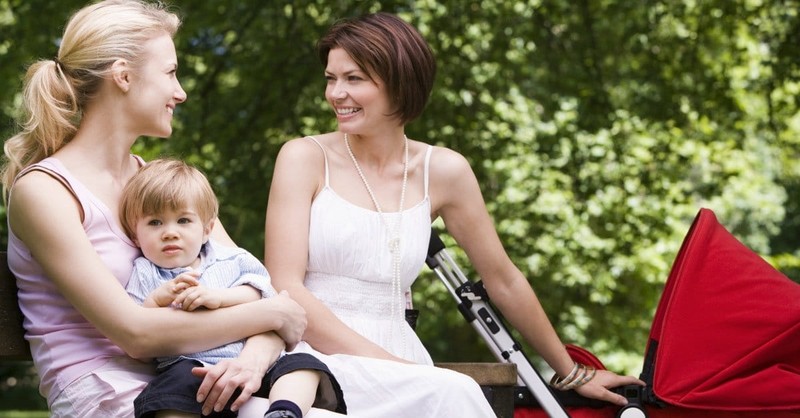 Being a Mom is one of the most rewarding, yet demanding, roles that many of us will ever experience in life. 
And maybe sometimes in the midst of messy rooms and piled high laundry, or in between sleep deprived nights, kids activities, and the stress of teenage driving, we forget how incredibly important we are to those we love the most.
This is your reminder today. That you matter, so very much. And to encourage you to pass along those words to another brave, and maybe battle-weary soul, who just needs to hear some life breathed across her hectic day.
Back years ago I sat around a little table one day in a fast food restaurant with my 2 toddlers and preschooler. I'm sure I was busy with tending to needs, wiping up spills, holding, helping, and answering endless questions of "Why?" or "How come?" but I remember more than anything else that I was tired. Just tired. And as we were finishing, a dear lady came over to our table, smiled, and whispered to me so kindly, "I've loved just watching you all, your family is beautiful. You're doing a great job, Mom." Like a drink of cold water to my weary soul. We chatted for a moment and then she was gone. 
Yet her words lingered on…long…strong. I fought back tears all the way home as I pondered it through. "I'm doing a good job? Really?" Though simple and brief, those whispers recharged my heart. I was touched that she'd taken the time to just bring some encouragement across my day. She didn't have to. She didn't even know me. But she chose to. Maybe because she'd been there before, around a little table with precious young lives. Or maybe she recognized that sleep-deprived look. And maybe she knew more than I did, just how fast time passes by.
We rub shoulders every day with people who are weary, hurting, lonely. Sometimes we notice, but often we don't, maybe because we're too busy, preoccupied, or overwhelmed ourselves. And many days the truth is, we are those people, the weary, the hurting, the lonely. Just needing someone to notice.
Even the best moms get tired in the midst of mothering. They battle against guilt, comparisons, or negative chatter. We're often pretty good at tearing our own selves down, especially on the hard days. Throw a judgmental word our way or glance our direction with a critical stare, and we might just unravel. Sink right into our pit, dragging everyone else down with us. 
But there's great strength when we make the choice to propel another mom on. Because we realize how much we need it ourselves. 
Simple ways you can make a difference, through 5 powerful types of words:
1. Spoken Words
You know all those things you think about the people you love and care most about? The things you think they should surely know? Maybe they don't know, or they need a reminder. To be told again just how great you think they really are. There are lots of ways to say it, "Thank you for…" or, "I appreciate you and here's why…" Just a little encouragement in another's day can go such a long ways.
And often we need words that just make us laugh. So good and refreshing for the soul, to laugh out loud at stuff that maybe no one else would even find funny. This world is a tough place. So much worry and hard news out there; real life pressures on the home front too. We could all use some cheering up most days. Sometimes it takes hearing another perspective to help us see that things really aren't as bad as we thought. Keeping a sense of humor and choosing joy can help protect us, and our friends, from dark feelings of defeat.
Other times we need words to remind us we're not alone. I love what author Brene Brown once said, "The two most powerful words when we're in struggle: Me too." What an amazing Aha moment that comes from hearing simple, treasured words, and realizing someone understands, and you're in this big journey together.
2. Written Words
Often in this social media, tech-wired world, it's easy to get caught up in word wars. Judgments surround and criticism seems fierce, even about random mothering topics. But what if we laid down our weapons of brandishing words as swords and sought to instead use the power of kindness. The gift of encouragement. Not false flattery or faking niceties, but finding nuggets of strength that inspire and build unity instead of creating defeat. And sometimes it really comes down to a choice. 
Choosing the power of supporting one another rather than causing division…and writing it down. 
That note of encouragement, the hand written words of "I appreciate you. You are loved," those are notes that are saved. Cherished. Read over and over again. Pulled out on the days you feel like the biggest fail. Only to remember that you're not. Tucked into Bibles, and little special nooks. The written word is powerful when someone takes the time to care. 
3. Silent Words
Sometimes the most powerful word is the one not spoken at all. But it's felt with the heart and communicated through tears, or sitting closely, quietly, and grieving with another soul who is hurting, suffering deep loss. Sometimes it comes just through listening. Nods of affirmation and eyes of compassion can remind another that you understand. Truly there are times when no word seems quite adequate enough. God comforts through those silent words that are prayed through and shot right up to Heaven's gates, like arrows in the hand of a warrior.
4. Praying Words
There's nothing so powerful in this world as linking together and praying for one another. Bringing cares and burdens to the feet of the One who is able to meet each need. Years ago, my sister in law taught me the power of these words when I'd share something on my heart, "Let's just pray about it right now, can I pray for you?" And then she would. Right then and there. She wouldn't just say "I will pray for you," she'd do it. Such wisdom there and strength unleashed. Just to stop everything for a few moments, bring a need to the Father on behalf of a friend, and pray. 
5. God's Words 
His words. My favorite. Strong and true. Relevant and real. Life-breathing and hope-inspiring. His are the words that matter most in a noisy world that seeks to be heard. We all have thoughts and opinions, about everything from headline news stories to parenting techniques. And that's OK, but when it comes right down to it, the only Word that really matters - is his. Your time is too precious to be draining your energy on endless debates and mindless chatter. Choose instead to lovingly share what he has to say to another mom who may need to hear hope whispered her way. Those are the words that remain. Those are the words that inspire. 
Here's a few to remember and to share with another:
"Come to me, all you who are weary and burdened, and I will give you rest" (Matthew 11:28).

"Strength and dignity are her clothing, and she smiles at the future" (Proverbs 31:25).

"Blessed is she who has believed that what the Lord said to her will be accomplished" (Luke 1:45).

"All your children will be taught by the Lord, and great will be their peace" (Isaiah 54:13).

"The steadfast love of the Lord never ceases; his mercies never come to an end; they are new every morning, great is your faithfulness" (Lamentations 3:22-23).

"Cast all your anxiety on him because he cares for you" (1 Peter 5:7).
"And my God will supply all your needs according to his riches in glory in Christ Jesus" (Philippians 4:19).
Debbie McDaniel is a pastor's wife, mom to three amazing kids and a few too many pets, dramatist and writer. She has a heart to communicate God's hope though the everyday moments of life - the good, the bad, the ugly, and the ones that take your breath away. A lover of every sunrise, forever needy of His grace, this Texas girl finds joy in the simple gift of each new day. Debbie invites you to join her at www.freshdayahead.com, and Facebook and Twitter.
Publication date: June 5, 2015