How to Trust God through Crushing Disappointment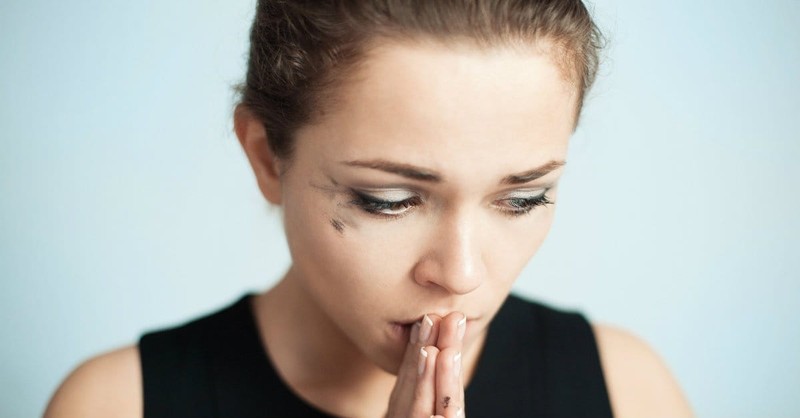 We were on our way home from a retreat. I got to share my poetry and then offer my poetry pieces for sale. My heart felt full. Not only did people seem to like them, but we made $1,250 in sales! Thank you God.
"Should we stop for something to eat?" I asked my husband, when we had finished loading up the van. "No, I'm kinda tired," he replied. "Are you sure? We can go just about anywhere." I said, chuckling.
But it was no use. Both he and my friend Kym, who had come along to help, declined. So I settled down for the hour long drive. Reaching into my purse, I noticed the pouch was not there. My heart started beating faster as I looked around at the boxes in the van. Then I swallowed hard. "Mike, I don't have the money." "Please tell me you're kidding," he said. "I'm not," I almost whispered.
When we got home, we tore open boxes looking for the zipper pouch. And then it hit me. I must have put the pouch down when I went to the restroom, there at the Lincolnshire Hotel.  Quickly dialing their number, I explained my situation. "We're sorry but no one has turned anything in. We'll call you if they do." And something hit me in the stomach. It was a familiar feeling—disappointment.
So what do you do when your plans fail and you are left to deal with the hurt? 
You need to find someone to share it with and then take these steps to build your trust in God. God's Word tells us that we are to trust in the Lord at all times, in all things. It will not be easy, but you will see the change when you begin to place your trust in God.
Step 1 - Give God your disappointment.
I had prayed in the van, and I prayed once we got home. The hours afterward became one long conversation with God. 1 Peter 5:7 tells us what we need to do with our concerns. We are told to cast them on God. 
When my grandson Charlie would come over, he would sometimes lay his Lightning McQueen car down and then forget where it was. That car meant everything to him. And because of my love for Charlie, I would help him find it. For the things that mattered to Charlie mattered to me too. 
And it's so true with God. I pray for parking spots, and ask God to give me boldness when I have to do something difficult. No prayer request is too small to our big God. He cares about what we care about. But even knowing that, how could I move on when this disappointment threatened to disrupt my peace?
Then God gave me this poem: 
Disappointment
Lord, I'm so discouraged, the plans I had fell through. 
I sit with disappointment and don't know what to do. 
I had my day all figured out, most everything was planned. 
But nothing went the way I thought, and I don't understand. 
He answers with compassion, "I know you are in pain. 
Just trust in me completely. Your loss will turn to gain."  
Trust God when you don't understand.
Read Proverbs 3:5-6. It tells us how we're supposed to wholly trust in God. These verses apply to us all the time. And here was an opportunity for me to put it into practice. Then I remembered my conversation with God earlier that morning. 
"Do you trust me?" he asked.
"Yes, Lord, I trust you." I answered. "I don't care how much money we make."
One of our temptations when we're experiencing disappointment is to try and figure things out. But we must fight that. God asks us to lean on him, not on our own understanding. I had been down this road before. And I knew I'd be tempted to blame God, to get angry, and to let resentment grow.
God knew we needed that money. He knew I had even borrowed money for frames and mats.
I tried to lean in on God. I determined to trust him even though I did not understand. I would focus on who God was, not what had just happened. Focus is everything.
Step 2 - Look at who God is
Read Matthew 14:28-31. When Peter saw Jesus out on the water, he wanted to join him. So Peter stepped out of the boat. He was the only one who tried. And there he was water-walking. What an exhilarating feeling that must have been. And he was doing it well… until Peter took his eyes off the Savior. It was then Peter noticed the wind and saw the waves. No longer was he exercising his faith. Doubts slipped in and he slipped down. 
And that's how it is with us. 
The phone rang, it was my teenage son from youth group. "Mom, they told me something happened, but they wouldn't tell me what it was. What's going on?" 
"Nathan, I made $1,250 and then I lost it." 
"Mom, it's only money. God had another reason for you to do it." 
In that moment, I was reminded God is bigger than our problems and he is sovereign. Read Romans 8:28. Just because we take a detour, doesn't mean that God doesn't know about it. God can take our detours and make them into something of value. Our detours are not detours to God. But we need to also be honest with God.
Step 3 - Tell God how you feel
Too often we get the idea we have to hide our feelings from God. As if he would not be able to handle them. But nothing could be further from the truth. When we are lost in our feelings and the waves are covering us, we need to call out to God as Peter did. To call out knowing he cares about us. When Peter called out to God, God didn't scold him for doubting. The Bible says immediately God lifted him out.
We have a tendency to moralize our emotions. To see them as bad or good. But feelings are feelings. And God can handle all of our emotions. After all, he's the one who made them. 
Step 4 - Find a reason to praise God.
Praising God would be a stretch. After all, why would I praise him when he could have prevented the whole thing? That was just crazy. But God is worthy of praise no matter what is going on in our lives. I wasn't praising God that I lost the money; I was praising God because of who he was.
I realized, even though I lost the money, people had been touched by my work. Furthermore, I thought about my conversation with God. I realized sometimes I say I'm trusting him when I'm not. But I know I'll have a lot of opportunities to learn how to deal with disappointments.
Step 5 - A Prayer for Disappointment
Dear Lord, Help us to give you our disappointments, to trust you when we don't understand. Help us to focus on who you are and to always tell you how we feel. And Lord, help us to always praise you, no matter what. We pray this in Jesus' precious name, Amen.
Anne Peterson is a poet, speaker and published author of fourteen books. Some of which are: Her memoir, Broken: A Story of Abuse and Survival, three children's books: Emma's Wish, The Crooked House, and Lulu's Lunch. She has also authored the poetry books Droplets, and the series He Whispers. While Anne enjoys being a poet, speaker and published author, her favorite title is still 'Grandma' to her three grandchildren here, and one in heaven. To find out more about Anne you can visit her at:
f: www.facebook.com/annepetersonwrites
t: https://twitter.com/annepeterson
g: plus.google.com/+AnnePeterson/
p: http://www.pinterest.com/annepeterson2/
Photo courtesy: Thinkstockphotos.com
Publication date: February 27, 2017