I Was Kissed In the Middle of Target
Cheri Swalwell

Crosswalk.com Contributing Writer

2012

14 Sep

COMMENTS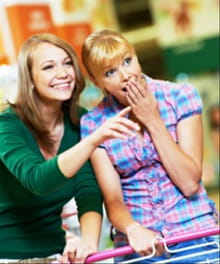 Psalms 145:20: "The LORD watches over all who love him…" (NIV).
My children and I had the best experience in Target the other morning. I like to get there when they first open so we can beat the crowds and move on to our next errand. We walked into the store at the same time as a woman with her mentally-challenged adult son. I was in a hurry to check things off my list and move on to my next responsibility. His laughter is what caught my attention. He was having a great time. His smile lit up his entire face and anyone within hearing distance could tell that he was excited to greet the day, despite the early hour. He gave us a huge smile, a wave, and a hearty laugh. We responded and then moved on to the next item we needed.
A few minutes later, we were walking (okay, in actuality I was speed walking down the aisle trying to convince my kids to keep up) when we passed the same woman and son. They were casually stopped in the middle of the aisle, talking to a Target associate seemingly without any time constraints. The associate and woman politely moved out of the way so my children, myself, and our cart could pass through. Her son had other plans, though. He quickly stepped in front of me, embraced me in a hug, and before I could respond, leaned down and kissed me on my neck. Satisfied that he had brightened my day, he then allowed us to pass through and continue shopping.
That sweet gesture from a stranger in Target put a smile on my face. I had been rushing around, half listening to my children on our last weekly shopping trip before school officially started, concerned more with making sure I got everything we came to buy than about my loved ones who I was buying it for. My mind wouldn't slow down, but instead focused on the schedule I needed to keep, the errands to run, deadlines to meet, work to be done, and bills that needed to be paid. I was having trouble keeping everything straight.
Those two brief encounters with that mentally challenged man showed me more clearly than any lecture could have that I am the one that is mentally challenged. I'm the one who has my priorities mixed up. I'm the one who spends way too much time thinking about things that don't deserve that much attention while missing out on what is truly important.
Yes, schedules, deadlines, meetings, finances, and paying the bills are all necessary in our lives, but they aren't what really matters. When I'm sitting at my desk working, then I should focus on work. When it's time twice a month to pay the bills, then my focus should be on the bills. When I'm in front of the calendar planning our schedule, my attention needs to be there. But…when I have the privilege of going shopping with my kids, or we have the chance to share a fun activity, that is my time to be completely, 100% focused on them.
I don't believe that this change in my perspective and desire for a new attitude will naturally just fall into place. I think that since we are born into such a fast-paced society, there will always be a lot that vies for my attention. I think that realization of needing balance is the first goal; then daily going to God and laying my schedule and my focus at His feet is necessary in order for true peace and happiness to follow.
I want to be like the man that I had the privilege to encounter in Target one beautiful Friday morning. I want to seize the opportunities that I have with my family - to embrace the details and to really feel the emotions of happiness and togetherness. I want to find pleasure and enjoyment in the simple things - the blessing of having money to buy necessities at the store, the ability to laugh and joke with my kids, and the joy of just being together.
My husband called to check on us later that day and I greeted him with, "Guess what? I was kissed by a man at Target today." I hoped the impact of what I learned from that special messenger sent straight from God would somehow reach my husband despite his not having had the change to witness our experience firsthand.
I pray, also, that you were able to glimpse a little of the message a certain stranger at Target spoke to me. Maybe some of that will transform your way of thinking and if nothing else, help you to remember to appreciate life here and now, without running lists through your head, missing out on the fun that is happening right in front of you. I know that every time I go to Target, I will envision that man's smile. It's a weekly reminder to fully embrace life in the present, being thankful for all that I have.
Cheri Swalwell describes herself as a Christ follower first and foremost, wife, mother, and avid reader. She has been blessed to be a guest on a variety of blogs including here at Crosswalk.com/family and Christiandevotions.us. If you want to hear more about the heart she has for marriage, parenting, and relationships from a Christian perspective, feel free to visit her blog or "like" her on facebook.
Publication date: September 14, 2012