Inside-Out Hospitality: Are You Serving Others at Your Family's Expense?
Karen Ehman

Author, A Life that Says Welcome

2007

8 Mar

COMMENTS

When we think of the word hospitality, so often we envision friends, extended family, or even strangers entering our home to be fed, loved, and cared for. But what about our own family members? Are we to think of hospitality as pertaining only to outsiders and not to those with whom we rub shoulders and share living quarters day in and day out? I know this was the case for me for many years -- too many, I might add. Factoring in the reality that my journey began with an all-out attempt to impress others, it is easy to see how I so easily fell into this pattern.
For a few years it worked. I had a very agreeable husband who worked many hours a week, pouring himself into the lives of teenagers and their families at the church where we were serving. My life was equally busy. Teaching school, coaching cheerleading, and the many hats I wore at church kept me away from home for the majority of my waking hours. But I did try to use my newly acquired cooking and baking skills to bless others. I'd bake a pie for a family going through sickness or take a casserole to a new couple at church.
Together Todd and I would entertain an occasional guest or two on the weekends. It was then I'd pull out all the stops -- perfectly clean house, fresh-cut flowers, and a fancy meal unlike any I prepared on a regular basis. I expended great amounts of energy appearing to be a natural hostess. One would think I cooked this way nightly, paid great attention to detail in my house at all times, and pampered my dear husband on a regular basis.
Hardly.
But as I say, I was able to get away with it for awhile. But then something happened. One morning upon rising I discovered it. The stick turned blue.
First comes love, then comes marriage, and well, you know the rest. Along came three babies in six years. Once those little darlin's could string together their first tiny words into coherent sentences, it didn't take long for them to articulate just what they saw.
"Mommy, who is coming over for dinner?" my then-three-year-old daughter would inquire. Wondering how she knew we were expecting company when I hadn't told her, I replied, "Why do you think someone is coming, honey?" "Because you're making homemade rolls, not the 'whack open' kind. You only do that for company," she chimed.
As they grew, more comments began to emerge. "Mom's burning candles. I'll bet she's having her moms group over tonight." "Homemade blueberry pie! Who's it for?" Hardly ever did they assume it was for them.
As much as I hated to admit it, the jig was up. My kinds, who often serve as a painstakingly honest mirror when it comes to my actions, had me all figured out. I was a woman living a double standard. I wanted to minister to - read "impress" - others while at the same time ignoring my own family's needs for refreshment.
This was easy to do when our clan consisted of just my husband and me. My Mr. Wonderful is a calm, laid-back kind of guy who on the surface never seemed to need much to make him happy. It was easy for me to gloss over him and his needs, surmising he was happy as long as he had something to eat, clean clothes to wear, and well, plenty of "horizontal fellowship," if you know what I mean.
But with my kids, it was different. Early on they began to verbalize their displeasure at the great meals I would craft for others, not just when company was coming to our house but when a church member or neighbor had a baby or was going through a crisis and needed a meal brought in. I shudder when I think of the many nights another family dined on piping hot baked lasagna, glazed carrots, homemade rolls, and strawberry cheesecake while my own family had a tasty choice between lunch meat sandwiches or peanut butter and jelly. Shame on me.
Now I have adopted a new rule of thumb. With very few exceptions, if the meal I whip up for my own family can't be the same one or at least equal in "yummyness" to the one I would take to another family that night, then I don't offer to make a meal for said family. Ouch! That can be painful to a people-pleasing, how-does-this-look-to-the-outside-world kind of gal like me.
It has also, however, been a huge blessing. My family no longer feels like second fiddle. They are to be my primary ministry, not the recipients of my leftover goods and goodies. In my mind and my ministry, they are to be foremost, not on the back burner. And true to scriptural admonition, that means my husband comes first.
My husband has shared, after much prodding from me assuring him that I could handle the truth, that he hasn't always been "just fine" with my efforts at serving and pleasing outsiders while leaving him to fend for himself. He has admitted that at times he felt slighted because I was baking a pie for the plumber, some cookies for the carpenter, or a torte for the TV repairman while leaving him to rummage through the cupboards for his own snack.
Ladies, please don't fall into the same trap I did. Our families need to come first as the recipients of our love, creativity, and handiwork. If not, you'll be left living an inverted life at the helm of a resentful brood. Trust me. It's no fun.
So how do you put your family first? Well, it starts not in the kitchen with food for the stomach but in the entirety of your home with nourishment for the soul. While food lovingly served can help minister to your loved ones, what they need most is to feel a sense of belonging - that they are wanted and welcome. For us, seeing this happen all began with a lesson from our past.
When we were newlyweds, my husband was a youth pastor at a country church in our small central Michigan town. Todd had a detailed strategy for the kind of youth group he wanted to see emerge under his leadership at that church. The number one principle he strove to drive into the kids' hearts and minds was this: In this group we will do all we can to create an atmosphere of love. That means no cliques, no put-downs, no harsh words, no kidding! I remember it seemed like we worked for an eternity to solidify these teens from all walks of life into a unified and loyal group. Kind of hard when you have some who are athletic "jocks," some who prefer the library, and a group of giggling girls whose only interest was the latest shade of lip gloss. But what the world's system often can't do was accomplished, in time, in our youth group. They were a team, a collection of individuals that operated as one. We weren't looking for uniformity - all looking and behaving the same way - but for unity. And unity God brought. Those kids stuck up for each other and stuck together. It was a delight to behold.
Our family is diverse too. My husband is the fastidious, somewhat serious dad who likes lots of down time and is energized by being alone. I am the fun-loving and fun-instigating mom who tends to let my life get so busy I can't breathe. I am most energized by being with people. Our oldest son, eleven-year-old Mitchell, is an out-of-the-box, methodical thinker who is constantly inventing a new way to do an old thing. He is energized by using his brain. "Don't bother me now. I'm figuring!" he used to declare even as a toddler. He also is a clean freak, and we affectionately refer to him as "Neat Nick." Unfortunately, he shares a bedroom with his younger brother, "Sloppy Joe."
Our eight-year-old, Spencer, is the family clown. He plays hard, then drops whatever he is doing - literally - and moves on to the next thing. He is energized by activity and fun.
Our teenage daughter, Mackenzie, is a social creature. An "artsy-smartsy" type, she loves to sing, to create, and above all to talk - whether with her mouth or her hands, as she is fluent in American Sign Language. She is most energized by anyone who will answer back.
Throw us five together on a family vacation and what will you get? A father and son who want to go camping in the wilderness all alone, a mother and son who want to take in every sight there is to see while dashing from one activity to the next, and a teenager who doesn't care what we do as long as she can bring a friend or two along, chatting all the way. Oh my!
With such a diverse family as ours, Satan can easily weasel his way in and tempt us to see our differences as being wrong. We can easily get on each other's nerves, verbalize our pet peeves and displeasure at our different personalities, and basically tear each other apart. We've seen it happen in many families and, sadly, often in our own.
We decided to pull out our old youth group strategy. We called a family meeting, sat the children down, and calmly explained what we thought needed to happen in our family to ensure an atmosphere of love. When we came to the part about no put-downs, again our kids were a mirror. It was every so gently pointed out to us that I am the queen of cutting comments and my husband is the king of sarcasm. Double ouch! Time for the king and queen to be dethroned!
We vowed as a family to work on speaking respectfully, not cutting down others even in jest, and accepting each other's faults and shortcomings. We also pointed out many of our family members' individual strengths. We explained our long-held theory that any strength carried to an extreme can become a weakness. Yes, Mom is good at talking - she even gets paid to do it - and is rather quick-witted. However, that can easily turn into conversation domination or come out in the form of cutting, not-so-funny comments. (I know some days my family just tunes me out during my long-running speeches and must-hear story details. I think they are hanging on my every word. What they really hear is more like the voice of the teacher from the Charlie Brown cartoon special, "Wa-wa-wa-wa-wa...")
So now we reserve the right, all five of us, to call the others on the carpet for rude and cutting comments, even those done in jest, that do not create an atmosphere of love. Are we perfect at it? Hardly! But we see progress. And we as parents have to constantly remind ourselves that so much of parenting is about process and progress, not perfection.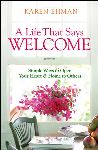 Excerpted from A Life That Says Welcome (Revell) by Karen Ehman. © 2006 by Karen Ehman. Used with permission from Revell, a division of Baker Publishing Group. All rights reserved.

Karen Ehman is a speaker for Hearts at Home and the coathor of the popular Homespun Gifts from the Heart and Homespun Memories for the Heart.