Is There a 'Christian' Way for Women to Dress?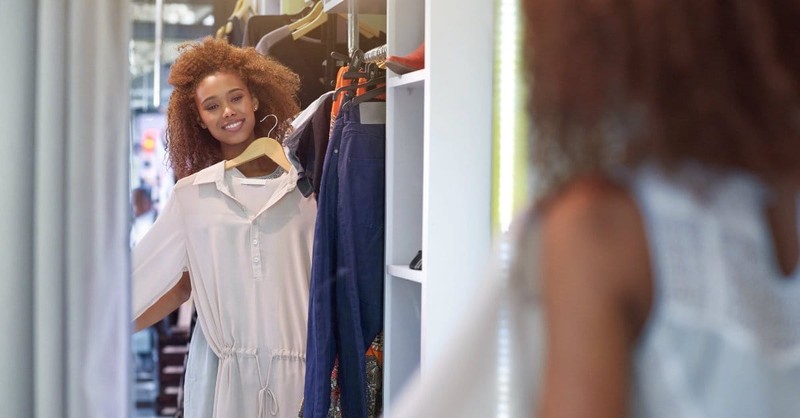 We do not choose our appearances—the slope of our nose, the texture of our hair, the height and width of our physical frame—all of these are genetically determined and largely out of our control.  We do choose, however, which clothes we wear on our bodies, and we make this decision each and every day.  There is a power in this—we have the power to choose clothing that reflects our values and self-image.
The fashion industry spends billions of dollars each year marketing clothing to women, encouraging us to conform to specific ideals of what is beautiful and stylish. They make it appear that clothing (certain clothing, not just any clothing) is a necessary vessel to achieving these qualities. The messages are all around us, and it's hard sometimes not to buy in. However, when we turn away from the barrage of commercials, advertisements and emails, refocusing ourselves to God, we are reminded of the true definition of beauty and where our values should lie. 
Scripture says: "Do not love this world nor the things it offers you, for when you love the world, you do not have the love of the Father in you. For the world offers only a craving for physical pleasure, a craving for everything we see, and pride in our achievements and possessions. These are not from the Father, but are from this world. And this world is fading away, along with everything that people crave. But anyone who does what pleases God will live forever." (1 John 2:15-17)
The Bible encourages us to focus more on the inner self and less on our outward appearance: 
"Women should dress themselves modestly and decently in suitable clothing, not with their hair braided, or with gold, pearls, or expensive clothes, but with good works." (1 Timothy 2:8-10)
"Let your adornment be the inner self with the lasting beauty of a gentle and quiet spirit." (1 Peter 3:4)
"Clothe yourselves with compassion, kindness, humility, gentleness and patience." (Colossians 3:12)
So what then, is an appropriate way for Christian women to dress? Are we expected to convey our beauty purely through gentleness and silence, with unbraided hair? Of course not. The Scriptures remind us that modesty has value and that inner character displays beauty, but this doesn't mean that we must dress in drab, stifling clothes that give an air of constant self-deprecation. 
We should dress in a way that reflects our feelings of positive self-worth, letting our light shine for all to see. 
This will look different for different people, since what lights up the eyes of one may not do the same for another. Wear what makes your heart hum, and buy clothes from vendors and at prices that keep your conscience pleased. Where you shop and how much you spend are choices that you can make, and your decisions only need to resonate with you.  
"You are the light of the world. A city built on a hill cannot be hid. No one after lighting a lamp puts it under the bushel basket… in the same way, let your light shine before others." (Matthew 5:14-16)
We must find our own individual balance between trend and tradition, spending and thrift. When we find that balance, the clothes that we wear help us reflect Christ's light into the world.  
Famous stylist Rachel Zoe said, "Style is a way to say who you are without having to speak."  Your clothing choices give others a glimpse of who you are and the values that you hold. Rather than following a set of rules or societal pressure, women should simply look for clothes that reflect her inner joy that is found in Christ, and that help her walk with confidence and grace. Whatever that looks like for you, it is right.  
"She is clothed with strength and dignity; she can laugh at the days to come." (Proverbs 31:25)
Remember that every clothing choice has the power to make your light shine brighter or dimmer.  You have the power. Shine bright!
Maria Cheshire teaches and coaches in Bristow, Virginia. She enjoys running, yoga, food, art and is currently writing her first novel.
Photo courtesy: Thinkstockphotos.com
Publication date: November 30, 2016