Kitchen: The Heart of the Home
Sharon Hanby-Robie

Author, The Simple Home

2007

31 May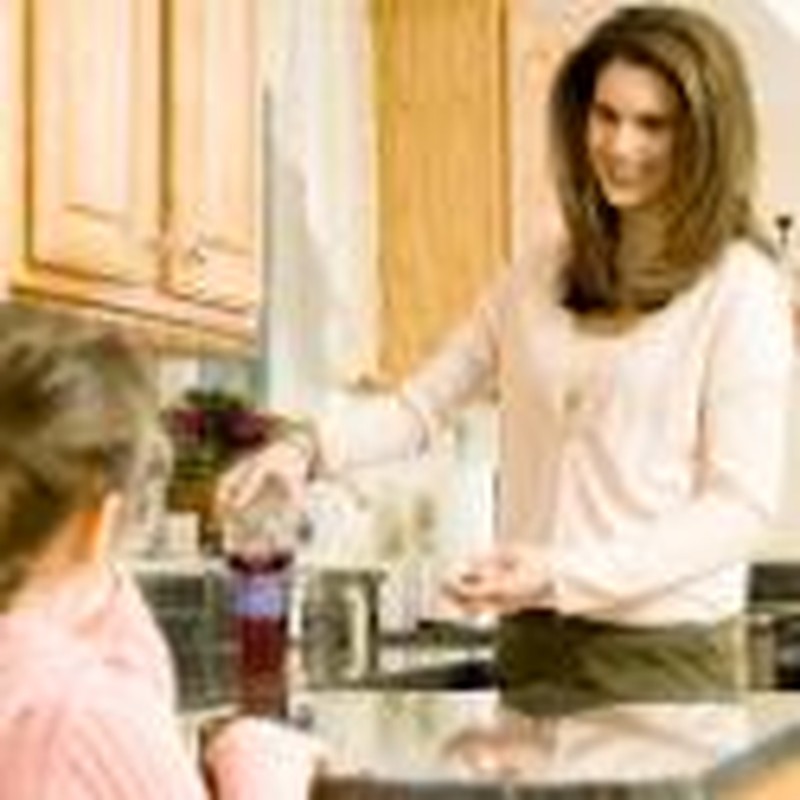 "Think this over carefully: The most charming hours of our life are all connected – by a more or less tangible hyphen – with a memory of the table."— Pierre-Charles Monselet 1874
When I read the above quote I was immediately transformed to my childhood memories of sitting around the kitchen or dining room table. This is where life was lived. Meals at the kitchen table were boisterous, noisy, and often filled with laughter – occasionally to the dismay of my father. It wasn't often, but every once in awhile Dad felt the need for a quiet dinner – a difficult challenge for our family of six children.

One evening in particular, Dad said, "The next person to laugh is going to bed without dinner!" At that moment, Mom lost it and burst out laughing as hard as she could. Of course, we all joined in laughing until we cried. Dad crumbled. And try as he might, he could not hold back the laughter as tears rolled down his face. It makes me sad to think how many families are missing out on the memory of family gathered together each evening for a meal.
Our dining table was a multi-purpose space. During the many family celebrations and get-togethers, this was where we came together. Since our immediate family was so large, our home was where our extended family came to celebrate. Having several generations gathered together at the table was an event in itself. I loved the discussions, both loud and soft as we shared, learned, and simply lived together as family.
Give yourself some space
The kitchen has and always will be the center or heart of the home. In most families, the kitchen is used more than any other space in the home. Simplicity can make the daily task of cooking an eagerly anticipated event. Thoughtful organization of workspaces will facilitate helping hands and great family memories if people do not have to cross over each other to get the items they need.
For example, a baking center can be defined in any existing kitchen. Putting all the baking supplies, mixers, measuring cups, in one location will simplify the steps it takes to make biscuits or mix a dessert. Another area can be defined for chopping vegetables by placing a cutting board and colander near the drawer that holds knives and slicing utensils for cooking. Look for ways to allow two or more people to work in the kitchen without needing to step into each other's space. This can be accomplished in even the smallest kitchens.
Sometimes it is possible to expand the kitchen into an adjacent room. This is just what I did for a family with three young daughters. We chose to re-purpose the unused formal living room and make it a new and improved larger family room. This allowed us to incorporate the old family room into an expansion for the kitchen. The expanded kitchen, with its cozy seating area, now allows for extending the kitchen table. The new arrangement of space has given this family the room it needed for living everyday the way they truly want to. And we did not have to spend a fortune to accomplish this.
One of my favorite ways to add color and life to a kitchen is with area rugs. Just recently, I did a kitchen makeover for QVC television. The family was amazed how their kitchen was transformed simply by adding a colorful rug beneath the kitchen table and chairs. The husband said, it suddenly made the area feel special – more like a dining area and not just a table stuck in a room. The rug anchored the space and the color brought the room to life. Choosing colors from the rug gave me a good foundation to work from. It made it easy to choose fabrics and paint colors for the room.
1 Corinthians 14:33, 40 says: "For God is not a God of disorder but of peace. ... But everything should be done in a fitting and orderly way." The most inspiring rooms start by simply removing the clutter. As the heart of the home, most everything seems to end up in the kitchen which is why getting and keeping it de-cluttered, organized, and simplified is critical.
One of the basic principles of organization is thinking before you act. If you think through logically the task at hand, you will make better choices for accomplishing the work. Planning is the second key to being organized. If we don't take the time to think about what we need to accomplish and plan for the best time and way to accomplish it – we will continue to operate the way we always have without regard to effectiveness. Also, think about your personality and organizational style. Don't let your zeal birth a system so complicated that you will never be able to manage it.
I also want to caution you not to make the mistake of enlisting your hubby to help with this project. Instead pick two of your best friends – be sure that these friends are ones who know your good and bad habits – these are your best allies when it comes to getting a handle on the chaos and clutter in your home. They can keep you focused but they also can give you a reality check about what you can and cannot accomplish and what you should or shouldn't keep.
Many of us fall into the Proverbs 31 woman trap thinking we have to do it all. The reality is that this proverb is not about a single woman but a description of what we can be with the help of a few good friends – together we can multiply our talent. Why not share cooking meals a few nights a week? That way you can each get a night or two off with more time to simply enjoy family. And most importantly, getting your spiritual life in order can be a critical step to getting your home in order. Creating a personal "sanctuary" space for yourself can be just what you need.
Excerpt adapted from The Simple Home, by Sharon Hanby-Robie (GuidepostsBooks, 2006).
Sharon Hanby-Robie is the resident home décor expert for QVC, Inc., an author, speaker, and television personality. It is Sharon's goal to "help people discover their own personal style, and to give them the confidence to move forward with making choices that make sense for their families and lifestyle." She has been an interior designer and member of the American Society of Interior Designers for more than thirty years. Her new book series, The Spirit of Simple Living™, is published by GuidepostsBooks.