Last Minute Holiday Solutions
Mary Hunt

Debt-Proof Living

2010

23 Dec
10-minute rescue…
The phone rings. Surprise! Long lost friends will be at your front door in 10 minutes. You have no time to clean the house or even to panic. Instead, move into high gear with this 10-minute rescue:
1.
Set a small pan of water over medium heat. Add spices like cinnamon, allspice and cloves and leave it to heat.
2.
Grab a box or grocery bag, and clear all coffee tables, end tables and kitchen counters into it. Stash it in a closet.
3.
Gather all bathroom clutter and deposit it in the tub or shower and draw the curtain.
4.
Clean all flat surfaces you cleared with furniture polish or all-purpose cleaner.
5.
Starting at the front door vacuum the visible areas.
6.
Light the candles and the fireplace. Switch on the stereo and turn down the lights.
Whew! You made it. The house looks great. Smells good, too. Enjoy your company and when they are gone, take a few more minutes to go through the box in the closet and don't forget the tub.
Decorating

A single focal point.
When it comes to holiday decorating, less can be more elegant, and less time consuming. You don't have to decorate every square inch of the house. Hang one large wreath or decorate only the mantel and let that be the focal point.
Oodles of candles.
If the holiday arrives before you find time to decorate, don't panic. All you really need are lots of cheap, unscented, white candles in all shapes and sizes. Put them everywhere. Turn down the electric lights and your home will look great. Candlelight is inexpensive, very theatrical and so forgiving.
Anything natural.
Look outdoors for anything green like juniper bushes, magnolia leaves, pine boughs, even twigs or branches that you can cut and bring indoors. Arrange on mantel or table. Intertwine with red ribbon.
Remove candle wax.
Remove drips by softening them with a hairdryer and then wiping away with a paper towel. Or harden the wax by covering it with an ice cube wrapped in plastic. Scrape off the wax with a plastic spatula.
Light bulb sleeves.
Save the paper sleeves light bulbs come in. They are the perfect shape and size to store
Christmas
tree ornaments.
Clean carpet.
If you have your carpet professionally cleaned, you can save time and money by not moving the furniture and cleaning only the high-traffic areas.
Gift ideas

Make a contribution
to a charity in the name of your recipient. The organization will send out a gift card announcing your generosity. Any dollar amount is appreciated however the exact amount of your donation is not typically disclosed.
Give what you do.
Make your gift what you do well. Make up your own Gift Certificate announcing your gift of babysitting, errand running, chauffeuring, gardening, window washing, graphic design, computer lessons or car washing.
Toy swap.
If you have very young children, arrange with other families to swap toys instead of everyone buying new ones this year. Clean them, wrap them and the kids will be none the wiser.
©Copyright 2010 Mary Hunt
Everyday Cheapskate is a Registered Trademark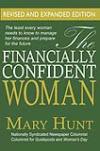 Check out Mary's recently released revised and expanded edition of The Financially Confident Woman (DPL Press, 2008).
Debt-Proof Living was founded in 1992 by Mary Hunt. What began as a newsletter to encourage and empower people to break free from the bondage of consumer debt has grown into a huge community of ordinary people who have achieved remarkable success in their quest to effectively manage their money and stay out of debt. Today, "Debt-Proof Living" is read by close to 100,000 cheapskates. Click here to subscribe. Also, you can receive Mary's free daily e-mail "Everyday Cheapskate" by signing up at EverydayCheapskate.com.