Motherhood at the Foot of the Cross
Jeannine Norris

Author, Tonight You Are My Baby

Updated

Jun 11, 2009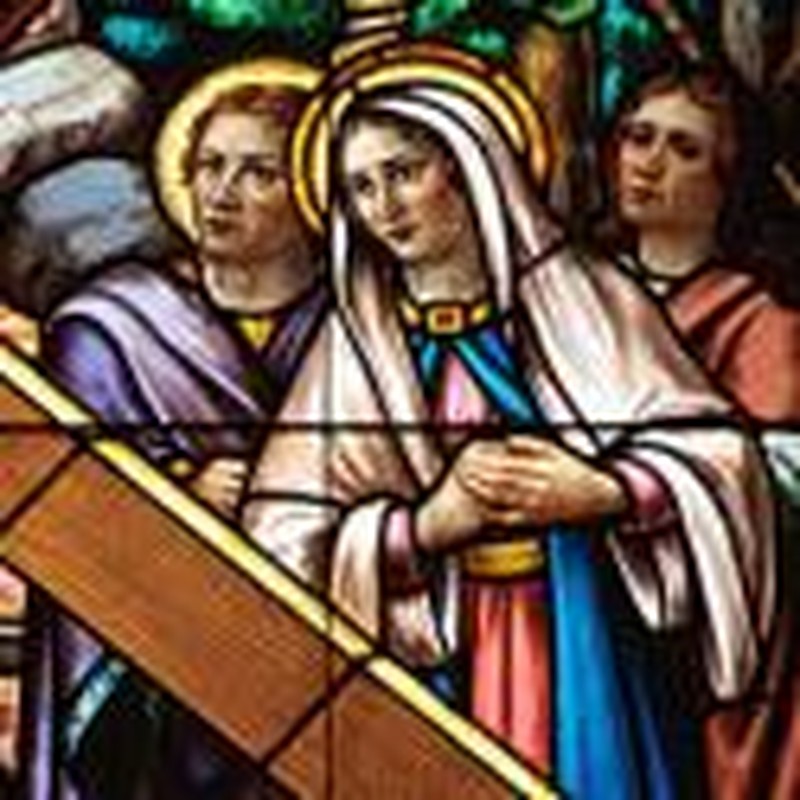 "And a sword will pierce your own soul too." luke 2: 34
During this Lenten season, my husband and I had the extraordinary honor of watching our 11 year-old son, Shane, play the part of Jesus in the school's Passion Play. Anyone who has a child this age knows that being stripped to a cloth, in front of classmates, school students and the community, is intimidating and vulnerable. No easy task for a 'tween.
My husband and I were proud that Shane wanted to play Jesus. We would support and encourage him. In the end, though, it was up to him to carry through with the task.
As we sat in the church, I said a prayer to give Shane the strength to fulfill his role with dignity, caring and faith. When he began his walk, bent over with carrying the cross, I began to think about the heartache that Mary endured that day. My eyes filled with tears as I watched Jesus' story unfold, and imagined Mary's pain.
I could not even fathom her incredible strength. I was merely watching my son carry out his responsibility to his school community. Mary watched her son carry the responsibility of all God's people.
When the robes were torn from Shane's body, and he stood with only the cloth, the rest of his body exposed, I felt his vulnerability. The spotlight shone on him as others looked on, and I knew the fears that would race through his mind. Would others laugh at him? Would kids tease him later about his lanky body? Was he brave enough to trust whatever was in store for him?
As a mother, I wanted to run to the altar - to shelter and protect him from any hurt feelings. Every ounce of my being was saying, "Please, God, let this be easy for him. Please let others be kind." As Shane stood under the hanging cross, during the reflective song, I marveled at how Mary could be so strong.
How she must have wanted to cry out! This was her baby! The hands that were now pierced with nails were the same baby hands that Mary had once held tightly in her own. The head that now held a crown of thorns was the same head that had napped on her shoulder. The feet that took their final journey were the same feet that took their first steps in front of her. Mary was witness to all the wondrous miracles that God gives to mothers – but, she was also witness to the agony of watching her child die.
This year, I realized that, just like Christmas, Mary was also part of the miracle of Easter. She is an inspiration to all mothers. Mary was part of the enormous sacrifice that Jesus made for us. As his mother, she followed him on His last journey so He would not be alone.
She could not hug him or take away his pain, but she could look into his eyes with love. Mary's presence told her baby that she would never abandon Him. As she was with him in the beginning, she would be with him in the end. God had given his Son the gift of a beautiful mother, and she would ease his burden. It was all that Mary could give - and it was enough.
The Passion Play reminded me how blessed I am, as a mother. In the end, I was wrapped in my son's hug. I smiled as he smiled, knowing that all was well. Others had supported him – he was surrounded by kindness, friendship and love. I said a prayer again, this time in thanksgiving for what I had been given.
In our lives as mothers, we are asked to watch our children carry their own crosses. The cross may be enormous or simply part of the trials of growing up. Mary has taught us that our children may stand alone with their crosses, but a mother's love will always ease the burden.

Jeannine Norris is the author of tonight you are my baby: mary's christmas gift (HarperCollins Children's Books).