7 Reasons to Join a Women's Bible Study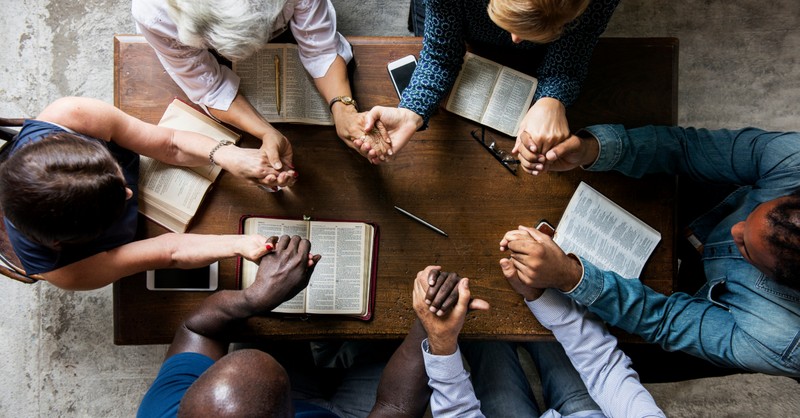 I walked into the church building to attend my first Bible study meeting, unsure whether I would fit or have anything in common with the other bible study members. I wrestled with going, making half-hearted excuses as to why I didn't have the time. But to my surprise, once I committed to attending each week, people shared their stories. As they became more vulnerable, I quickly realized I had more in common with those people than I thought.
My time in Bible study has always been worth it. God always had a special gift of fellowship and a sense of belonging whenever I attended. Groups are a great way to build trust and intimacy with people you would not normally interact with at church on Sunday.
The Benefits of Small Group
Wherever Jesus went (except when he went to lonely places to pray), he always had people with him. If Jesus believed groups were the best way to do life together, we should too. Whether it was a transfiguration on a mountaintop or calling Peter to walk on water, he spent a lot of his time in groups. He also didn't just spoonfeed his teaching to his disciples; he allowed them to participate in his ministry so they would know what to do once Jesus left him.
Churches, however, sometimes misinterpret the purpose of groups. Many church members view a Bible study as a class to give us more knowledge of the Bible. This creates an atmosphere of one leader passing on their knowledge to everyone. Members may also think Bible study is not the place to reveal their deepest struggles, as it may be seen as unacceptable within their church's current culture. But Bible studies allow for the practical application of the Word to be integrated into our daily lives, as well as other benefits. Here are some reasons to join today.
Reasons to Join a Bible Study
1. Fellowship
Bible studies give people the amount of fellowship they need. At first, communication may only stay at the surface level, making initial meetings a bit awkward. But as people go regularly, trust and intimacy are established. Once the fellowship goes deeper, it meets people's deeper longings for connection and community.
2. The Sharpening
Proverbs 27:17 says, "As iron sharpens iron so one person sharpens another." It's easy to be friends with those who think, act and look like us. But what about those who have opposing views? When we join a group, we quickly figure out people's passions, viewpoints, and opinions in many areas of life. Bible study invites you to build relationships with people you wouldn't normally interact with. We sharpen each other when we share thoughts and perceptions different than our own. This helps challenge our current perceptions or renew our minds to another way of thinking.
3. Understanding
One of the ways we fall in love with Scripture is when we study it for ourselves. It's one thing to read the Word daily; it is quite another to study it. Invest in some commentaries or a Bible software program that will give you access to the text and give insight into the context in which the Scripture was written. Having a better understanding of the culture in which it is written helps us understand the deeper meaning behind those words. Scripture should not be taken out of context, yet members have been known to do this from time to time. Being in a group with other believers can help challenge someone's viewpoint and allow them to renew their minds within a small circle of people.
4. Food
Some of the best snacks can be found at Bible study. Providing food (and a place to host the study) are luxuries to be enjoyed and allow people who like to entertain exercise their spiritual gift of hospitality. Before or during the study, make a point to encourage the host and snack provider on their yummy treats. You not only affirm those people, but you get to enjoy a taste of other members' favorite dishes too.
The current model of the Sunday service gives some people the opportunity to use their gifts, but not everyone can. A small group is a place where all of the gifts can be explored and confirmed. If you don't know what your spiritual gifts are or how to discover them, there are great tools out there. Take a spiritual gifts inventory. This is a test consisting of several questions that, when scored, can help you figure out the gifts God has bestowed upon you. Once you know which ones you possess, seek the help of your Bible study leader or pastor to see how you can get connected in the church service or use your gifts within the Bible study. This may not only make you aware of your gifts but also desire to use them in whatever capacity God might have in mind.
6. Accountability
Not only are Bible studies great for the application of knowledge, but it also allows members who are stuck spiritually to grow again or to confess any sin openly. Members receive accountability to other members in the group, so they can rid themselves of a pervasive sin but also have others check in often to see how they are doing through the week. Romans 7:15 says, "I do not understand what I do. For what I want to do I do not do, but what I hate I do." it is tempting to keep engaging in sin when no one knows about it. But confessing openly and allowing it to come into the light will release Satan from keeping that person in bondage to their sin. During a study, hosts can cover the ground rules to say, "what is said in the group stays in the group," which gives members a sense of confidentiality.
7. Deeper Longings Met
People may attend a Bible study simply to grow in their knowledge of the Word. Although this is a good thing, that is not the only benefit of small groups. Everyone has a core longing to be seen and known by others. In a big church service, people interact with others on a surface level. However, within a group dynamic, everyone has the opportunity to share their thoughts and feelings. Praying together also allows everyone to grow in their connection with God. Not only are members seen by others, but they also grow in their belief that they are seen and loved by God.
If you are unsure if a Bible study group is right for you, consider the suggestions above. Attending can be a unique gift that allows you to build deep, meaningful relationships for everyone involved while understanding God's Word in a more profound way. By not attending, you may be missing the benefits of food, fellowship, and a deeper connection with other sisters in Christ. A small investment of your time may give you everlasting benefits to enjoy for years to come.
Photo credit: ©GettyImages/Rawpixel
Michelle S. Lazurek is a multi-genre award-winning author, speaker, pastor's wife, and mother. She is a literary agent for Wordwise Media Services and a certified writing coach. Her new children's book Who God Wants Me to Be encourages girls to discover God's plan for their careers. When not working, she enjoys sipping a Starbucks latte, collecting 80s memorabilia, and spending time with her family and her crazy dog. For more info, please visit her website www.michellelazurek.com.