Tis the Season to Have a Mental Breakdown
Jennifer Slattery

JenniferSlatteryLivesOutLoud.com

2013

12 Dec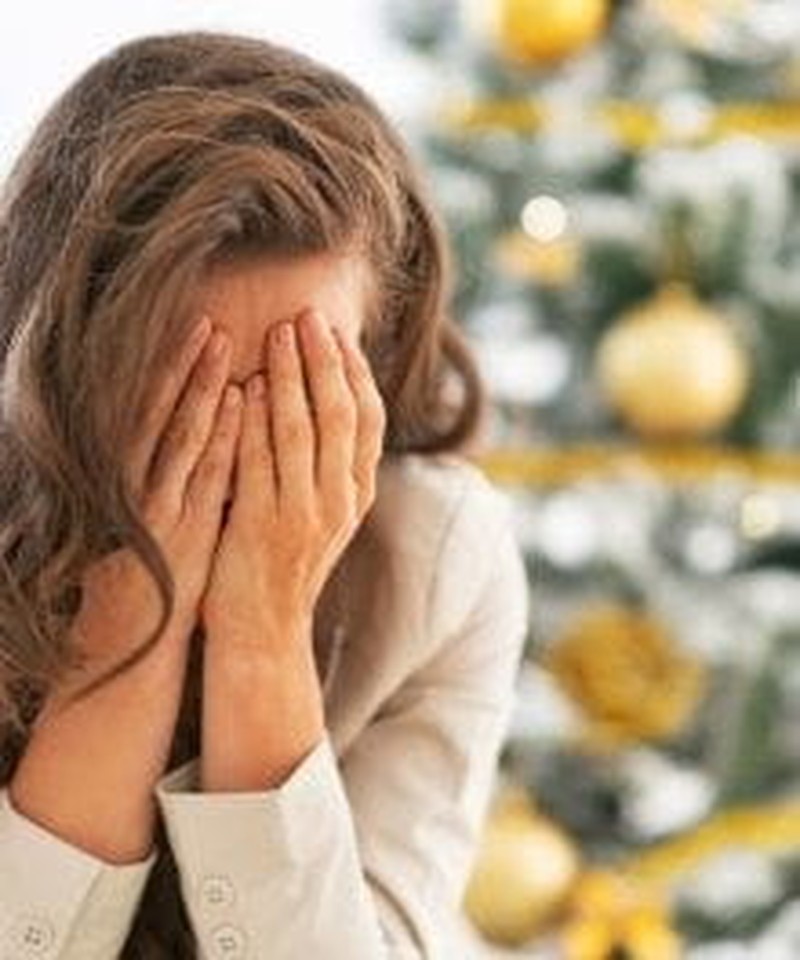 'Tis the season to… have a mental breakdown.
Each year, the frantic rush seems to begin earlier. It starts with a trickle of junk mail and a random Christmas carol played on the local radio station. Before we know it, we're slammed with parties, shopping, and an ever-mounting to-do list that, if tackled, will somehow usher in the joy of the season. It's tradition, with an insane case of heartburn included! So we grit our teeth, roll up our sleeves, and put on our "Merry Christmas face" when inside, we're anything but joyful.
When did the simple celebration of the babe in a lowly manger turn into a whirlwind of to-do-lists, over-filled calendars, depleted bank accounts, and unmet expectations? And what can we do to turn our bah-humbugs into fa-la-la-la-las? For some of us, that might seem far reaching, but there are ways we can reduce our inner angst while increasing our peace. And it begins, I believe, with a prayerful and honest evaluation of ourselves, our circumstances, traditions, and expectations.
For many, the greatest stressor experienced over the holidays is the intense pressure to perform. According to working mother of three, Kim Chipman, the stress of measuring up to other people's demands is exhausting. "There's so much expected of me," she says. "Be Santa. Be Martha Stewart. Be Betty Crocker. Be happy. Decorate more. Bake more. Shop More. Spend more. Pile on a whole bunch of expectation and anticipation on top if it; and I just want to run. The pressure is suffocating."  
According to Rita Barrett Greenwell, PLMHP, these expectations to "do" can be internal and external. "The internal stress is our desire for perfection," Greenwell says. "We have an image in our head of that perfect outfit, the perfect guests, the perfect gifts. Then there's the external pressure of trying to manage others' perceptions of all the above."
The first step, then, in managing expectations is to determine their source. Are we placing unrealistic or unnecessary demands on ourselves? Are we allowing others to place expectations upon us? Or are we assuming expectations based on past practices or tradition?
There's a biblical account of two women, one named Martha, the other Mary, preparing for a very important guest--Jesus. I imagine many are familiar with the story, found in Luke 10:38-42. When Jesus arrived, Martha launched into meal preparations while her sister chooses to spend time with Jesus. This narrative has inspired numerous sermons and devotions, the emphasis usually being: Don't be a Martha! A woman, who clearly allowed her to-do list to take control rather than surrendering her time to the Savior.
Martha suffered from expectation overload. First, she lived in a culture where women were judged largely by their domestic abilities. They had two responsibilities—caring for their home and providing for all the needs of their guest. Granted, Mary and Martha were likely quite wealthy, which means they probably had servants to do the bulk—if not all—of the meal preparations. And yet, even so, as the matriarch, she ultimately assumed full responsibility for the well-being of her guests. It would be quite natural, and likely even expected, then, for her to maintain an active, supervisory role over the preparations. In essence, I suspect she felt she was doing what was expected and even proper.
The problem occurred when she placed more emphasis on the details than the who.
And how did Jesus respond? But the Lord said to her, "My dear Martha, you are worried and upset over all these details! There is only one thing worth being concerned about. Mary has discovered it, and it will not be taken away from her" (Luke 10:41-42 NLT).
To paraphrase, "Martha, what is your one thing?" Obviously, during Christmas the "one thing" is celebrating Christ. Even so, there are varying levels of importance for every task we tackle and every event we participate in. The stress comes, I believe, when the way we spend our time and energy conflicts with the desires of our hearts.
We all have a limited amount of time. This is especially true during the holiday season. We know this, but do we act on this knowledge? Meaning, do we choose how we will spend our time based on our top priorities? Or are we allowing others to choose our actions for us?
Pause to consider this event from Mary's point of view. Upon first glance, I suspect many of us envy her and the peace she must have experienced while sitting at the Lord's feet. And yet, I believe this took great courage. For one, she grew up in the same male-dominated environment Martha did. She also lived in a culture where the needs of the group were deemed more important than the needs of an individual.
When I contemplate this narrative, I envision Martha stomping about the house, snapping at servants, sighing loudly and often. (Can you relate?) Similarly, I picture Mary fighting a desire to please Martha, the matriarch, and appear the dutiful sister. How difficult it must have been for Mary to pull away from her sister to spend time… sitting. Listening. Connecting. But her heart bid her stay, and as Jesus said, Mary discovered the one thing worth being concerned about, and it would not be taken from her.
In other words, when Mary's "one thing" clashed with tradition and the expectations of others, she had to prioritize. At the risk of making her sister extremely upset.
Establishing and living out our priorities can be extremely difficult, especially if it means going against a long-standing tradition. When I'm faced with difficult and potentially conflict-inflicting decisions, I meditate on the following verse, taken from Galatians 1:10:
"Am I now trying to win the approval of human beings, or of God? Or am I trying to please people? If I were still trying to please people, I would not be a servant of Christ."
This reminds me that, although I long to be liked and appreciated, ultimately, I must focus on pleasing God. Then, of course, I must prayerfully decide what that means, because there are times when, like Mary, I must pull away and refuel. But there are other times when I must put the needs of others first, even if that means slaving in a hot kitchen or eating Christmas dinner three times (Mark 9:35).
When prioritizing holiday endeavors, we must also take an honest look at the expectations we place on ourselves. Are they realistic? What is our true motivation? If it's to please others or somehow prove we're "good enough," then there's a bigger issue involved, perhaps an unfulfilled longing or lingering insecurities based on wounds from our pasts.
"Often, people develop expectations based upon something they may have missed out on in childhood," Greenwell says. "For example, someone who grew up in poverty may go overboard with gift-giving to their children." I had a friend who never got candles on her birthday cake. Now, she doesn't care if it's a cupcake, the candle must be there."
Adding a few candles on a cake or placing a few extra gifts under the tree isn't bad, unless they cause our stress level to rise and overshadow our motives, be it blessing our children or making the event special. This can be especially difficult when our finances are limited. We all long to give our children wonderful gifts, but falling into or increasing our debt isn't beneficial to anyone. Besides, in our heart-of-hearts, we know the best gifts we can provide are a strong spiritual foundation, a loving home, and cherished memories. And if we're not careful, our good intentions can be swallowed by unreachable expectations and unmanageable details that create an environment of stress and negativity.
Many times, anxiety-producing negativity comes from insecurities and feelings of inferiority. So often our actions, from scouring the Internet for that perfect table decoration to shopping for that perfect gift, result from our desire to gain value in other's eyes. For example, perhaps our in-laws are coming for a visit, and we want them to see us as attentive wives and mothers. To create this desired response, we launch a massive deep-cleaning project and recipe search. First, it is unlikely they are judging us as harshly as we anticipate. If we sense tension, it could be caused by our efforts to make everything perfect. Think back to the image I proposed of a sighing, stomping, snapping Martha. Stress and frustration is contagious and can create a toxic environment.
But let's assume our assumptions are correct and our in-laws deem us domestically incompetent. Sadly, there might be little we can do about that. None of us can control other's opinions of us, nor will our frantic efforts reveal our true selves. In essence, all we can do is be ourselves and surrender the rest—in-law opinions included—to God.
Romans 12:8 says, "If it is possible, as far as it depends on you, live at peace with everyone." This indicates it's not always possible nor is it always dependent upon us. Therefore, when tension rises despite our best efforts at establishing peace, we might need to establish ways to take moments of reprieve. It will help immensely if we've determined ways to do this ahead of time.
For example, between lunch and dinner, perhaps we could slip out for a prayer walk. Or maybe we could retreat to your bedroom to listen to soft praise music for twenty minutes. Ultimately, we must determine not to own others' responses and reactions and formulate a game-plan for when we need a break. If we anticipate encounters becoming particularly stressful, we may wish to discuss our feelings with those closest to us. A simple, "I'm feeling anxious and need a little extra emotional support today," should do it, although sometimes a more in-depth conversation is warranted. And if the situation appears insurmountable, we might want to have an additional, private celebration. This way, we can maintain obligations and still enjoy a peaceful and special Christmas.
The last stressor I'd like to address is how to handle those situations where we feel overwhelmed and overworked and it appears as if no one wants to help us. Again, think back to the story of Mary and Martha. Martha wanted to present a wonderful meal to the Rabbi, and she wanted Mary to help her. The problem was, Mary had different priorities than Martha. Similarly, perhaps it is important for us to have a well-decorated, eight foot Christmas tree, fresh fruit with every holiday meal, and four deserts to grace our table. But while we're juggling all these tasks, our husband camps out in front of the television. Doesn't he see all the work needing to be done? Doesn't he see how hard we are working? Doesn't he care?
Quite frankly, he might not, just as we likely don't see all the yard or home maintenance projects he does. Nor do we care whether 90% of those projects get done. Therefore, we have a few choices: First, we can calmly share the items on our to-do list, why they are important to us, asking for his help. Or we can recognize these tasks aren't as important to him. Without making judgments on his priorities, we can determine to tackle them ourselves, or, if they are too burdensome, we leave them undone.  Because trust me, Christmas will not be ruined without that mammoth tree or fresh-baked pie (and I have a four foot tree in my living room to prove it!).
Ultimately, barring tragedy or catastrophe, we alone decide how merry our Christmas will be. We can choose to accept the weight of interpretations and expectations or we can center our hearts in Christ and His never-ending love for us. Similarly, we can, like Martha, allow the details to swallow our joy and distract us from spending time with family and friends, or we can choose our "one thing" and not allow ourselves to become enslaved with the ever-mounting to-do lists.  
Jennifer Slattery lives in the midwest with her husband and their teenage daughter. She writes for Christ to the World Ministries, Internet Cafe Devotions, and maintains a devotional blog at JenniferSlatteryLivesOutLoud. Her work has appeared in numerous publications and compilation projects.
Publication date: December 12, 2013