Top 10 Christian Podcasts for Women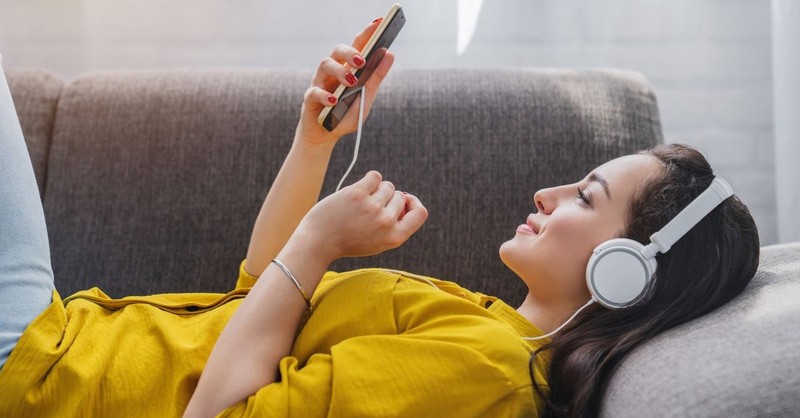 Are you looking for the top ten podcasts recommended for women? In this busy and beautiful world, we don't always have time to feed our souls beyond the time we spend with Jesus every morning. These days we have precious little time and the time we do have, we want quality over quantity—hence the beauty of podcasts.
Even though podcasts have been around for close to a decade, they are the fastest growing platform because we can listen while we're driving to work or working out. We can find a podcast to listen to on the treadmill, folding laundry, and grocery shopping.
Photo Credit: ©GettyImages/Inside Creative House
The Benefits of Listening to Christian Podcasts
If you're still on the fence about listening to podcasts or you're new to the scene of podcasts, it's time to grab your headphones. There are 1,750,000 podcasts with over 43 million episodes as of January 2021. 50 percent of the homes in the United States are fans of podcasts. Listening has gone up since 2019, thanks to COVID, by 55 percent. So why is there a surge? It's likely because of their versatility and it gives listeners a break from viewing media all day long.
It provides wisdom and encouragement audible format that's like sitting with a friend at a coffee shop that we all miss in these trying times. So, what exactly is a podcast? A podcast is a series of episodes that are much like on-demand radio with digital access. This means you can listen over and over again to one particular episode or the entire series. Podcasts are more popular than ever! Here are three benefits:
Listen Anywhere, Anytime
You probably can't read your Bible Study, much less a book while you're out for a run. Nor can you watch Netflix while getting groceries. But with podcasts, you can. Whether you're at home, at work, in your car, or at the gym—it's easy to put your headphones in and listen to the latest episode of your favorite podcast. In a world that values the hustle over the holy, podcasts redeem our time with Jesus.
They're Usually Conversations Instead of Stories
Podcasts generally consist of conversations between two individuals. The back and forth has a ton of advantages. For example, I love listening to The Alli Worthington Show. Her podcast is generally a mix of guests but sometimes it's just her. She brings on guests like John Bevere, Lisa Whittle, and even Beth Moore. Sprinkled throughout the conversations are personal revelations, how to live a Christian life and obey God to the best of our abilities. It's real, it's raw, and it's relatable. You'll walk away encouraged by their personal reflections and with a deeper faith.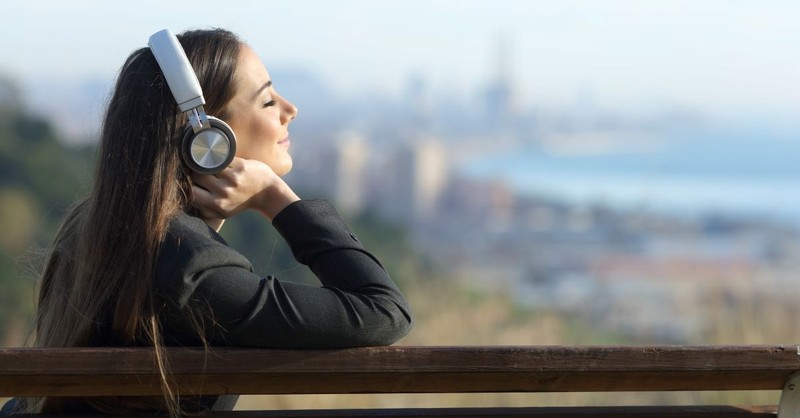 Christian Podcasts Provide Wisdom, Encouragement, and a Deeper Connection to God
We're reminded on a daily basis to renew our minds so we can test and approve God's will in Romans 12:2. Podcasts allow us to filter what is good, uplifting, edifying based on this passage. This tool gives us the advantage to enhance our worship, our understanding of God, and strengthens our faith. It will help you stay true to your beliefs. Faith-based podcasts are a great way to fill your mind with Christian thoughts, Scriptures, and Christian living all week long, not just on Sundays.
Joshua 1:7-8 reminds us, "Above all, be strong and very courageous. Be careful to observe all the laws that My servant Moses commanded you. Do not turn from it to the right or to the left, so that you may prosper wherever you go. This Book of the Law must not depart from your mouth; meditate on it day and night, so that you may be careful to do everything written in it. For then you will prosper and succeed in all you do."
A word of caution: It's important when you're looking for a Christian podcast to ensure the host believes in God's Word, believes in the Nicene Creed, and that he or she doesn't add or take away from the Bible. You can find out more about the podcast and the host in the "About me" section of the show notes.
Whether you want to get to know the Bible better, improve your marriage, friendships, career, or parenting tips, here are 10 top Christian podcasts for women of faith that are definitely worth a listen! Podcasts are a beautiful way to redeem time with Jesus! Before we dive in, if you're looking for podcasts for your teenage girl to listen to or to listen to together, you'll definitely want to check out Christian Girls P.O.P. by Stephane Bright, and WHOA That's Good Podcast by Sadie Robertson. Other podcasts for women worth listening to include: Mama Take Heart and Hope for Women with Father Wounds.
Photo Credit: ©GettyImages/AntonioGuillem
Top 13 Christian Podcasts for Women
1. Don't Mom Alone (God Centered Mom Podcast) by Heather MacFayden
The Don't Mom Alone Podcast by Heather MacFayden provides weary moms with a relatable voice, admitting no mom is perfect, but we are each just 'in process.' Each week, moms tune into one of the 198 episodes that are God-centered. Those tuning in are eager to gain encouragement and feel connected. Her podcast is geared towards helping moms feel less alone.
2. Faith Over Fear
This is one podcast you don't want to miss! Hosts, Jennifer Slattery, Tara Rye, and Jodie Bailey help you embrace life with eyes wide open, tackling fear in order to live life to the fullest. In the podcast, Faith Over Fear, they believe life is too short for us to miss the big plans God has for each of us and they want to help their listeners make daily decisions on faith instead of fear.
3. Moms Better Together with Heather Riggleman and Lori Wildenberg
Now I may be biased but this podcast is perfect for the mom who wants to dig deeper into God's Word while adding parenting tools to her toolbox. Hosted by Life Audio, the first season of Moms Better Together encourages mothers to rise up to raise up faith-filled kids. The second season focuses on the entire life of Joseph and how he still managed to cultivate the Fruit of the Spirit found in Ephesians.
4. Risen Motherhood with Emily Jensen and Laura Wifler
The Risen Motherhood Podcast is one you want to save for the school pick-up lane. Laced with "Gospel Hope" these 15-to-20-minute episodes talks about everything from potty training to recovering from child abuse. They remind listeners when life gets hard, you can always turn to the Gospel for hope and help.
5. Cultivate Your Life with Lara Casey
Are you a woman with goals? Do you have God-given dreams? Do you have a small business or are you planning to launch one? The Cultivate Your Life Podcast with Lara Casey is the founder of the PowerSheet Goal Planner. Her podcast will help you cultivate what matters and provides the resources, faith steps, tools, and encouragement to make it happen!
6. The Knowing Faith Podcast
Are you looking for a deeper understanding of the Bible? The Knowing Faith Podcast is an excellent place to start. Co-host, Jen Wilkin has a beautiful way of making the Bible come to life as she teaches Scripture verse by verse and helps you apply it to everyday life. Jen is passionate about encouraging women to study the Bible and she will inspire you to dig into the Word more. She co-hosts this podcast with JT English and Kyle Worley who are a part of the Village Church.
7. Your Daily Prayer Podcast
The Your Daily Prayer Podcast is the perfect podcast to start your day before your feet hit the floor. Hosted by a team of women at iBelieve.com, they bring you a daily devotional and prayer to help you start your day right—with God! Their words of encouragement mirror God's commandments to focus your heart and mind on the love of God.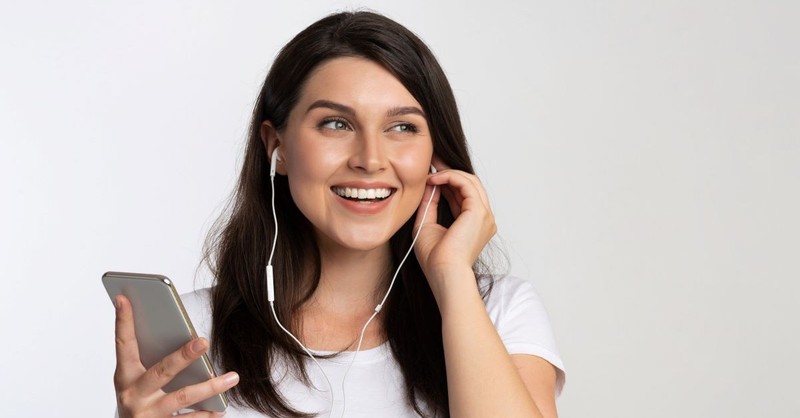 Christian Podcasts for Women Continued
8. Single Mom 101 with Jennifer Maggio
Jennifer Maggio is a national voice for single mothers. She knows about the unique challenges as well as blessings and joys of being parenting. She has dedicated this podcast and it is her calling to ensure no single mother walks alone! The Single Mom 101 podcast is the perfect toolkit for single mom's most pressing concerns and questions.
9. Can We Make Sex Not Weird Podcast
Sex. It's a big part of our story as married women. But sometimes the church, TV, books, and the culture make it weird. Because the culture is so focused on how sex is just for men, Sheila Wray Gregoire is uncomplicating it for us with her podcast, Can We Make Sex Not Weird. If you're tired of "Christian pat answers" about sex and marriage, this in-depth podcast will help you see what marriage and sex are truly created for!
10. Set Apart Girl with Leslie Ludy
This weekly podcast talks about embracing femininity, in all areas of life amidst a self-seeking and shallow culture. The Set Apart Girl has topical episodes that range from romantic relationships, marriage, Bible study, purpose, purity, and more. Her core message is complete surrender to Christ in every area of your life as a Christian woman.
11. Proverbs 31 Ministries Podcast
The Proverbs 31 Ministries Podcast is an extension of the organization. This podcast is designed to help you apply Biblical wisdom to everyday life, like marriage, relationships, friendships, culture, and motherhood. Every episode features a staff member or friend who shares Biblical truths they learned from their own life experiences. It's the perfect podcast to start your day off right.
12. God Hears Her Podcast with Elisa Morgan and Eryn Eddy
Have you ever felt invisible or perhaps that God doesn't see you in your mess? Maybe He doesn't see you in success either? Oh, but He does! Hosts Elisa Morgan and Eryn Eddy of the God Hears Her Podcast unpack what it means to be seen by God and how He does hear your prayers. Their motto for the show is "true freedom comes from sharing our journeys and knowing we are not alone."
13. Truth's Table
The Truth's Table podcast is co-hosted by three black women, Michelle Higgins, Christina Edmondson, and Ekemini Uwan who seek to share their culture and faith. They talk about race, politics, gender, pop culture, and current events. Their voices give Christian women a fresh perspective on how every woman needs a seat at the table and how every voice in the Christian faith matters. They call themselves the "Midwives of culture for grace and truth."
Photo Credit: ©GettyImages/Prostock-Studio
How to Incorporate Podcasts into Your Daily Routine
Push Play During Your Morning Routine: Mornings can feel chaotic and blah while you're applying makeup and encouraging your 12-year-old to brush her hair for the 486th time. Add a bit of flavor and encouragement to help you get your day started on a foundational note!
Add It to Your Morning Commute or School Pick-Up Lane: Being a woman with a family gives us so many moments of waiting. Whether you're driving to work or sitting in the school pick-up lane, spice it up with words of wisdom! Find a parenting podcast or something that will give you an edge in the workplace.
Sweat It Out While You Listen: Listen to a high-energy show or something about treating your body as the temple God created it to be. Find a health or nutrition show and add it to your routine.
Add It to Your Bath Salts – Self Care Time: If you have time for a long hot shower or a good long soak, find a podcast with a little bit of "God care" as you self-care.
Enjoy the Company on Your Solo Lunch Break: It never hurts to have a little company while you nourish your body. Nourish your soul with something insightful or full of tips on your lunch break.
Listen While You Work: Tell Alexa to play your podcast while you're prepping supper or when you have a bit of downtime at work that doesn't require critical thinking. You can plot and plan while you're working through your 9 to 5 whether or not you work in an office or you're the queen of the house. It's the perfect way to keep your mind on Christ!
From Jesus-filled conversations to comedy to voices who say they are with you in the trenches of motherhood, podcasts are the audible digital version of reading a book or listening to a devotion. Podcasts can be a foundational lifetime to redeeming time lost during the day. For even more podcasts, visit LifeAudio.com, where you'll find my podcast and dozens of others with captivating topics to fuel and nourish your day!
---