Urban Homemaker Family's Traditional Thanksgiving Menu
Marilyn Moll

Contributing Writer

2004

19 Nov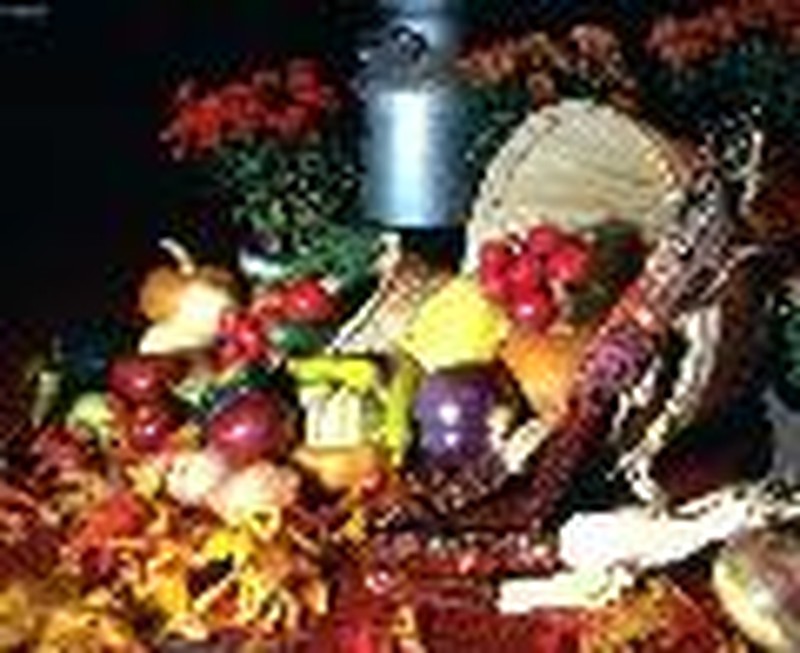 Here is the Urban Homemaker Family's Traditional Thanksgiving menu and recipes that we have been using for nearly twenty years. Recipes follow for the
starred items.
 
Turkey, Homemade Gravy*, Herbed Stuffing*, Mashed Potatoes, Aunt Helen's Sweet Potatoes*, Green Beans Amandine, Cranberry Relish Gelatin Salad*, Pumpkin Bread*, Fantastic Whole Wheat Rolls*, Apple Pie*, Pecan Pie*, coffee and tea.
 
AUNT HELEN'S SWEET POTATOES
The crispy, nutty topping will appeal to children of all ages.
 
1/4 C. butter
2 eggs
1/2 C. sugar or honey
2/3 C. evaporated milk
1 tsp. vanilla
4 lbs. fresh sweet potatoes cooked OR 4 lbs. canned, drained sweet potatoes
(Note: Sweet potatoes are distinctly and vividly orange colored, extremely high in vitamin A, and often mislabeled as yams.)
 
To prepare sweet potatoes in their jackets, drop them into boiling water to cover and cook until tender, about 25 minutes. (I usually pressure cook the sweet potatoes in 10 minutes to save time and money.) Peel and mash the cooked sweet potatoes and mix with the other ingredients. Place in a shallow 11 inch x 7 inch baking dish, bake at 350° for 30-45 minutes. Then sprinkle the topping mixture over the sweet potatoes and bake another 15-20 minutes.
 
Topping Mixture
2 C. crisp rice cereal
1/2 C. chopped pecans or walnuts
1/4 C. butter
1/2 C. brown sugar or Sucanat
 
 
CRANBERRY RELISH GELATIN MOLD
I have served this gelatin mold at Thanksgiving and Christmas for nearly 30 years! This recipe can be prepared several days ahead. Yields 8-10 servings.
 
1. Assemble and prepare the following ingredients:
 
20 oz. can crushed pineapple, unsweetened (drain, reserving the juice)
2 pkg. (3 oz. each) cherry, raspberry, or strawberry gelatin
1 C. boiling water
1 C. fresh, whole cranberries
11 oz. can of mandarin oranges
1 C. chopped celery
1/2 C. chopped pecans
1 tbsp. lemon juice
 
2. Dissolve gelatin in boiling water. Add lemon juice and reserved pineapple juice.
 
3. Chill until gelatin begins to set — about one hour. Meanwhile, coarsely chop cranberries in blender or food processor.
 
4. Stir in cranberries, oranges, pineapple, celery, and pecans to the thickened gelatin. Place this mixture in holiday gelatin mold or attractive glass serving bowl. Chill until firm.
 
HERBED STUFFING
Stuffing recipes are easy to make.
 
1. Cut about 20 slices of toasted white or whole wheat bread into crouton-size cubes, OR use one large bag of Pepperidge Farm Herb Stuffing Mix. (For homebaked whole wheat bread use 15 thin slices.) Place in a large bowl.
 
2. (If you are using the Pepperidge Farm Stuffing Mix, omit this step.) If you are using your own croutons, Combine in a separate small bowl and sprinkle over the bread:
 
2 tsp. salt
1/2 tsp. pepper
1 tbsp. sage or poultry seasoning
 
3. Crumble, brown, and drain the sausage. Add the sausage to the stuffing mix or bread cubes:
 
1/4 lb. bulk turkey breakfast sausage,
1/4 lb. bulk turkey Italian sausage
(Leftover sausage can be frozen for scrambled eggs, pizzas, etc.)
 
4. Sauté the celery and onion in 1 tbsp. of butter:
 
1 C. chopped celery
1 chopped onion
 
5. Next, add to the bread cubes/stuffing mixture:
 
4 tbsp. fresh chopped parsley
1 peeled, cored, chopped Granny Smith or Jonathan apple
3/4 C. cranberries for color (optional)
 
6. Combine together:
 
1 stick melted butter
2 C. canned chicken broth or reconstituted chicken broth powder
 
7. Drizzle all the liquid over the other ingredients and lightly toss until well mixed.
 
8. Stuff the bird loosely because stuffing expands during roasting, or place the mixture in a glass casserole dish and bake the stuffing separately until hot. It is very hard to ruin stuffing; use the ingredients you have and like, but don't forget the onion and celery. I can't wait to make this right now!
 
HOMEMADE GRAVY
Don't spoil your feast by using store bought turkey gravy mix. Your guests will notice the difference and remember this delicious homemade gravy. My daughter was horrified when she was helping another family clean up the meal and all the turkey drippings had been discarded! Make lots of gravy, it is perfect for leftovers, and many turkey casserole variations.
 
The secret to homemade gravy is to make a delicious stock/base by simmering the giblets and neck in 2–3 C. of water while the turkey roasts and saving ALL the drippings and browned crusty bits on the bottom of the roasting pan. Canned chicken broth or commercial gravy mix is a poor substitute, so resolve not to be tempted to compromise these steps.
 
Pour all the turkey drippings from the roasting pan into a large measuring cup (at least a two-cup measure) and allow the grease to separate. While the drippings are separating, pour 2–3 C. of water into the roasting pan and bring it to a boil by placing the pan on two burners on your stove top. Using a wooden spoon, stir up these browned bits so they "dissolve" into the water. This step is essential to wonderful tasting, beautifully browned gravy and makes cleaning up a roasting pan a much easier task. Reserve 4–8 tbsp. (1/4–1/2 C.) of the turkey grease once it separates from the drippings.
 
After the roasting pan has simmered with water and turned a deep brown color, combine this liquid with turkey drippings (not the fat) and the broth from simmering turkey giblets so that you have 5–6 C. of liquid. I use my six-cup blender as a measuring cup.
 
Then combine 1/4–1/2 C. turkey fat (or butter) with 8–10 tbsp. flour (whole wheat pastry preferred) until it gelatinizes, or thickens in a large sauce pan. Keep stirring over medium low heat for about one minute. 
 
Now, VERY GRADUALLY, pour the liquid from the turkey giblets and the roasting pan into the fat/flour mixture while you stir it continuously so as to not have any lumps. Stir continuously until the entire mixture thickens. Adjust the liquid if needed so you have a nice pourable gravy. Add 2–3 tsp. salt or to taste, OR use 1–2 tbsp. of Sue's Kitchen Magic for a richer/deeper flavor and for a lower sodium gravy. Save leftover gravy for future meals, open face sandwiches, etc!
 
FANTASTIC WHOLE WHEAT ROLLS
These wonderful rolls will be a hit for everyday or special occasions. Halve the recipe for a smaller batch.
 
2 1/2 C. warm water
1/2 C. honey
1/2 C. dry powdered milk (optional)
2 tbsp. yeast
2 eggs
6-8 C. whole wheat flour*
2 1/2 tsp. salt
1/2 C. oil
1/2 C. vital gluten
2 tbsp. dough enhancer (optional)
melted butter
 
Combine warm water, honey, powdered milk, and yeast in mixing bowl. Allow yeast to activate. Add the eggs and 3 C. flour. Stir until thoroughly mixed; dough will resemble cake batter. Cover; let rest until bubbly, about 30 minutes. Add salt, oil, and enough of the remaining flour until the dough pulls away from the sides of the bowl. Be careful to not add too much flour. Knead the dough for 6–8 minutes or until the gluten is developed or the dough is soft and pliable, not dry. Place the dough on a lightly greased surface. Grease the baking sheets. Pinch off small round portions of dough, and roll into an
8-inch rope. Tie the "rope" in a single knot. Place the knots in rows on baking sheets, cover, and let rise until double. Bake in a 350 degree oven for 20 to 25 minutes or until lightly browned. Brush with melted butter if desired, and remove to a cooling rack. Makes 2–3 dozen.
Multi-grain variation: Substitute 1 C. of 7-grain mix, cracked OR 1 C. cracked wheat for 1 C. of the whole wheat flour.
 
* If you do not have high quality fresh home milled whole wheat flour I recommend that you use half bread flour or all-purpose flour in place of some of the whole wheat flour in order to avoid heavy, dense rolls.
 
 
AMERICAN APPLE PIE
This is the best apple pie recipe I have ever found. Use tart apples such as Jonathan, Granny Smith, Gala, Macintosh, or a combination of apples for fabulous flavor. The spices used in this apple pie version are the best. Serve with real whipped cream or French vanilla ice cream.
 
1 double crust pie recipe (use your favorite pie crust recipe or check http://tinyurl.com/2uwal for Never Fail Pie Crust)
8-9 large tart cooking apples, pared, cored and sliced thin. (An apple peeler saves LOTS of time)
1/4 C. fresh lemon juice
6 tbsp. flour, whole wheat pastry flour is good
3/4 C. sugar or Sucanat, more if desired
1 tsp. cinnamon
1 tsp. nutmeg (key ingredient)
2 tbsp. butter (not margarine)
 
Place prepared bottom crust in a 9-inch pie pan. Put sliced, cored, peeled apples into a large mixing bowl and toss with lemon juice. Preheat the oven to 400°. In a small bowl, combine the flour, sugar, cinnamon, and nutmeg. Sprinkle 1/4 C. of the sugar mixture on the bottom pie crust and add the rest of the sugar mixture to the apples and stir to coat the apples. Fill the pie crust heaping full with the apple mixture. Dot with the butter. Place the top crust over the filling. Press edges together and flute. Bake about 50 minutes, until the crust is golden browned. Serve with favorite topping. Makes one pie.
 
PECAN PIE
A simple, easy, and delicious classic!
 
Preheat oven to 450°.
 
Line a 9" pie pan with single crust of pie dough, fork it all over very thoroughly to allow steam to escape and bake it only partially, from 5 to 7 minutes. Allow it to cool. Reduce oven heat to 375°.
 
Combine and beat thoroughly:
 
3 eggs
1 C. sugar
1/2 tsp. salt
1/3 C. melted butter
1 C. light corn syrup
 
Stir In:
 
1 C. pecan halves
1 tsp. vanilla
 
Fill the shell. Bake the pie 40 to 50 minutes at 375° or until a knife inserted in the filling comes out clean. I have found that when the pie looks browned it is done. Serve warm or cold.
 
PUMPKIN BREAD
This classic pumpkin bread recipe will make 3 to 4 medium sized loaves, or lots of muffins, plenty for family and gifts.
 
4 1/2 C. sugar, white, brown, Sucanat, or combination
1 1/2 C. vegetable oil
6 eggs
2 tsp. nutmeg
2 tsp. cinnamon
1 tbsp. salt
3 C. canned pumpkin
1 C. water
1 1/2 tsp. baking soda
3/4 tsp. baking powder
4 1/2 C. flour
 
Combine first eight ingredients and beat one minute. Stir together the flour, soda and baking powder, then add to wet mixture. Stir all ingredients until well-combined without over-mixing. Pour batter into greased loaf pans or muffin tins. Bake in 325° F oven for 50–60 minutes (regular sized loaf pans). Decrease baking time for muffins and mini-loaves. Test for doneness, cool five minutes in pan and finish cooling on a wire rack. Wrap completely cooled product in plastic wrap or bread bags for storage. Variation:  Add 1-2 C. chopped nuts and/or raisins to batter before baking.
Copyright, 2004. The Old Schoolhouse Magazine. Used with permission. Marilyn Moll is a major "Home Ec" name in the homeschool community. Her articles encourage and support the stay at home mother. Her company website is: www.UrbanHomeMaker.com.
www.TheHomeschoolMagazine.com.