5 Ways Hannah Encourages Us to Hope in God's Love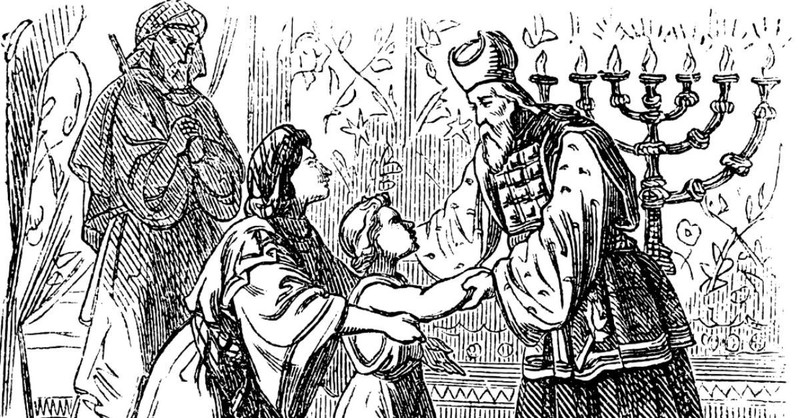 Hannah is a great example in the Bible of a woman that felt inadequate due to a condition she had no control over. The Lord had closed her womb, and though she was fully loved by her husband Ephraim, she felt a void in not being able to conceive for him. It didn't help that Peninnah, her husband's second wife, was able to bear him many sons and daughters and would provoke Hannah until she would weep and not want to eat.
Throughout Hannah's story in 1 Samuel, we see how she clung to hope. She didn't wane in her devotion to God and she kept praying for the answer she so longed for. One fateful day, she prayed so fervently in her heart in the house of the Lord that the priest, Eli, thought the silent movement of her lips meant she was drunk.
After explaining to him her deep pain and hope, he prayed a blessing over her. Finally, we see how the Lord remembered Hannah and answered the prayer she so longed for: "So in the course of time Hannah became pregnant and gave birth to a son. She named him Samuel, saying, 'Because I asked the Lord for him'" (1 Samuel 1:20).
Is there something you have been hoping for? Does it seem like everyone else gets their prayers answered or that those that have what you desire don't seem to appreciate it? Hope can be a mysterious thing. Let's look at five lessons we can learn about hope from Hannah's example.
1. Hope Never Gives Up
For Hannah, being barren was hurting her emotionally. Hannah was essentially being bullied by Peninnah for not being able to fulfill what she so longed for. Hannah did not give up hope in her distress, however. She would go to the house of the Lord continually, even as she was provoked by Peninnah, and pray.
Hannah kept her faith, and with her strong faith in God, she brought to Him her heart's desire. We are reminded in Hebrews 11:1, "Now faith is confidence in what we hope for and assurance about what we do not see." She knew her God was powerful, and she wasn't giving up. If God would grant her a child, she would devote that child fully back to Him. Her perseverance and faith were help in getting her prayer answered in God's timing.
For you, are you feeling worn down, comparing yourself to others, scrutinized for not being at a point in life that you thought you'd be at by now? You're not alone. Let Hannah be a good reminder that we can never give up hope.
 It's the fuel that can move us along one day at a time. Also, make sure that what you desire is not an idol in your mind and heart. Like Hannah, you may find the moment you give your desire to the Lord, your hope will be made new.
2. Hope Doesn't Always Make Sense
When the stakes are against you, when you can't see a glimmer of what you've been praying for day and night, hope can seem like a silly idea. Maybe you've been tempted to think you need to be realistic, go for the next best thing, or settle. Let this be a sign to you that even when the odds are against you, God can do what seems impossible.
Still, it can be exhausting and feel futile to pray for something when you don't see any signs of it on the horizon. I am reminded of Hannah's deep prayer to the Lord and how she looked on the outside as one that would be drunk. Her priest, Eli, thought she was. But once finding out her deep desire and hope in the Lord, he was able to see how serious she was.
Sometimes our dedication to our calling won't make sense to others. They may think we look crazy to keep following after God when we are seemingly being unanswered. I pray that you will keep up the good fight, keep waiting for God's best, and like Hannah, cry out to the only one that can send you your answered prayer at the perfect time. You never know who is watching you as you pray.
3. Hope Can Give Us a Platform
You know how you can make a friend faster than the speed of lightning? Have something in common with them that you have both have prayed fervently for. There is a saying that "misery loves company" but I would like to change that saying to "hope loves company."
When you are around people that can encourage you and pray with you on what you desire, that is the best company you could ever have. Hannah had her husband's support and unwavering love. Even Eli understood and prayed blessing over her. Hannah not only ended up having one child, but six children later on! What a platform of God's faithfulness that was!
People are watching. What you do with your weakness, or unfulfilled request, can do more for bringing others to the Lord than those that may get the same blessing without a wait. When we choose to openly praise our Lord in the midst of uncertainty, we will truly be lights on a hill. When we are brave to share the ups and downs in the waiting, our pain can become our platform.
4. Hope Opens Your Heart
I'm sure you've met people that are deeply bitter. Call them realists, or narcissists, or just plain tired. One thing is for sure, they are not pleasant to be around. When we take our eyes off ourselves for a minute we can look around and see others in similar or worse situations that we are. In doing so, we have a heart that stays sensitive and open to His leading and ultimate will.
Hannah knew her need for a child was deep, but she also knew that God's kingdom would prosper if she was able to receive her request. The greater good was not for Hannah to keep Samuel with her for the rest of her life to show him off, or to dote over him, but it was for him to be a man of God and serve with integrity. We see that God answered Hannah's prayer and then some with more children than she even imagined.
In 1 Samuel 1:26-28 we see that Hannah was good on her promise and after weening Samuel she went to the house of the Lord and to Eli said, "'Pardon me, my lord. As surely as you live, I am the woman who stood here beside you praying to the Lord.  I prayed for this child, and the Lord has granted me what I asked of him. So now I give him to the Lord. For his whole life he will be given over to the Lord.' And he worshiped the Lord there."
When we really receive what we've longed for, can we receive it with open hands and hearts to how God will want to use that blessing? This will make sure that our dreams and longings are not idols in our hearts. Maybe it's marriage, a child, or a new job. They can all be used for His glory so set your mind on what God could do through you and your answered prayers and wait to see how He wants to surprise you.
5. Hope Takes Us to Eternity
As much as I'd like to tell you that everything we hope for will come to pass, this is not true. There will be hopes and requests that we will not see fruition of on this side of Heaven. Having faith that God is leading us along His best path can instill peace in our souls to accept what He wants to give us. If our hearts are centered on Him, the desires of our heart will be what He desires for us and not just our dream wish list.
In 1 Thessalonians 5:16-18  we are encouraged to keep our hope day in and day out, "Rejoice always,  pray continually, give thanks in all circumstances; for this is God's will for you in Christ Jesus." I can think of no better way to live than rejoicing in our God's promises for us, our hope of eternity in Heaven, and knowing that He wants to hear from us. Being grateful of our lives, even in the midst of hardship, can help keep our hears softened to hearing from Him.
I pray that you have been encouraged to keep hope alive in your heart while here on Earth. All of the pains, the waiting, and unanswered prayers are not in vain. I pray that they will all make sense when we are finally made new and back at home with our Lord.
---
Mandy Smith is a joyful 30-something single living in GA. She is a full-time Speech-Language Pathologist. Her loves include Jesus, her family and friends, creativity, playing guitar and singing, coffee, laughing, and of course, writing! You can read more of her writing on  her website www.myjoyousheart.com and connect with her on Facebook, Twitter, YouTube and Instagram.
Photo Credit: ©GettyImages/Zdenek Sasek