3 Ways This Inspiring Doorman Conquers Evil at Work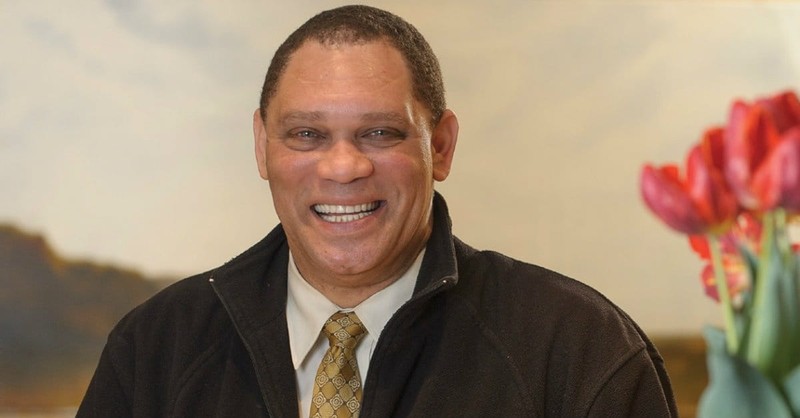 I will never forget the first time I saw Nick Medley, a doorman at Memorial Sloan Kettering Cancer Center in Midtown Manhattan. My wife, Katie, had been diagnosed with advanced ovarian cancer and we had an appointment at America's oldest cancer center to get a second opinion on post-surgery treatment. 
Walking toward the entrance of Sloan Kettering, I was fully expecting to encounter a bleak environment that reeked of death,  disease, and discouragement. Nick was the very first indication that my pre-conceived notion would be completely wrong. As we got within eyesight of the entrance, Nick locked his eyes on Katie and greeted her like a returning friend.  (And this is in Manhattan where people don't make eye contact with passersby!) 
Nick was intentionally reaching out to connect with people he recognized as cancer patients. It is no exaggeration to say that the healing process began as we came through the door that first time. Thanks to the love and medical treatments provided by Nick, Katie's oncologist, and their colleagues at Sloan Kettering, Katie is now a three-time cancer survivor. 
I was not surprised to learn that ABC News anchor David Muir profiled Nick in a segment called "America Strong."  Indeed, Nick is strong thanks to the power of the Holy Spirit within him. Nick, who worships at Brooklyn Tabernacle, is as a follower of Jesus conquering the evil of disease with love. Watch the inspiring ABC News segment at this link and see what I mean.
Nick is a model for how to bring the power of the Holy Spirit with you to work. Many people are struggling at work today. To improve the situation, we need to develop workplace cultures that reflect Biblical wisdom. My colleagues and I describe them as "connection cultures" because people in these cultures feel connected to one another and to the customers (or patients in Nick's case) they serve.  
Connection cultures contrast with "cultures of control" or "cultures of indifference." In cultures of control, people with power, control, status and influence rule over others. In cultures of indifference, people are so busy and distracted that they don't take time to build supportive relationships. Both types are far too commonplace today. Both are relationally toxic and leave people feeling unsupported, left out, and lonely. Every man and woman is beloved by God, created in His image, and should be recognized and treated as such. To do otherwise, is to give room for evil and a foothold for the enemy to subtly, or not so subtly, be at work.
The way we interact with our colleagues and clients matters. In 1 Peter 5:3 we are told "Don't lord it over the people assigned to your care, but lead them by your own good example." Paul tells us to defeat evil with good (Romans 12:21). Following are three ways inspired by Nick Medley's example that will help you enhance connection.
1. Reach Out - Nick is never indifferent to people. He makes eye contact and says "hi" and "bye" to people. (As you'll see in the news segment, he is known for his hugs and he doesn't shy away from telling people, "You've got this." "I love you." "God bless you.") This simple gesture of looking someone in the eyes and saying a greeting shows you care. I've been doing this and watching the reaction I get. Some people respond in kind and others ignore me. I pray for those who are unresponsive that God would soften their hearts and bring love into their lives. 
2. Stay Connected - When you speak with Nick he is so focused on you that you feel like the only person in his world. When meeting with people, get in the habit of being present by giving them your full attention. Show that you are engaged and interested by asking questions, and then asking follow-up questions to clarify. Listen carefully, observing facial expressions and body cues. Don't break the connection by checking your phone, looking around the room, or letting your mind wander.
3. Tune In - Nick always asks how you are doing and feels your joy or your pain. It helps to know he really cares.  Romans 12:15 says to rejoice with those who rejoice and weep with those who weep.When we feel the emotions of others, it makes them feel connected to us. Medical research has shown that when we feel their positive emotion, it enhances the positive emotion they feel. When we feel their pain, it diminishes the pain they feel. If someone expresses emotion, it's okay – and actually good – for you to feel it too.
There are many ways you can defeat evil at work through your attitudes, language and behavior. Download our free 28-page ebook titled 100 Ways to Connect and subscribe to our semi-monthly Connection Culture email newsletter to be inspired and equipped  to connect with your co-workers and customers and improve the health of your workplace. Sign up to receive these free resources at ConnectionCulture.com.    
Mark's account of the death of Jesus on the cross includes a curious statement. He wrote, "With a loud cry, Jesus breathed his last. The curtain of the temple was torn in two from top to bottom." (Mark 15:37-38). What is the significance of the curtain? This is the curtain that separated the people from the holy of holies. Only certain priests were allowed to step into that sacred space. In parting the curtain, God communicated that the old order was no more. Individually, we are the priests and together we are a royal priesthood charged with connecting people with God and empowered by the Holy Spirit for that purpose. (You are royal priests, a holy nation, God's very own possession. As a result, you can show others the goodness of God, for he called you out of the darkness into his wonderful light.  - 1 Peter 2:9b, NLT)
Pray for God to fill you with the Holy Spirit and to give you favor so that you might defeat the evil of disconnection in your workplace and connect others with God.
Portions excerpted from Connection Culture: The Competitive Advantage of Shared Identity, Empathy, and Understanding at Work.
Michael Lee Stallard, president of E Pluribus Partners, is co-founder of ConnectionCulture.com and co-developer of the Culture Quiz. He speaks, teaches and consults with leaders on workplace culture. His most recent book is Connection Culture: The Competitive Advantage of Shared Identity, Empathy and Understanding at Work.   
More From Michael Lee Stallard on ConnectionCulture.com:
Can Aetna's "Servant Leader" CEO Mark Bertolini Transform Healthcare?
Closing Your Company's Leadership Gap
How Leaders Can Guard Against Unethical Behavior
Related video:
Publication date: April 14, 2016