Cool, Unusual and Seasonal Jobs
Dan Miller

48Days.com

2010

22 Nov
We are entering the busiest selling season of the year. Don't sit on your backside, waiting for the perfect career position. You can jump into an opportunity to get you moving, continue your networking, and create some immediate income. Here are just a few of hundreds of interesting things available right now:
A seasonal job is like an audition. It's an opportunity for you to show your skills. And you can bypass other candidates by offering to work flexible hours, including evenings and weekends. The more available you are, the better your chances of getting hired. Michael's Stores, the retailer of arts and crafts supplies expects to hire about 10,000 seasonal workers this year, up from 7,300 last year. And about 10% of those will be recruited into permanent staff positions.
Want to be a pyrotechnician, get a Scuba diving job or drive an RV cross country? There are plenty of creative opportunities out there - just be creative in looking at places like these:
Don't wait until January to look for a job. If you jump into the market now you will have fewer competitors and you may have a chance to demonstrate your abilities - and work right into a permanent position.
Looking for ideas for your own business venture? Check out our 48 Business Ideas here!
November 22, 2010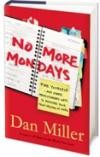 Dan Miller is today's leading authority and personality on careers and 'Work You LoveTM'. As bestselling author of 48 Days To The Work You Love, and now No More Mondays, Dan reaches over a million people every month in his newsletter, podcast, and blog with the best trends and opportunities in the workplace and small business. For more information, visit http://www.48days.com.