How Do I Dream Bigger?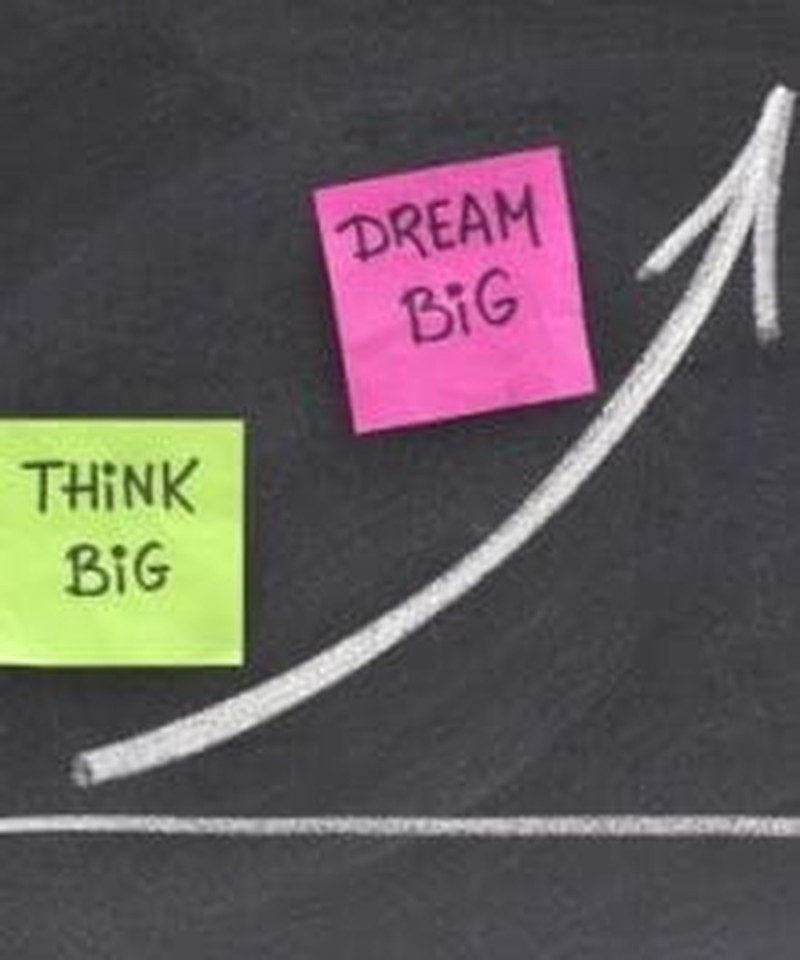 Last week I received this question from a podcast listener:
"How do I dream bigger? I am 29 and have outgrown my prior big dreams by God's good grace. Once one has achieved what they previously thought impossible, how do you stretch your dreams to be even bigger and better? The ultimate goal is to achieve His will and I am being stretched to recognize exactly what that is as big goals are achieved quickly."
Personally, I can't imagine reaching all my goals.  If you've achieved what you previously thought was impossible, it's time to set some bigger goals.
In this month's issue of SUCCESS magazine Sir Richard Branson responded to a question about whether he's ever encountered a challenge that's too big.  Branson says: "I think in life you've got to dream big by setting yourself seemingly impossible challenges.  You then have to catch up with them.  You can make what people believe is impossible possible if you set big enough targets.  Flying from New York to Australia in, say, two hours.  Can we do it in our lifetimes?  I'm determined to try.  If you don't dream, nothing happens."  Branson's accomplishments are legendary and he is now selling tickets to take people into space for $200,000.
I once heard Mark Victor Hansen say he wanted to clean up the oceans of the world.  Daniel Bolz is committed to building a Statue of Responsibility on the West coast, matching the Statue of Liberty on the East coast.  I have a friend who committed to give $1 million this year to his favorite organization. My friend Calvin Lehew decided he was going to revitalize the city where we live – Franklin, TN.  Earlier in life he had set as a goal to be a millionaire by the age of 35.  He hit that goal two years early and then set his sights much higher.  Today, downtown Franklin is referred to as the Main Street Capital of the Southeast.
On a practical level I would encourage you to set bigger goals – aim for something audacious.  I set my goals so I have about a 50-50 chance of hitting them.  If you read 12 books this year make your goal 20 for next year.  If you made $50K this year set your sights on $100 for next year.  If you help one child through Compassion International, imagine how you could help 100. 
Stretch yourself to do more than you "know" you can do. 
The Bible tells us – "Where there is no vision, the people perish" (Proverbs 29:18). Those who have outlived their dreams typically go directly to nursing homes to wait to die.
What are doing to stretch your dreams for 2013?
This article appeared originally on 48days.com. Used with permission.
Dan Miller, President of 48 Days LLC, specializes in creative thinking for increased personal and business success. He believes that meaningful work blends our natural skills and abilities, our unique personality traits and our dreams and passions. Dan is active in helping individuals redirect careers, evaluate new income sources, and achieve balanced living. He believes that a clear sense of direction can help us become all that God designed us to be.
Dan is the author of the widely acclaimed 48 Days to The Work You Love and No More Mondays. He writes regularly for many popular magazines and web portals, including CBN.com, Crosswalk.com, In Touch, AARP and Success magazines and the Zig Ziglar newsletter. He has been a guest on CBS' 'The Early Show,' MSNBC's 'Hardball with Chris Mathews,' 700 Club's Living the Life and Fox Business News with Dave Ramsey Show, to hit some highlights. He hosts a weekly podcast that is consistently ranked #1 under Careers on iTunes. Dan is also a frequent speaker and guest on popular radio programs like Moody Broadcasting, Crown Financial, Janet Parshall's America, American Family Radio, and Prime Time Chicago.
Committed to personal priorities, Dan and wife Joanne have been happily married for over 42 years. They have three grown children, all entrepreneurs, and they enjoy spending time with their eleven grandchildren. Visit his website at www.48days.com/wisdommeetspassion. 
Publication date: December 11, 2012