How Do I Know God's Direction for My Career?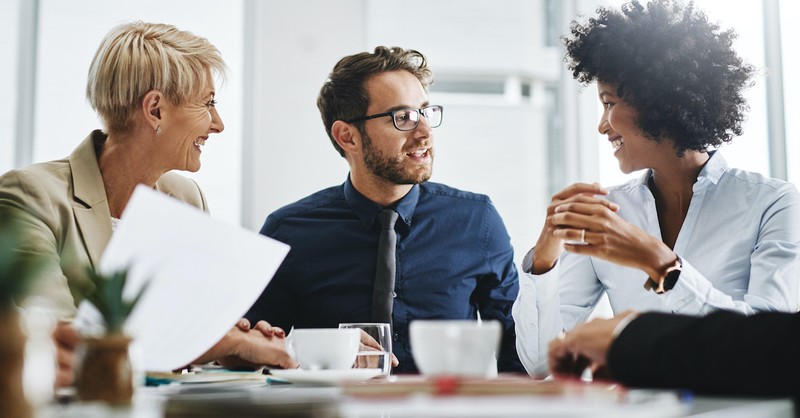 Have you ever heard of a God Dare? According to author Kate Battistelli, a God Dare is choosing to be chosen by God to change the world. Kate would know. She's a former Broadway star and mother to the Dove and Grammy Award-winning Christian artist Francesca Battistelli. When I interviewed Kate for the sixteenth episode of my show Chaos to Calm, she described her newest book, The God Dare. Each person's God Dare is unique, filled with its own challenge and victory when we take God at his word and trust. Kate's advice is to "be brave and be bold." They're wise words for all of us who want our lives—including our careers—to be a Kingdom tool.
As a pastor, I believe our career choice fits into God's larger life purpose for us. Our life purpose is all-encompassing—it includes our relationships, family choices, career, and volunteerism—when we seek to honor God with each aspect of our lives. Every choice we make, including our God Dares, has the potential to give God glory. Giving God glory can unlock our greatest joy and fulfillment on Earth. God designed us that way. So, for those who want to impact the world and experience God's blessing, how can we start by discerning God's direction for our career? My Bible study on life purpose names three steps that can help: longing, surrender, and an inventory of strengths.
Longing
We cannot ignore God's call on our lives, at least not happily. Longing is an ache that something is missing. It's an indicator for necessary soul-searching. For some, longing is a subtle reminder that God hints at a change. It's that "ah-ha" moment that hits you repetitively when you least expect it or a goal that keeps you awake dreaming at night. For others, longing is so pronounced that it masks as depression. You feel disconnected and disengaged in your work. You might even hate it to the point of physical symptoms. While longing isn't pleasant, it's a hopeful sign that God has something different and better in mind for you.
I experienced longing in my life as an unhappy premed student. I had a passion for healing, but my studies left me feeling depleted. I remember taking my ache and need for discernment to God in prayer by the lakeshore one day. As I sat crying, it was as if I had climbed into the lap of the Father. That's when he powerfully spoke the word "ministry" deep within my soul. At that moment, I discovered God was calling me to be a healer of the soul rather than the body. That simple pivot made all the difference.
In the Bible, Hannah can't stop crying. She brings her longing, her ache for a child, to the temple priest. The Psalmist assures us that the Lord cares about the "desires of our heart" (37:4). Has the Creator left signs that he's calling you to change—a change that might only be possible by turning to him?
Surrender
Culture often encourages self-actualization as a path to success. We are encouraged to craft a vision for our lives and make it happen. The spiritual path is different. Rather than crafting our own vision, it's about tuning into our Creator's. Rather than making something happen ourselves, it's about seeing our lives as an extension of God's work in the world.
In his book Let Your Life Speak, author Parker Palmer writes beautifully about surrender. He has found that living his life's purpose has been a path of remembering rather than doing. He found that his earliest interests, strengths, and personality cues were essential indicators of the Creator's plan for him. He struggled with depression until he let go of his preoccupation with what his life should be by returning to the truth of who he was made to be.
I resonate with the need to let go of preoccupations on the path to surrender. While I felt elated at the idea of ministry, I was also scared. Following that path meant more financial uncertainty, disappointing my parents, who had envisioned a different path for me, and countering my own doubt and insecurity. Surrender isn't always easy. I encourage you to meditate on Psalm 139. The Psalmist is clear that God has a plan for your life, which exists from the very beginning. Ask your parents what you were like as a child. Reflect upon where you currently feel most happy and peaceful. Chances are, those are important clues to the Creator's intended path for you.
Inventory of Strengths
Something is thrilling about using our strengths, the best of ourselves. There is something fulfilling about making a difference in precisely the way that God has intended for us in the world. Something is awe-inspiring about that trust leap, which opens the door to a life of spiritual adventure.
In the Parable of the Talents, we discover that God wants us to use what he has given us for his glory. This includes our strengths or gifting. Further, God will multiply the effort of those who put themselves on the line. However, those who bury what God has given them suffer a self-inflicted punishment. They miss out on the multiplication of blessings that God is poised to do.
I have seen God's multiplication in my life, as he has used my strengths in unexpected ways. My ministry has taken the form of a hospital chaplain, associate pastor, faith and parenting TV host, and writer. Each expression has been at God's direction and filled with unique challenges, learning, and victory. While we may not know just how God will use our strengths, discerning and growing them is an important step toward understanding God's plan for our career. Ask a friend what gifting they see in you—it may surprise you! Take inventory of what comes easily to you. Success in a field requires natural gifting, passion, and dedication to really soar!
I hope this article sparks introspection as you consider God's plan for your life. My prayer is that you will be blessed to be a blessing as you seek to honor God and further his Kingdom (Genesis 12:2). Pay attention to longing, surrender, and an inventory of your strengths in your discernment. And get ready for an adventure!
If you'd like more support, I encourage you to check out my life purpose study. Also, you can read my Crosswalk article on risk for the next step in your life purpose journey!
See also: 5 Steps for Discovering God's Will for Your Life
Photo credit: ©Getty Images/People Images
---

Rev. Noelle Kirchner, M.Div., believes we don't have to live with full schedules and thin souls. A busy mom of three boys, she is a graduate of Northwestern University and Princeton Seminary and an ordained Presbyterian minister who has served in churches for over ten years. She has written for places like the TODAY Show Parenting Team, Huff Post Parents, Crosswalk, iBelieve, and (in)courage. Her faith and family cable television show, "Chaos to Calm," features parenting hot topics and has hosted four New York Times bestselling authors and two Emmy Award-winning journalists. Watch her episodes or sermons and sign up for her free devotional e-book by visiting her website, noellekirchner.com. You can connect with her on social media (Twitter, Instagram, and Facebook) and also check out her book, How to Live Your Life Purpose: The Six-Step Journey to God's Best, that launched as a #1 New Release on Amazon and includes end-of-chapter Bible studies.
Related podcast:
Related video: