Scholarships: How to Avoid the "Gotcha's"
Steve Diggs

No Debt, No Sweat Financial Seminar Ministry

2010

11 Aug
As I've said to thousands of people in my audiences around the country at our No Debt No Sweat! Christian Money Management Seminars: Colleges are not the philanthropic institutions they appear to be.
Now, don't misunderstand, I am not opposed to colleges. I've been a college teacher. Today, I sit on boards at two universities. But the truth is, universities are in a business. And that business is selling semester hours. Frankly, they don't care where the money comes from. It can come from Mom and Dan, the student, or from debt. The bottom line is: They need the dollars.
This is why colleges don't make the rounds of American high schools each spring with free scholarship money for every potential student. In fact, someone has to pay. So, if you are a student (or the parent of a student) fortunate and strong-willed enough to earn a scholarship, let me share a few thoughts on how to make the most of it.
1. Find out what it's good for. Remember, a $2,000 scholarship may be worth more than a $5,000 scholarship—if the first is $2,000 per year and the latter is a onetime gift. It's also important to find out how many years a multi-year scholarship is going to be honored.
These days, more and more students are taking five years (instead of the traditional four) to earn an undergraduate degree. Many schools are still awarding four year scholarship while fully aware that the student may be there for five years. Admittedly, I'm not be the brightest light bulb on the marquee. But after three misfires, I finally figured this little game out. As the father of four kids, I checked with number four to be sure that her university's scholarship offers would last five years assuming she did.
2. Most scholarships are contingent on meeting certain goals. For instance, academic scholarships usually require the student maintain a certain GPA. It's important to ask all the "what if" questions before accepting the scholarship.
For instance, is there any grace? If the scholarship requires that the student maintain a 3.0 GPA—what if it falls to 2.8 one semester? Will the student be given a "grace semester" to regain the scholarship if she gets back up 3.0? And, what about during that "grace semester?" Will the scholarship be paid or suspended?
3. If you are blessed enough to receive a "full ride" scholarship that pays everything, the simple question to ask is, "Does it really pay everything?" What about room and board? What about books? NOTE: This is also the best time to negotiate. If the school really wants your young Einstein, don't be shy. Ask if they will include plane fare home a couple of times each year. And, how about a computer? Be imaginative. **This advice does not apply to athletic scholarships.
4. Lastly, get it in writing. Again, I'm speaking as a father. Kids tend to get giddy when scholarships are put on the table. That's to be expected—they're still in their teens. You're a grown up. Don't drool. Ask the school to document everything they've promised in writing. I still remember the disappointment I felt when a school I thought I could trust reneged on a scholarship they had promised our son—only after he had enrolled.
August 10, 2009
Steve Diggs presents the No Debt No Sweat! Christian Money Management Seminar at churches and other venues nationwide. Visit Steve on the Web at www.stevediggs.com or call 615-834-3063. The author of several books, today Steve serves as a minister for the Antioch Church of Christ in Nashville. For 25 years he was President of the Franklin Group, Inc. Steve and Bonnie have four children whom they have home schooled. The family lives in Brentwood, Tennessee.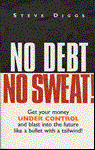 A complete financial compendium, 19 chapters
• What you can do today to get out of debt and kill the Debt Monster
• A,B,C's of handling your money God's way
• How to save, invest, and retire wisely
• How mutual funds work
• How to stop fighting over money
• What to teach your kids about money
• Learn how home & car buying, college financing and insurance work.
• How to develop a budget that works -- forever!
• Features simple charts, graphs, and easy-to-use forms.
Click here to learn more or to order.