What it Means to Be a Follower at Work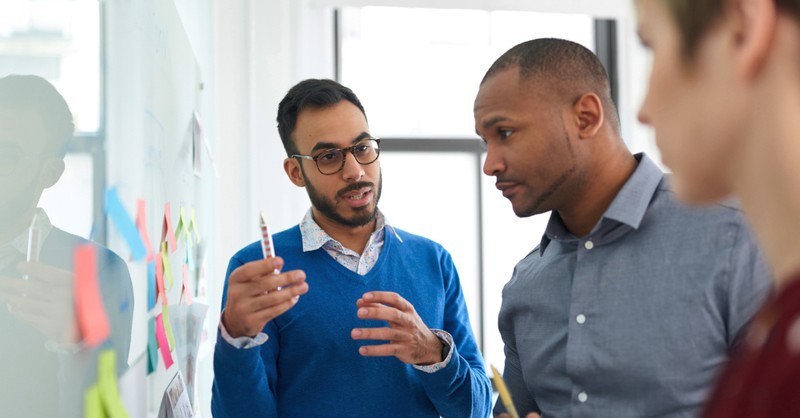 Following God at Work means Following… Your Boss?
There's a lot of talk about what makes a good leader. An Amazon search of "leadership books" revealed over 200,000 results. We hear so much about business, political, and inspirational leaders. When a failing business turns around and becomes successful, we attribute that success to a great plan executed by a heroic leader.
Too much focus on leaders lets us forget that leaders can't do anything without good followers. In fact, we don't really think about what makes a good follower. But as you look at an organizational chart, everyone on that chart with one exception is a follower. Followers are deeply important to the day-to-day operations of any organization and play a pivotal role in its success or failure. Many followers influence others through their words and deeds so in that sense they are both followers and leaders through their influence.
While our culture may focus on leaders and turn a blind eye to followership, the Bible has a lot to say about being a godly follower. Most importantly, the Bible says that being a follower means submitting to your leader.
Be Subject to Your Boss
Perhaps the clearest instruction to followers is to be subject to your boss. Paul wrote to the Ephesians (6:5-9) and Colossians (3:22-4:1), exhorting slaves to follow their masters. Applying this to our situations, we as employees need to obey our supervisors. Looking at these passages in more detail, followers are to respect and obey their leaders, whether those leaders deserve that respect or not. Regardless of whether they are observing our behavior, regardless of whether we will get "credit" for obeying, we are told to be subject to our supervisors. What does it mean to "be subject"? That doesn't mean being a yes-man or yes-woman. Disagreement may be the most helpful thing you can do in some circumstances, though you should disagree respectfully. It does mean working day-in and day-out with the knowledge that you aren't in charge. Why? For two reasons. First, because obeying your supervisor is obeying God. Second, by being different from human nature, which says only obey when it will get you ahead, you demonstrate you subscribe to a different standard. You separate yourself from worldly ways of our culture that emphasize getting ahead and devalue humility. Our society teaches us being "subject" to anyone means we're inferior. That isn't how Paul saw it. Paul said this person has authority over you by virtue of a position. Your responsibility is to show yourself trustworthy and to demonstrate Christ. You can do both in respectful submission to a supervisor.
Mercy
Part of being subject to your boss is being merciful to him or her. It's easy to think about how supervisors should be merciful to their subordinates, but how can followers be merciful? Sometimes we set super-human expectations for our bosses. We expect them to be completely rational when making decisions but to still be relational and compassionate with us. We expect managers to make promotion decisions that make sense to us. We expect everyone to treat us well. We expect others to respect us. I'm not saying those are bad expectations. But even the best leader is going to make mistakes. We need to show our bosses the same grace that God shows us!
Difficult Supervisors
Some supervisors need more grace than others! In my role as a university professor, I hear stories from current and former students about terrible bosses. I hear stories of bosses who expect subordinates to politick and brown-nose, supervisors who never recognize accomplishments, and more micro-managers than I can count. There are a lot of really incompetent or unpleasant people who are in charge of things.
It's easy to resent those supervisors. It's easy to act submissive in front of them, and then when the boss's back is turned, all bets are off. How well does that describe your workplace and your boss? Remember, you are called to be subject to your boss. It doesn't matter whether they deserve your respect and obedience. Romans 13 has an interesting perspective. Paul says that "authorities that exist have been established by God." That includes government leaders, but surely your supervisor is also an authority. If that's true, your supervisor is in charge of you because of God's will. Paul goes on to explain, "if you do wrong, be afraid, for rulers do not bear the sword for no reason. They are God's servants, agents of wrath to bring punishment on the wrongdoer." If you are doing wrong, even if your manager "deserves" it, be prepared to take the consequences.
There's one exception to obeying your supervisor. In Acts 4 and 5, Peter and John were commanded by the religious leaders not to say anything more to the people about Jesus. Peter famously said, "we must obey God rather than human beings." If your boss tells you to do something that is contrary to God, you must say no. If only someone at Enron said no when told to be dishonest. I think it's rare for this exception to come into play—you need to obey even difficult supervisors under almost every circumstance. But if someone asks you to do something that compromises your faith or harms others, being a godly follower means respectful resistance.
Let me close with two thoughts for those who struggle with this. First, take a heavenly perspective. Jesus promised His disciples that they would have trouble but that He had overcome the world (John 16:33). That same message speaks to those who face difficult bosses. Make sure Jesus is Lord of your life. The details may not work out in your favor, but the "big stuff" is already handled.
Second, pray for your supervisor. Paul told Timothy to pray for government leaders "and all those in authority" (1 Timothy 2:1-4). How long has it been since you prayed for your boss? Do you pray for your boss's salvation? Do you pray that God will grant your supervisor wisdom and courage? The most important part of being a godly follower is praying for those who lead.
Slaves, obey your earthly masters in everything; and do it, not only when their eye is on you and to curry their favor, but with sincerity of heart and reverence for the Lord. Colossians 3:22
Johny Garner has a Ph.D. in communication and is an associate professor at Texas Christian University. He studies organizational communication. Tweet him @johnygarner or visit MondayMorningChristianity.com.
Photo credit: ©GettyImages/julief514
Publication date: April 4, 2017