10 Healthy Foods for Under $1
Mary Hunt

Debt-Proof Living

2009

13 Nov

When it comes to food, there is a commonly held belief that if it's cheap, it can't possibly be healthy and if it's healthy, it's not going to be cheap. That may be true if we're talking about fresh wild salmon or fresh blueberries purchased in the middle of winter, but there are untold healthy options that are affordable on any budget. Here's a quick grocery list to help you cut food prices while you boost nutrition, and a few recipes, too.

1. Oats. Oats are high in fiber and good for lowering cholesterol. One dollar will buy you breakfast for a week, or give you a good start on oatmeal cookies for a tasty treat. Spend that buck at a store like Whole Foods or Sprouts that offers oats in bulk and your buck will buy even more.

2. Eggs. A buck will get you about six eggs. Bring on the protein-rich egg salad sandwiches!

3. Sweet potatoes. Keep the Swine Flu at bay by eating foods that are rich in beta carotene, which strengthens the immune system and promotes bone and eye health.

5. Apples. Apple season is here, so this fruit is plentiful and cheap. A dollar will buy enough to enjoy fresh slices as a lovely snack or tasty dessert, and a great way to dress up a meal.

6. Nuts. Peanuts, walnuts and almonds are cheap "power foods" and perfect snacks to keep you energized throughout the day. Buy them in their shells to get the best price.

7. Garbanzo Beans. Also called "chickpeas," these help balance blood sugar levels, and are high in fiber and protein.

8. Whole Grain Pasta. This cheap staple is made up of complex carbohydrates, meaning that it packs more nutritional punch than does its white-pasta counterpart.

9. Sardines. These little fish don't come with a mercury warning, just plenty of Omega-3 fatty acids for heart and brain health. Chop them up and add them to salads and pizza or mix them with lemon juice and olive oil for a tasty spread.

10. Spinach. Your mom always told you to eat your spinach, and she was right. This leafy green can be prepared in oh-so-many ways, and it is packed with calcium, iron, folic acid and vitamin A. Skip the washed and bagged spinach and wash it yourself to save.

Here are some recipes to help you put these affordable ingredients to use:

Garbanzo Bean Soup

1 1/2 cups chicken broth, divided
1 (15.5 oz.) can garbanzo beans
2 tablespoons tahini (sesame paste)
1 teaspoon Dijon mustard
1 teaspoon minced garlic
1/2 red bell pepper, diced

In a blender or food processor, blend 3/4 cup chicken broth, garbanzo beans, tahini, mustard, garlic, and red bell pepper until smooth. Transfer the blended mixture to a saucepan over medium heat. Add the remaining chicken broth and cook until heated through. Serves: 4.

Apple Oatmeal Cookies

1/2 cup butter or margarine, softened
1/2 cup honey
1 egg
1 teaspoon vanilla extract
3/4 cup stone ground whole wheat flour
1/2 teaspoon baking soda
3/4 teaspoon ground cinnamon
1 1/2 cups quick-cooking oats
1 apple, cored and chopped

Preheat the oven to 375 F. Grease cookie sheets.

In a large bowl, cream the butter, honey, egg and vanilla until smooth. In a smaller bowl, combine the whole wheat flour, baking soda and cinnamon; stir dry ingredients into the creamed mixture. Add oats and apple and mix to combine. Drop by teaspoonfuls onto the prepared cookie sheets.

Bake for 8 to 10 minutes in the preheated oven. Allow cookies to cool on baking sheet for 5 minutes before removing to a wire rack to cool completely. Yield: 4 dozen cookies.

Whole Grain Pasta with Sardines
8 ounces dry, whole grain pasta
2 tablespoons olive oil
1 medium yellow onion, chopped
3 cloves garlic, crushed
1 lemon
1 (3.75 oz.) can sardines in tomato sauce
1 pinch red pepper flakes, or to taste
1/4 cup freshly grated Parmesan cheese

Bring a large pot of lightly salted water to a boil. Add pasta, and cook as instructed on the box (usually about 8 minutes). While the pasta is cooking, heat olive oil in a skillet over medium heat. Add the onion, and cook until soft. Add the garlic and cook until fragrant. Stir in the sardines with their sauce. When the sardines heat through, reduce heat to low and simmer.

When the pasta is almost done, drain, and add it to the sardine sauce. Stir, cover, and turn the heat off. Let stand for a few minutes to absorb the flavors of the sauce. Squeeze juice from the lemon over the pasta. Divide onto serving plates and top with red pepper flakes and grated Parmesan cheese, as desired. Serves: 4.

Tip: Crush the garlic and leave it at room temperature for approximately 10 minutes before you cook it. Several studies show that this little step helps to maximize the cancer-fighting enzymes of garlic.

Greek Spinach Salad
1 bunch Spinach, torn into bite-sized pieces
1/2 cucumber, thinly sliced
2 tomatoes, cut into wedges
1 green bell pepper, cut into thin strips
1 red bell pepper, cut into thin strips
24 Greek olives
3/4 cup whole almonds, toasted
1/4 pound crumbled feta cheese
Three Herb Dressing (recipe follows)

Toss spinach, cucumber, tomato, peppers, olives and almonds with Three Herb Dressing. Top with feta cheese and serve. Serves: 8.
Three Herb Dressing
3 tablespoons red wine vinegar
1 clove garlic, minced
1/2 teaspoon Dijon-style mustard
3/4 cup olive oil
1/2 teaspoon dried oregano
1/4 teaspoon marjoram
1/4 teaspoon thyme
Salt and pepper to taste

Combine all ingredients in small bowl. Whisk until thoroughly mixed.
Everyday Cheapskate is a Registered Trademark.
Copyright © 2009 Mary Hunt. All rights reserved. Permission to reprint required.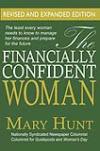 Check out Mary's recently released revised and expanded edition of The Financially Confident Woman (DPL Press, 2008).
Debt-Proof Living was founded in 1992 by Mary Hunt. What began as a newsletter to encourage and empower people to break free from the bondage of consumer debt has grown into a huge community of ordinary people who have achieved remarkable success in their quest to effectively manage their money and stay out of debt. Today, "Debt-Proof Living" is read by close to 100,000 cheapskates. Click here to subscribe. Also, you can receive Mary's free daily e-mail "Everyday Cheapskate" by signing up at EverydayCheapskate.com.