Accepting Economic Change
Deborah Smith Pegues

Author, Financial Survival in Uncertain Times

2009

2 Mar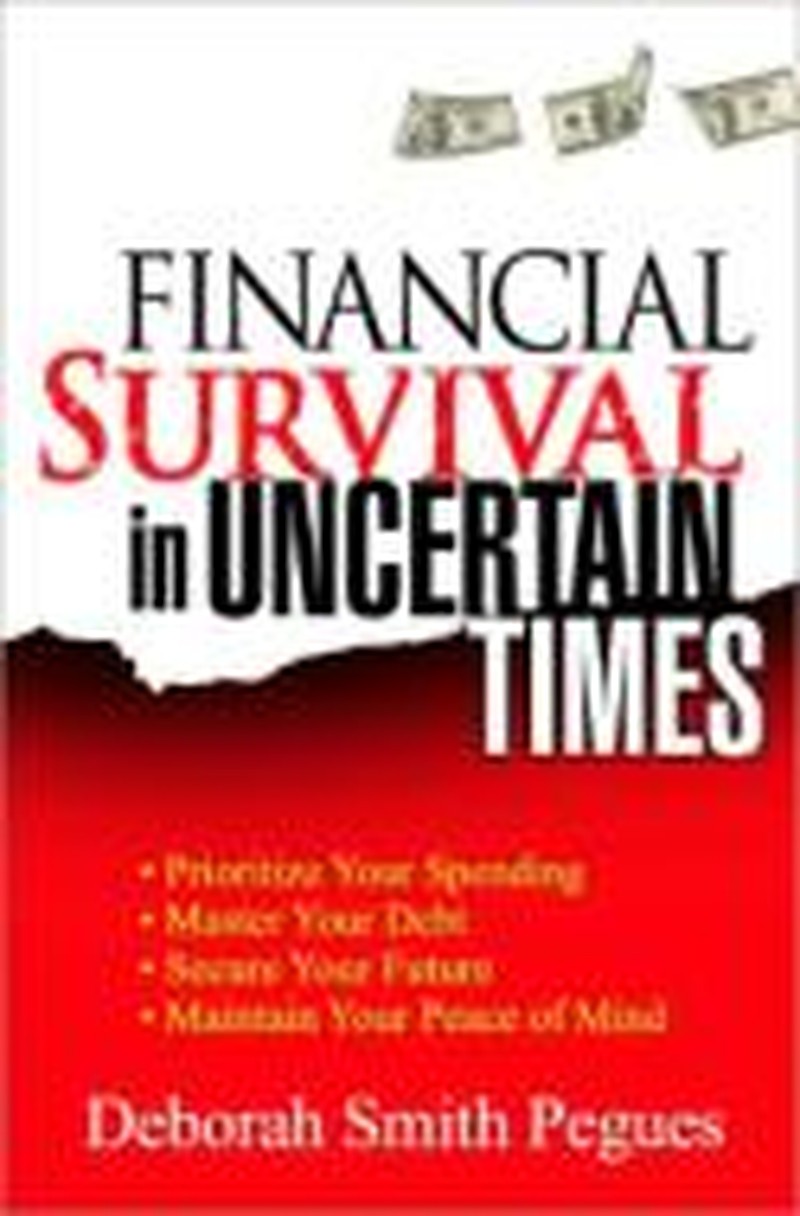 We are all creatures of habit, and most of us find it difficult to embrace change. But during times of economic uncertainty, we must be prepared to make concessions about our preferences and druthers—specially as they relate to housing or employment. It is important to remind ourselves that God is indeed our source and that He selects the channel through which He provides for us. Our jobs and other streams of income are channels for our resources. Further, our current residences are temporary dwelling places; we will not spend eternity there.
I am constantly reminded of the words of my spiritual mentor, the late Dr. Juanita Smith. She admonished, "Wear the things of this world like loose garments." This simple advice is hard to practice in our materialistic world where we work hard for and cling to our possessions. I have spoken to several people who were crushed when they lost their homes due to interest rate adjustments on their mortgages, unemployment, uninsured medical problems, or other misfortunes. Yet, others have taken the loss of their homes in stride. What makes the difference in their attitudes? I believe it's a mind-set that says, "Everything has a purpose. The will of the Lord be done!" rather than, "It's not fair!" It's all a matter of how much we trust God with our destiny.
Biblical Examples of Embracing Change
Let's look at the response of a couple of biblical characters who found themselves having to embrace change during an economic downturn.

Elijah the Prophet
When God instructed Elijah to declare a drought in Israel, Elijah soon realized that he too would be affected by the lack of food. However, being a man of faith, he knew that God is never without a channel.
Then the word of the Lord came to him, saying, "Get away from here and turn eastward, and hide by the Brook Cherith, which flows into the Jordan. And it will be that you shall drink from the brook, and I have commanded the ravens to feed you there." So he went and did according to the word of the Lord, for he went and stayed by the Brook Cherith, which flows into the Jordan. The ravens brought him bread and meat in the morning, and bread and meat in the evening; and he drank from the brook (1 Kings 17:2-6).
Ravens! Those nasty birds will eat anything. They have a special fondness for dead animals and garbage. Yet God commanded them to bring His prophet two meals a day. We must be careful not to despise our channel when we are forced to take a less prestigious job, downgrade our housing, or make other life adjustments. Further, we must also be careful not to depend on our channel.
And it happened after a while that the brook dried up, because there had been no rain in the land.
Then the word of the Lord came to him, saying, "Arise, go to Zarephath, which belongs to Sidon, and dwell there. See, I have commanded a widow there to provide for you." So he arose and went to Zarephath. And when he came to the gate of the city, indeed a widow was there gathering sticks (17:7-10a).
Before you breathe a sigh of relief that he no longer had to be fed by the ravens, let me rush to tell you that this woman was not a rich widow but a single parent who—along with her son—was on the brink of starvation. Yet, she was the chosen channel that God had commanded (as He had commanded the ravens) to supply Elijah with food. Because of her obedience to God, the widow, her son, and the prophet survived and never ran out of food during the entire drought (1 Kings 17:10-17).
The Rich Shunammite Woman
This hospitable woman of great financial means willingly opened her home to Elisha, Elijah's protégé. She and her husband even added a room to their home to accommodate his frequent visits to their town. Although childless when she met Elisha, he prophesied that she would have a child and, much to her delight, the prophecy came true. (Elisha later restored her son to life after he suddenly became critically ill and died.) Life was good. That is, until God ordered a famine in the land, and she and her family found themselves having to relocate for their own survival.  
Then Elisha spoke to the woman whose son he had restored to life, saying, "Arise and go, you and your household, and stay wherever you can; for the Lord has called for a famine, and furthermore, it will come upon the land for seven years." So the woman arose and did according to the saying of the man of God, and she went with her household and dwelt in the land of the Philistines seven years (2 Kings 8:1-2).
Note her willingness to accept change. I'm sure I would have been tempted to respond, "Oh no, Elisha. I don't want to leave my beautiful home. Why, I finally have it decorated just like I want it. What will happen to it while I'm gone?"
I tend to be resistant to such major changes. However, I'm asking God to give me the grace to be flexible when I need to be so. I caution you to consider how well you accept change. If you're affected by a financial crisis, are you still bent on a certain course of action to your own detriment? Are you too embarrassed, too stubborn, or too proud to make a needed change? Are you willing to take a lesser position within your company or a not-so-prestigious part-time job at a fast food place or other humble place to close the gap in your income? Would a move to a smaller home or an apartment alleviate a heavy cash burden? Is your image more important than your survival?
You may have to accept a new role in the family, especially if you've been laid off. You probably never envisioned being "Mr. Mom," but what a wonderful opportunity to get a firsthand appreciation of what your multitasking wife has been experiencing all this time. Or maybe you're the stay-at-home wife who must now seek employment to close the gap in your income. Do it joyfully with a grateful heart that you have the ability to work. And what about your God-given gifts you could put to work right now with passion? Baking? Gardening? Sewing? Car detailing? Editing? It's time to get going. The money will follow your passion.
What change do you need to embrace? Victor Frankl, Austrian psychiatrist and Holocaust survivor, said, "When we are no longer able to change a situation, we are challenged to change ourselves."
When Change Challenges Your Integrity
During an economic downturn, your employer may find it necessary to reduce your pay. You may perceive this to be an unfair decision. One of the most powerful lessons on how to respond with integrity to an unfair employer is found in Genesis 29, the story of Jacob and his employer-uncle, Laban.
Laban subjected Jacob to all kinds of deceit and inequities. He tricked Jacob into marrying his not-so-attractive older daughter, Leah, after he had agreed to work seven years for the younger, more attractive Rachel. Jacob was forced to work another seven years in order to marry the woman he loved. Laban changed Jacob's compensation agreement ten times. Yet Jacob never lowered his standard of work in retaliation for Laban's unfair treatment. He later explained to his wives, "You know that I've worked for your father with all my strength, yet your father has cheated me by changing my wages ten times. However, God has not allowed him to harm me" (Genesis 31:6-7 niv).
God instructed Jacob to leave the unfair situation and return to his homeland. He took his family and his hard-earned fortune and left without notice. When Laban heard about it, he gathered his posse and chased after him. However, before he could catch up with Jacob, Laban had an encounter with God, who told him to be very careful with what he said to Jacob. When Laban overtook Jacob's party, Jacob confronted him with courage. "I have been with you for twenty years now. Your sheep and goats have not miscarried, nor have I eaten rams from your flocks" (31:38 niv).
If you find yourself in an unfair situation, resist the temptation to "eat rams" from your employer's flock. Don't make personal long-distance calls, take supplies home, or take extended lunches. Continue to perform as if God were evaluating your work and watching your every move—because He is. Continue to seek His favor regarding a raise or simply seek employment elsewhere. Remember that no one can disadvantage you when you walk uprightly with the Lord.
The righteousness of the upright delivers them, but the unfaithful are trapped by evil desires. (Proverbs 11:6 niv)
While God promises to open the windows of heaven and to pour out blessings on the person who tithes (Malachi 3:10), dishonesty will open the back door for those blessings to flow out and never benefit you. Your blessings will end up in pockets with holes in them. I have heard of people who faked injuries and received large legal settlements, only to wonder later where all the money went.
A fortune made by a lying tongue is a fleeting vapor and a deadly snare. (Proverbs 21:6 niv)
Know that dishonesty can impact your entire family. When God allowed the Israelites to defeat Jericho, He told them not to take any of the spoil. But a young man named Achan took money and clothes and hid them in his tent. When his sin was discovered, he and his entire family were stoned and burned (Joshua 6).
Be careful not to set an example before your children of lying and cheating for financial gain. They will more than likely copy your behavior and fall into the same pit. One of the best legacies one could leave for his family is one of integrity.
The righteous man walks in his integrity; His children are blessed after him. (Proverbs 20:7)
Riches unjustly gained can never really be enjoyed and have no positive end. As Christians, we are commanded to walk in integrity. Integrity is simply the act of integrating what we say we believe and what we actually do. Yes, even professing Christians can have an integrity problem. When we fail in this area, others see it as a disconnect in our testimony. Many unsaved folks are turned off by such hypocrisy.
During economic uncertainty is a good time to search yourself and determine if there are any areas of your life where you may not be walking in integrity. Integrity also includes keeping your word. When people cannot depend on you to repay your loans or to show up when promised, they will not be inclined to extend any loans or bailout measures to you when you may need it most. Do not rationalize your behavior. Simply take whatever steps are necessary to slam shut this back door. I am reminded of the words of Job,
He thwarts the plans of the crafty, so that their hands achieve no success. (Job 5:12 niv)
I have asked God to trouble my conscience so that I can't sleep, function, or proceed in any endeavor where I am not operating in complete integrity. Would you be willing to pray such a prayer?
Published March 2, 2009
Adapted from Financial Survival in Uncertain Times. (Harvest House, 2009). Copyright 2009 by Deborah Smith Pegues. Used with permission. All rights reserved.
---
Deborah Smith Pegues is a certified public accountant, a Bible teacher, a speaker, and a certified behavioral consultant specializing in understanding how personality temperament affects every aspect of life. As well as the bestselling 30 Days to Taming Your Tongue (more than 400,000 sold), she has written 30 Days to Taming Your Finances, 30 Days to Taming Your Stress, and Emergency Prayers.