After School Jobs -- Be Careful

As kids get older, life gets more complicated. In my ministry travels with No Debt No Sweat!, I get questions from parents about an important topic: After-school jobs.
There are certainly times when an after-school job is good and appropriate. The idea of having older kids get an after-school job seems like a great opportunity to teach kids independence and personal responsibility. But before you sign off on the idea for your bambino, you should be aware of the downsides.

According to studies, more than half of American 12th graders average 20 or more hours of work per week. These kids lose family time, miss out on church activities, and fall behind on sleep and relaxation. A report conducted by the Institute of Medicine and the National Research Council found that students who worked even as many as 15 hours weekly dropped out at higher rates, had lower grades, and were not as likely to go to college.
As a parent, consider both the pluses and the minuses before you okay after-school work. I encourage these jobs for only on an as-needed basis to raise money for real needs — not luxuries. Also, whatever the job, be sure that it doesn't cause your child to miss worship or other important events and family time.
And be sure you know what the job involves. Consider visiting the workplace both before he or she accepts the job, and then after the job begins. Drop by occasionally unannounced. Be sure the environment is one you are comfortable with. Are the co-workers and managers trustworthy people? Is the workplace safe? Don't allow yourself to be dissuaded from this. A boss that doesn't welcome a concerned parent is a boss I'd be concerned about.
The National Consumer League warns about 5 job situations that are especially dangerous for kids:
• Jobs that involve driving and/or delivery work. This would also include operating or riding motorized equipment like forklifts.

• Working alone with no other employees in a cash-based business. This would include gas stations, convenience markets, fast-food restaurants, etc.

• Being a part of a young persons' selling crew. This could include selling various types of products in strange neighborhoods, on street corners, in distant cities and other states.

• Jobs where payroll isn't paid on a normal basis where taxes, FICA, and other withholdings are properly made. This could take the form of "under-the-table" cash payments.

• Building and construction jobs that involve heights, contact with electrical power, etc.
I don't mean to be overly "preachy" here, but remember parents: God gave you the responsibility to guide and protect you kiddos! One day the books will be opened, and He will ask for an accounting of how you performed. No matter how inconvenient it is; no matter how much your son or daughter protests; no matter what other parents are (or, aren't) doing — it's your job to do the right thing.

Stay close. Stay involved. Ask plenty of questions — and insist on getting satisfactory answers.

____________________________________________________________
Steve Diggs presents the No Debt No Sweat! Christian Money Management Seminar at churches and other venues nationwide. Visit Steve on the Web at www.stevediggs.com or call 615-834-3063. The author of several books, today Steve serves as a minister for the Antioch Church of Christ in Nashville. For 25 years he was President of the Franklin Group, Inc. Steve and Bonnie have four children whom they have home schooled. The family lives in Brentwood, Tennessee.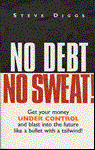 A complete financial compendium, 19 chapters
• What you can do today to get out of debt and kill the Debt Monster
• A,B,C's of handling your money God's way
• How to save, invest, and retire wisely
• How mutual funds work
• How to stop fighting over money
• What to teach your kids about money
• Learn how home & car buying, college financing and insurance work.
• How to develop a budget that works -- forever!
• Features simple charts, graphs, and easy-to-use forms.
Click here to learn more or to order.