Are You Making Any of These Common Investing Mistakes?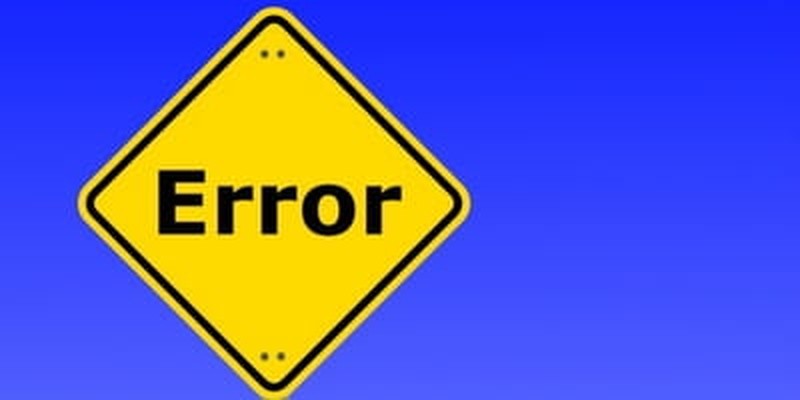 Mistakes. All investors have made a few. No one sets out to take a wrong step, of course, but many investors later say the lessons they learned the hard way are among the most beneficial parts of their investor education. Perhaps just as beneficial—and certainly less painful—are lessons learned from other people's mistakes!
Recently we asked Sound Mind Investing (SMI) members to tell us about their most significant investing mistakes, and we were overwhelmed by the number of responses! We're grateful for all who told us their stories. Here are a few of the lessons they learned.
Waiting Too Long to Begin Investing
"My biggest mistake was not starting early enough. I thought I had too little to invest to make any difference. I should have had the discipline to set aside small percentages of my income earlier in life even though I was not making much money back then. If I had started earlier it would have helped me get the ball rolling on investments and given me valuable experience that I really needed later on. Investing takes some practice."
This mistake—not beginning to invest at an earlier age—was one of the most frequently mentioned investment-related regrets. Good intentions often are overcome by dozens of questions that arise when people try to get going. Where do I open my account? What do I invest in? How do I do this exactly? Busy schedules push the answers to the back burner. If this describes you, it's time to stop allowing implementation paralysis to thwart your good intentions. Starting an investing program doesn't have to be difficult. Check out Six Steps to Creating a Long-Term Investing Plan for a primer.
Not Getting an Education on Investing Basics Earlier
"My biggest mistakes have centered around buying the individual stocks of companies that I did not completely understand. But as I look back at that, I am thankful in a way for that expensive lesson. It made me realize how ignorant I was about investing and money management. Over the next several years, I began to seek financial understanding, and now have a solid foundation and am able to make educated decisions with confidence."
Many people make the first mistake of not beginning to invest earlier in life because they find investing confusing and intimidating. Unfortunately, investment "experts" create the impression that investing is difficult, and that it might be best if it were not entrusted to amateurs (like you). SMI is written with your needs in mind, to equip you to have the confidence to take charge of your financial life.
Investing Apart from a Personalized Long-Term Plan
"When I started in my career and began to have money to invest, I had no strategy and randomly followed tips from co-workers. I bought stock in a small company that subsequently went bust and I lost everything. Basically, not having a strategy led to poor outcomes."
No matter how good your particular investing choices may be, if they're made outside the framework of a larger plan, you're inviting trouble. We continually emphasize the importance of this, such as in our article How to Write an Investment Plan.
Overinvesting in a Single Stock
"My biggest mistake was taking what little money I had saved to start investing and putting it all into one stock based on my father's recommendation. The company went bankrupt and I lost all my initial savings. I learned the hard way to diversify and do my own research."
We believe that, ultimately, it's impossible to self-destruct financially if you follow God's time-tested principles for stewardship. One of those principles is that, to protect against the uncertainties of the future, your investments should be broadly diversified: "Give portions to seven, yes to eight, for you do not know what disaster may come upon the land" (Ecclesiastes 11:2). Since you don't (and can't) know the future, you can never know with certainty which investments will turn out most profitably. That's the rationale for diversifying—spreading out your portfolio into various areas so you won't be overinvested in any hard-hit areas.
Making "Hands On" Investments Where Experience was Lacking
"In 2008, we sold our fully paid for home and built a new one. Our home had doubled in value in the nine years we had owned it. Instead of using the money to build our new home, against everything we had learned, we took out a loan and used the money to make down payments on three rentals. We went from being debt-free to buying four homes with four loans at the peak of the market. Seven years later, after paying down on the loans, if we were to sell, we'd still lose all the large down payments. If we had stayed debt free, we would have all that money we used to pay extra on the loans to invest. Sigh. One year of bad decisions undid decades of work."
One of the qualities of an appropriate investment is that the risks are well understood. The right portfolio move is one that is prudent under the circumstances. You should consider worst-case scenarios, such as how much of your investing capital you can afford to lose and still have a realistic chance of meeting your financial goals. The investments that offer higher potential returns also carry correspondingly greater risks of loss—which brings us to the next common mistake.
Trying to Time the Market
"My biggest mistake has been not heeding SMI's constant advice that the market always comes back after a correction. I sold funds I should have kept, and did not share in the first part of the recovery."

"My biggest mistake has been buying high when the market was going strong and selling low when I was afraid the market would lose too much."
Despite endless research showing the difficulty of market timing, many investors succumb to the temptation to try. We've written about this many times (see The Surprisingly Small Benefit of Perfect Market-Timing), and will continue to do our best to convice readers of the wisdom of staying the course with one's long-term plan regardless of current events.
Our thanks to everyone who shared their biggest investing mistakes. Their willingness to tell us about lessons learned the hard way is a great example of what we aspire to be: a true community of people committed to spurring each other on in love and good deeds—and wise investing!
Austin Pryor is the founder and publisher of Sound Mind Investing, a multi-media company that provides clear, trustworthy, effective investment guidance to the Christian community. Some 10,000 subscribers look to its flagship publication, the Sound Mind Investing monthly newsletter, for biblical guidance on a range of financial issues and specific investment advice. Austin is also the author of The Sound Mind Investing Handbook.
Publication date: May 30, 2014