Avoid Regret by Reading the Fine Print

Everywhere I go I run into people who are in tremendous credit card bondage. Many people who got their first credit card thinking it would be plastic prosperity—have seen it turn into a plastic explosive in their pocket! Just last night I completed a No Debt No Sweat! Seminar at a wonderful church in Raleigh, North Carolina. But, sadly, at the breaks I heard the regular stories from people trapped in credit card debt. While studies indicate that many families are carrying $8,000-$12,000 in credit card debt, it's not unusual for me to counsel with people who have $30,000-$80,000 of plastic debt!
Nationally, Americans owe over $850 billion on their credit cards. At the time of their bankruptcies many families owe one and a half time their annual income in the form of short-term, high-interest, credit card-type debt. For many Americans, this is the most painful debt they deal with.
And the future doesn't look any brighter. Credit card terms are getting tougher and tougher. The average credit card contract (counting all the "see form such-and-suches," or "request Addendum #12") is now over thirty pages long. And the terms are getting tougher and tougher. Various card companies are shortening their grace periods (requiring you to pay sooner). In some cases, if your payment arrives even a few minutes past the time printed on your invoice next to the due date—you get hit with late fees. Many of the card companies now have added language to their contracts that allow them to increase your interest rate drastically even if you pay another bill (to a different company) late. Late fees are also increasing. And, even the annual membership fees are increasing on some cards.
Before you get another card, here's an idea: Read the contract! Don't sign anything until you fully understand what you're getting into. And, no I'm not talking about the big type with the pretty pictures of people at resort vacation spots. Instead, flip it over and read the fine print. And when the copy says something like "see form #6," order form #6 and read it! The small print is where they tell you the really bad stuff they don't want you to notice. (Like that they're going to graft the head of a Labrador Retriever onto your chest if you miss a payment!!!)
I was in the bank a while back and saw a brochure promoting a new 3.9% credit card. I thought, "Swell, I've got to check this out." So I took the brochure, flipped it over and began reading. Sure enough, it did have a 3.9% rate, unless on a couple of occasions you were a day late. Then, that friendly little 3.9% rate jumps to nearly 20%! Watch out. Those hard-to-read terms can kill you!
A lot of us are in money trouble because we've let our "wants" get ahead of our common sense. We need to be careful before we sign contracts and commit ourselves. Just because there's an "X" at the end of the fine print doesn't mean we should lock radar and sign!
---
Steve Diggs presents the No Debt No Sweat! Christian Money Management
Seminar at churches and other venues nationwide. Visit Steve on the Web at www.stevediggs.com or call 615-834-3063. The author of several books, today Steve serves as a minister for the Antioch Church of Christ in Nashville. For 25 years he was President of the Franklin Group, Inc. Steve and Bonnie have four children whom they have home schooled. The family lives in Brentwood, Tennessee.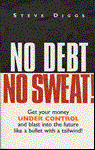 A complete financial compendium, 19 chapters
• What you can do today to get out of debt and kill the Debt Monster
• A,B,C's of handling your money God's way
• How to save, invest, and retire wisely
• How mutual funds work
• How to stop fighting over money
• What to teach your kids about money
• Learn how home & car buying, college financing and insurance work.
• How to develop a budget that works -- forever!
• Features simple charts, graphs, and easy-to-use forms.
Click here to learn more or to order.