How Are You Handling Your Two Percent Pay Cut?
Matt Bell

SoundMindInvesting.com

2013

15 Feb

COMMENTS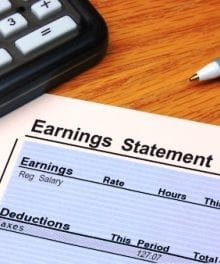 During the last several weeks of 2012, we all heard a lot about the "fiscal cliff." The concern was about a series of tax cuts implemented during President Bush's tenure that were due to expire, and also some government spending cuts that were due to begin. If it all happened as planned, many worried that the country would be thrown back into recession.
Then came news that the crisis had been averted. What a relief, right? Well, not so fast.
What didn't get nearly as much attention was the fact that a temporary payroll tax cut would not be extended. In 2011, and then again last year, a 6.2 percent tax withheld from paychecks for Social Security was reduced to 4.2 percent. But that tax holiday is now over. That means two percent more is now being withheld than had been withheld the past two years.
The tax applies to annual employee and self-employment income up to $113,700. If you earn more than that, the income above that threshold is not subject to Social Security tax.
No Big Deal, Or Is It?
It's been interesting to see how this is being played down.
Some point out that it isn't really a tax hike. We used to pay the tax, they note, and then we got a couple years' worth of a break. Now things are simply going back to how they were. However, it's very easy to get used to having a little more in your paycheck; it's painful to get used to having less.
Others have been quick to assume that people will easily handle having a little less income each month. They point to national statistics showing rising earnings and decreased costs for certain things such as gasoline. Still others point out that many people have refinanced their mortgage, so they should be able to afford the higher Social Security tax.
As With Politics, Finances Are Local
There's a difference, of course, between national statistics and an individual household's reality. As someone once said, if you're unemployed, it doesn't matter that the national unemployment rate is coming down; your unemployment rate is 100 percent.
To calculate your payroll tax hike, take your annual income (up to $113,700) and multiply by .02. If you earn $60,000, for example, that's $1,200. Looked at another way, you now have $100 less monthly income. Do you have $100 just sitting around unclaimed each month?
This is a perfect example of how a Cash Flow Plan (a.k.a., a budget) can help. Knowing how much you have coming in each month and where it all goes should help you figure out where you may be able to cut back. It won't make the actual cutbacks easier; it'll just make it easier to objectively evaluate where spending could be reduced.
The key question is: which spending categories will you choose? What will you spend less on in order to absorb your two percent pay cut this year?
Matt Bell is Associate Editor at Sound Mind Investing. Since its founding by Austin Pryor over 22 years ago, SMI has been providing clear, trustworthy, effective investment guidance to the Christian community. Some 10,000 subscribers look to its flagship publication, the Sound Mind Investing monthly newsletter, for biblical guidance on a range of financial issues and specific investment advice.
In response to today's environment in which all investment choices look expensive, economic uncertainty is especially high, and the traditional safe haven, bonds, have never been as overvalued as they are now, SMI has just launched a new investment strategy called Dynamic Asset Allocation. Thirty years of back testing showed the strategy to significantly outperform the S&P 500 with a much lower level of volatility.
Publication date: February 15, 2013