Can't Beat 'Em? Buy 'Em!
Mary Hunt

Debt-Proof Living

2006

4 Aug

COMMENTS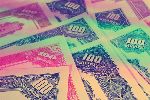 My first credit card wasn't all that great, really. It didn't come with a credit limit that I knew of and the balance had to be paid in full every month.
About the only things I could buy with my credit card were gasoline and oil. Still, it allowed me to fill up at the Texaco station whenever I wanted. Oddly enough, that made me feel quite privileged.
Apparently the Texaco company and I didn't exactly see eye-to-eye because they cancelled my credit privileges at the end of the first year. They didn't enjoy receiving my payments late. I didn't care for their haughty attitude and so we parted ways.
I'm sure they forgot about the whole incident but I couldn't. My anger soon turned to embarrassment. It was humiliating to be rejected like this. I hadn't made the grade and every time I drove by a station with that big red star I got a painful reminder.
Years later I read a story about a man who lives in Ohio who went to work straight out of high school for minimum wage. He was a laborer, a blue-collar worker.
This man didn't make much money, so every time the local electricity company raised their rates, it represented a major financial struggle for him and his family. It didn't take long for him to become discouraged; the harder he worked to make a living, the more it seemed his money was being gobbled up by this big, rich utility company.
One day he had an idea about how he could change his attitude toward what he saw as a greedy company. He would become a part owner in the company, not because he was wealthy but because he was a smart money manager.
This man's power company, like most utility companies, has a program that allows customers to purchase its stock. . The man decided that each month when he paid his electricity bill he would send a second check equal to one-day's wages to purchase stock in the company.
In some way, sending that second check every month made paying his electric bill easier because he knew he was actually increasing his ownership. The secret is he never missed a month. He was consistent. Over the years whenever he received a raise, he increased his monthly purchase so that it always equaled one-day's wage.
I am told this man is now one of the largest stockholders in that company—a multi-millionaire—not because he switched to a big paying job but because he learned how to manage the small amount of money he made from his regular, low-paying job. It was all a matter of wise and consistent money management.
As I recall there was a minimum purchase requirement of $250 to start, and while adding monthly was an option, if I went for that I had to commit to a minimum of $50. Once I had my D.R.I.P (dividend reinvestment plan) account in place it was easy to forget. And I did. What I remembered often, however, was my new attitude whenever I drove by a Texaco station. My humiliation and anger vanished. Even though my stake in the company was miniscule, I found some amount of satisfaction knowing I was a part-owner.
Some months my $50 bought only a fraction of a share of stock. But my little pile of shares continued to grow, slowly and surely.
At one point the stock split so I had twice as many shares. I kept buying. Then Texaco became part of Chevron Corporation through some kind of corporate deal. I didn't understand it because I didn't have to. I was happy to let the bigshot Chevron execs handle all of that for me. All I needed to know was that I ended up with more stock.
I continue to be a proud owner of the Chevron Corporation., albeit not a buying customer. Unless, of course, Chevron is supplying Costco gasoline pumps which could be the case, now that I think about it.
I can't say I'm happy about the high price of any company's gasoline these days. But knowing I'm part owner in one of them does take much of the sting out of the situation.
Many corporations offer direct purchase programs. Find "Investor Relations" at the corporate website for details on how to get started with a direct stock purchase. You'll be surprised just how simple it is.
I have not become a wealthy oil baroness, that's for sure. But my small nest egg in the oil industry has grown to five-figures—an amazing turn of events that makes me smile.


---
"Debt-Proof Living" was founded in 1992 by Mary Hunt. What began as a newsletter to encourage and empower people to break free from the bondage of consumer debt has grown into a huge community of ordinary people who have achieved remarkable success in their quest to effectively manage their money and stay out of debt. Today, "Debt-Proof Living" is read by close to 100,000 cheapskates. Click here to subscribe.