Credit Card Contracts: America's Financial Quicksand
Steve Diggs

Financial Seminar Ministry

2008

19 Jun

COMMENTS

Are you ready for some bad news? Credit cards are getting even worse. That's right, those little plastic cards are monsters in our pockets. Their marketers spend millions of dollars trying to convince us that credit cards are plastic prosperity. But for Americans everywhere (many of whom put $1,000-$2,000 of additional charges on their cards this past Christmas alone) those little cards are plastic explosives.
In what we call the Sermon on the Mount, Jesus laid out a beautifully balanced plan for this life—and the one to come. In Matthew 7: 13, we read Jesus saying, "Enter by the narrow gate; for the gate is wide, and the way is broad that leads to destruction, and many are those who enter by it." Now, a fair exegesis of this passage would clearly tell us that Jesus had far deeper, more profound things in mind than credit cards. But, His words here are very applicable to my point. The credit card culture of modern America is fraught with spiritually debilitating quicksand.
The fact is: Credit card companies don't want you to pay the full balance on time because it doesn't net them enough profit. As a matter of fact, if you pay off your entire balance every month, they call you a "credit card deadbeat." That's right, in the parlance of the credit card industry, a consumer who pays off her full balance on time every month is a "deadbeat!"
So to remedy this problem, credit card companies' contracts have become more and more complex. I'm told that, on average, credit card contracts are now over thirty pages long! And, boy, they are tough.
You might suppose that since I speak more than 200 times annually to Christians about their money, I would somehow be immune to this problem. But I've had disputes with my own credit card company twice in recent months. At least once, I caught them charging me a late fee—when I hadn't been late.
Here's a thought: Understand how your credit card works before you start using it. Don't ever sign up for a credit card unless you've read (and understand) the terms of your agreement. And, like I mentioned, these agreements are getting tougher and tougher. I recently heard of a Harvard Law School class that tried to dissect a credit card offer one of them had received. After spending most of the class session reading, re-reading, and discussing the contract's terms—they thought they understood it, but they weren't entirely sure. My point here is: if a class of well-educated legal eagles have to struggle to understand a basic credit card contract that should be a clue to us that the credit card companies may not want us to fully understand everything. Some of the things that are creeping into more and more credit card contracts are:
"Universal default" phrases. These allow issuers to raise rates even if you pay that creditor on time, but are late paying another creditor (i.e. another credit card company or utility bill.)
Cards with "two cycle billing." This is a provision that allows an issuer to calculate your interest rate by reviewing your average daily balance over the last two months, not just one over one month. Some experts say this can cause many people to pay more than they otherwise would have to.
Phrases like the terms can change "at any time for any reason."
Teaser rates. Look for a card that won't change your rate until after its initial term expires – frequently after two years. But watch out, even with this provision, a late payment or an over-the-limit purchase may trigger higher rates and fees.
Find out how picky your company is. Some companies hit you with a higher rate and fees even if your check arrives on the due date—if it's past the time of day marked on your bill.
Beware of easy payment provisions. Find out if you will be charged extra if you pay your bill over the phone
Always mail early—very early.
Don't hesitate to call and dispute (as nicely as possible) anything that isn't right. And do it ASAP!
---
Steve Diggs presents the No Debt No Sweat! Christian Money Management
Seminar at churches and other venues nationwide. Visit Steve on the Web at www.stevediggs.com or call 615-834-3063. The author of several books, today Steve serves as a minister for the Antioch Church of Christ in Nashville. For 25 years he was President of the Franklin Group, Inc. Steve and Bonnie have four children whom they have home schooled. The family lives in Brentwood, Tennessee.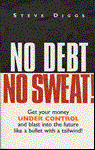 A complete financial compendium, 19 chapters
• What you can do today to get out of debt and kill the Debt Monster
• A,B,C's of handling your money God's way
• How to save, invest, and retire wisely
• How mutual funds work
• How to stop fighting over money
• What to teach your kids about money
• Learn how home & car buying, college financing and insurance work.
• How to develop a budget that works -- forever!
• Features simple charts, graphs, and easy-to-use forms.
Click here to learn more or to order.