8 Ways to Cut Supermarket Costs This Thanksgiving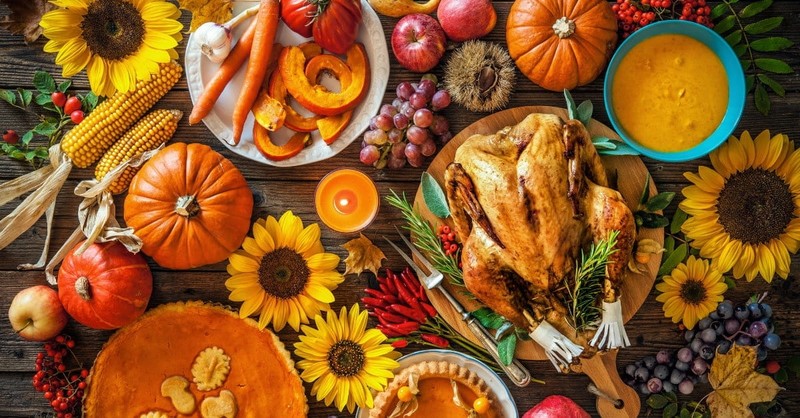 Who doesn't love Thanksgiving? A little turkey, some sweet potato casserole, a slice of pecan pie . . . It's great, right?
But what if you got talked into hosting the family feast this year? How much does that cost?
Depending on where you live, a Thanksgiving dinner for 10 can cost anywhere from $40–80. If that number makes you cringe, don't worry—you can still plan a great meal without breaking the bank. The best way to cut costs may be to ask each of your guests to bring a side dish or dessert. But if you'd rather tackle the meal on your own, here are some tips to cut costs without sacrificing flavor.
1. Create a meal plan
There's no need to send Uncle Steve home with six plates of leftovers. Make a meal plan based on the number of guests, and don't forget to list all the ingredients. If you're worried you won't have enough food, plan for two servings per person—one plate for the meal and one plate for leftovers.
2. Set your priorities
What matters more: pumpkin pie or pumpkin cheesecake? Don't feel like you have to make six different desserts. The more recipes you choose, the more ingredients you'll need. Narrow your grocery list by prioritizing side dishes and desserts. The turkey should probably stay on the menu—but buying a smaller turkey could save some money!

Related: Manage money wisely this holiday season with Financial Peace University. Learn More
3. Set a budget
Your neighbor may spend $200 on her Thanksgiving feast, but that doesn't mean you need to spend that much. This isn't a competition. Figure out what your family can afford and go from there.
4. Shop your pantry
You probably won't have a 16-pound turkey in your freezer, but do you have cranberry sauce stashed in the pantry? What about flour and sugar for the pumpkin pie? It's likely you already have at least a few of the ingredients on your list. No need to buy the same ingredient twice!

Congratulations! The planning stage is done and now you're ready to hit the grocery store.
5. Leave the kids at home
As much as we love our kids, they have a knack for doubling the grocery bill when they tag along to the store. Stay focused on your list (and your budget) by making this trip solo.
6. Buy generic
Splurge on the stars of the meal, but go generic where it makes sense. Most generic brands have the same ingredients as name brands at a fraction of the cost. But if a generic brand only saves you 50 cents and could jeopardize your famous sausage stuffing recipe, it's okay to stick with name brand.
7. Skip prepackaged meals
Prepackaged meals are almost always more expensive than making the food from scratch. Plus, you're not just paying for the ingredients. You're paying for everything that went into making the meal and getting it to your local grocery store. Skip the frozen pecan pie and keep on moving.
8. Save a tree
Pass on the paper products and use your own dishes and cups. This will save you money, and the environment will thank you. If you're worried about the time it'll take to clean up the dishes, ask guests to rinse their dishes when they're done eating. Better yet, give your kids a chance to earn a bonus commission by tackling the clean-up themselves.
Turkey just tastes better when it doesn't cost you an arm and a leg. So make a game plan and stick to it. Keep the grocery list under control, and you'll be well on your way to enjoying a delicious and regret-free (well, except for that third slice of pumpkin pie) Thanksgiving feast.
Enterthe Making Futures Bright $100,000 Giveaway! At Ramsey Solutions, we are changing lives this Christmas by giving away $100,000 worth of cash and prizes. Enter daily for your chance to win!
This article originally appeared on Stewardship.com. Used with permission.
Image courtesy: Thinkstockphotos.com
Publication date: November 16, 2016