Deep in Debt? Try a Shopping Fast
Julie Bullock

GenerousChurch Coaching Team

2012

21 Nov

COMMENTS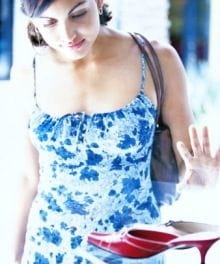 A few years ago, I felt convicted to do a six-month shopping fast. It was an extremely humbling experience, and I continue to learn much from it. Basically, I fasted from the purchasing of essentially all items for six months – clothes, shoes, household goods, specialty food items, electronics, movies, etc. I made a list of 12 household staples (milk, cheese, cereal, fuel, etc.), and that is all I could spend money on for half a year.
Why do a shopping fast? I came to appreciate three reasons:
Discipline: It's a good practice to be able to do without things for a period of time. Anything that you're not able to give up has too tight of a hold on you. Giving up shopping and purchasing for six months is my form of that discipline.
Resourcefulness: I can't tell you how many outfits I wore over that time period that I mixed and matched in ways that I hadn't tried before. I have a pair of boots I bought back in '97 at Kmart for four dollars. Thanks to shoe polish and some black duct tape on the bottoms, they're my favorite line dancing boots ... they even show up in some other non-country occasions!
Opportunities for Generosity: Now more than ever, the local church needs our generosity. Many bold churches are at their "IPO" so-to-speak (initial public offering) of their growth, and there's nothing else I'd rather invest in than the local church. Many of them are on the verge of some very big things that could really take us to the next level in helping people find their way back to God. I don't want this to sound prideful and I don't want to impose my benchmarks upon anyone else (since I don't have children to care for yet or other family expenses that many others have), but as a result of the shopping fast, I was able to give 47% of my salary that year to my local church, Community Christian Church. I can't describe to you the joy and closeness to God that has resulted in this type of investment. I share this with you not to toot horns or impose expectations but rather to celebrate what God is doing in my life and my church. It is not what I do that should be celebrated, but why. Here are some of the many reasons I celebrate generosity to my local church….
The single mom in my small group who has been faced with such trials over the last year but receives such gracious comfort and support from her relationship with God and from the community of her small group and ministry team, which allows her to continue each day with assurance and hope…
The creative arts team through video and through worship that reaches people's hearts in a way that words themselves cannot, displaying with excellence the grace and love of God…
The teaching team, through amazing God-given talent of communicating effectively, challenges life change within our attenders – a testament to a committed team who seeks God's wisdom and direction daily…
The Kids' City children's ministry that reaches over 1,100 kids every weekend with a high-impact, relevant message of hope and love and acceptance that can be found through nothing other than a relationship with Jesus, demonstrated through the love and devotion of over 75 children's small group leaders…
The commitment and vision of a lead team and an entire staff of Christ followers who are relentlessly devoted to trading their lives to help people find their way back to God…
How can you not respond to that kind of cause? I challenge us all, myself included, to respond to our capacity in our own way. The result is indescribable.
Generosity is not something God wants from us. It's something He wants for us.
This article can be found at GenerousChurch.com. Used with permission.
Julie Bullock (JulieBullock.org) is a consultant with Generis and a member of the GenerousChurch coaching team. She writes, "It is my passion to help mobilize leaders and organizations to experience the joy that comes from a generous life."
Publication date: November 21, 2012