Defeat debt forever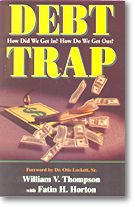 You need to develop a battle plan if you are going to defeat debt. Victory over debt is possible if you understand the requirements and sacrifice needed.
How to have a plan to eliminate debt:
You must face it before you can fix it. Many people are in financial denial. They don't even want to open their bills because it would force them to acknowledge their spending and accrued interest. The first step is to list every bill that you have, from smallest to largest.
See debt as a hostile enemy to the will of God. It wants the opposite of what God wants for you. God desires for you to be able to lend (Deut. 15:6), be prosperous (Ps. 37:4; 3 John 2), be blessed to help others (Gen. 12:3), have peace (John 14:27), and live in abundance (John 10:10).
Understand why each debt arose and learn from your mistakes. Look at your list of debts. Be honest with yourself as to why each debt arose. The key is knowing your weaknesses so you can abort your tendencies to spend.
See the benefits of being debt-free. You will have more money accessible to you, you can take care of your family and provide more security; and you can help your extended family get out of debt. Imagine your life without debt and keep that image your goal.
Become accountable to someone who is walking victoriously and who has your best interest in mind. Being accountable will give you the motivation to stick to your plan. People who have been where you are can tell you whether your goals are realistic, warn you of potential problems, and provide possible solutions.
Destroy the root of the problem. Determine if your friends or family affect your spending habits and your attitude toward finances. Do they spend without restraint, lack priorities, or lack commitment to anything?
Make only cash purchases - don't charge anything. Don't let available credit lure you into spending you can't pay for.
Control your spending and follow your budget. Before you can destroy debt, you must control spending. What you don't spend can be put toward debt reduction.
Identify your weapons. The only people who go to war without weapons are those who either don't intend to fight or don't intend to win. Your weapons may include: getting a part-time job, working overtime, selling something of value, obtaining cash-surrender value on insurance; reducing your expenses by moving, developing tax strategies, or starting a business.
Lay out the plan bill by bill. An unwritten plan is impossible to follow. A written plan will allow you and your spouse to be in agreement, track your progress, and eliminate frustration. You will know exactly when you are scheduled to get out of debt. Most bills, with the exception of your mortgage, can be paid off in two years or less.
Attack and be relentless. With every bill that you pay off you will have more disposable income to attack other debts.
Help someone else get out of debt. Whenever you sow into someone else's life, it creates a harvest in yours.
Materials from Debt Trap by William V. Thompson, copyright (c) 1999. Used by permission of Treasure House, an imprint of Destiny Image Publishers, Inc., 167 Walnut Bottom Road, Shippensburg, PA 17257.
William V. Thompson is founder of William V. Thompson & Assoc., Inc., one of the most sought-after firms in Church Tax & Law and personal money management on the East Coast. He is also the chairman of the deacon board and co-chair of the couples ministry at Evangel Fellowship Church. He received his B.S. in accounting from Greensboro College.Fatin H. Horton is an independent writer and music producer who also serves as an associate minister at Evangel Fellowship Church. He is studying business management at North Carolina A&T State University.For additional information, bookings for workshops, a personal financial consultation, or assistance with bringing your ministry into compliance with IRS and state regulations, contact: William V. Thompson & Associates, Inc, 1600 East Wendover Avenue, Suite 1, Greensboro, NC 27405, phone: 336-272-2363, fax: 336-272-8553, email: Wthompson\@mindspring.com