Don't Let Debt Destroy Your Marriage
Whitney Hopler

Crosswalk.com Contributing Writer

2003

13 Oct

COMMENTS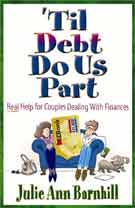 When your bills exceed your income, you've got a problem. And that stress can destroy your
marriage
. But you don't have to let debt erode your trust or cause you to fight over money. By managing your attitudes and finances, you can discover the freedom your relationship needs. Here are some ways you can break free of debt's grip on your marriage:
Admit that you have a problem. Don't ignore the bills and hope they'll go away. Realize that the more money you spend and the longer it takes you to pay your bills, the more interest you'll owe. Think about how much time out of your life it will take you to earn enough money to pay all that extra interest, and allow yourself to get mad about it.
Ask God to reveal the attitudes that motivate you to spend more than you earn. For example, are you trying to fill an emotional need through material things? When you discover wrong attitudes behind your spending, confess and renounce them, asking for God's grace to help you think and act in healthy ways.
Remember that God loves you unconditionally, and that you have great worth simply because of your status as God's child. Look to God for your ultimate fulfillment. Let go of unrealistic expectations that your marriage or your bank account will fulfill you.
Study your spouse's personality and the way he or she relates to money. Consider what's healthy and unhealthy about your spouse's spending habits, and ask your spouse to do the same for yours. Then talk honestly together to figure out ways to help meet each other's emotional needs without spending money. For example, if your spouse loves taking risks, share an adventure that doesn't cost anything. If you aren't content, tell your spouse how he or she can help make life with your current circumstances more pleasant. Remember that the best things in life are free, and make a point to enjoy them together.
Communicate openly and regularly about all aspects of your financial affairs. Work on a budget together and talk to each other about how you're doing as you try to live by it. Don't keep any secret bank accounts, credit cards, or investments from your partner.
Never lie about how much money you've spent or whether you've paid your bills on time. Even if you know your spouse won't like the truth, it's much better to tell it. Remember that any healthy relationship is built on trust.
Simplify your life as much as you can. Work together to see how much time, energy, money, and space you can save by eliminating some of your stuff and refusing to buy as much as you had in the past.
Don't worry about appearances. Ask God to help you be confident just being yourself, and seek relationships with other people who appreciate you for who you are rather than for what you have.
Ask God to help you be content in your current circumstances. Don't let envy poison your marriage. Be humble, and God will exalt you in ways that truly matter.
Thank God on a regular basis for all that He has given you. Remember that God made it possible for you to earn every penny that you have.
Don't dwell on regrets. When you recall financial mistakes, consider what you can learn from them. Use the memories to spur you into action toward a healthier financial future.
Decide to trust God to guide and provide for you and your spouse. Seek His will for your future above your own.
Adapted from 'Till Debt Do Us Part: Answers and Healing for Money Conflicts in Your Marriage, copyright 2002 by Julie Ann Barnhill. Published by Harvest House Publishers, Eugene, Or. Look for this book in your local Christian bookstore or click on the link below to buy it online.
Julie Ann Barnhill and her husband Rick have years of experience of dealing with debt in their marriage. They have three children, and Julie has also written the parenting book She's Gonna Blow!
Is debt placing a strain on your marriage? If so, how is it affecting your relationship, and how are you trying to reduce or eliminate the debt to gain freedom? Visit Crosswalk's forums to discuss this topic by clicking on the link below.