Enjoy a Richer Christmas Season by Spending Less Money
Whitney Hopler

Crosswalk.com Contributing Writer

2003

5 Dec

COMMENTS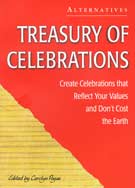 Every year, Christians bemoan the fact that what should be a sacred celebration of Christ's birth is eclipsed by the crass commercialization of secular Christmas activities. But not enough people actually do much to change the materialistic
culture
that has become so ingrained in our society during the Christmas season.
So if you've ever spent a lot of money for Christmas yet felt spiritually bankrupt, don't let that happen again this year. It is possible to enjoy a richer Christmas season by spending less money -- if you focus on spiritual values rather than material ones.
Here are some ways you can celebrate Advent and Christmas without feeling like you've hooked a vacuum cleaner up to your bank account:
Pray about what your priorities should be this Christmas, asking God to show you what He values and what will be most meaningful for you. Pursue only activities and purchases that align with those values.
Plan a Christmas budget and stick to it.
Throughout Advent, prepare to celebrate the greatest Gift of all -- Christ -- rather than becoming preoccupied with shopping for material gifts. Spend more time in prayer, worship and Scripture reading than you do shopping.
Serve other people whenever and however you can, such as by participating in a community service project or doing a favor for a friend. You'll find more fulfillment through giving than receiving. And the people you serve will likely appreciate your time and energy more than any material gift, so also consider giving service rather than things as Christmas gifts.
If you have children, focus on Christ instead of Santa Claus. Let them know how the gifts Christ offers are much more valuable than toys or clothes.
Donate to charities in the names of people on your gift list. Ask each family member or friend on your list to choose a charity, then make your Christmas gift to that person be a donation on his or her behalf. This will allocate money to people who truly need it in ways it's truly needed while also blessing your family member or friend.
Make your own Christmas cards.
Rather than buying ornaments, decorate your tree with cookies, fruit, popcorn and candy. Then invite people to celebrate the season with you by coming over and eating from your tree.
Count how many gifts you'll be buying for family and friends, then give an equivalent amount to a holiday gift drive for people in need, such as homeless families. Or tally the total of your gift budget for family and friends and donate that amount to charity. You'll likely have to reduce your original gift-giving budget to do this; but simplicity that allows for greater meaning is your goal.
Host an open house during the Christmas season. Choose an afternoon or evening, then invite people at your church or others you know to visit for a few hours. Provide light refreshments and some type of holiday activity, such as caroling or games. Take time to listen to people and pray with them during your time together. Let this be your gift to the people you invite.
Instead of cooking an elaborate Christmas dinner, eat a simple one and donate the money you would have spent on a more elaborate one to a food bank.
Make some of your own gifts and encourage your children to make theirs. Handmade gifts are less expensive but more personal, and often very much appreciated.
Invite people who don't have anywhere to go for Christmas to celebrate it with you. Think of senior citizens who live alone, refugees, etc.
Buy a live Christmas tree that you can plant in your yard after Christmas or return to the nursery to be replanted.

Adapted from Treasury of Celebrations, edited by Carolyn Pogue, copyright 1996 by Northstone Publishing Inc., Canada. Produced by Alternatives for Simple Living, www.SimpleLiving.org, 1-800-821-6153.
Alternatives for Simple Living is a nonprofit organization started in 1973 to protest the commercialization of Christmas. It produces resources that challenge consumerism and promote living justly and celebrating responsibly.
Why is it important for Christians to resist the commercialization of Christmas? How have you been able to celebrate a more meaningful and less expensive Christmas season? Visit Live It's forum to respond, or read what others have to say. Just click on the link below.