Everyone can save money on their home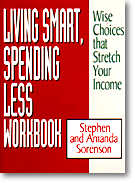 Housing choices abound: rentals, condos, new or old houses, in town or the suburbs. Whatever your choice, you'd be wise to make an informed decision on your housing situation. Housing accounts for too large a portion of your salary to make a quick decision, or one based on "loving the place."
Consider the following:
What are your requirements? Do you need a specific number of bedrooms, a formal dining room, study, home office? Do you need a garage? Do you have health needs requiring one floor, or a ramp to the entrance? Do you need a yard, a fence, a child's play area?
Where do you want to live? Urban, rural, suburban? Historic, well-established, new, quiet, mixed residential and business? Do you look for neighbors with young families, retirees, singles?
Is the location right? How long does it take to get to work, school, airport, church, hospital, recreation facilities? Are grocery stores nearby? Is public transportation available?
Determine the cost of utilities. Inspect previous utility bills of the current owner (gas, oil, electricity, water, sewer, telephone, cable).
Consider yard care. Do you enjoy doing home and yard maintenance?
Think about renting, if you plan to remain in the area for only a few months. If you travel extensively, a condo or townhouse community may provide better security than a home in the country. Can you have pets or an extra car? Can you live with the inconvenience of having close neighbors?
Know your financial situation. It is imperative that you determine how much you can afford to spend on housing before you buy or rent. Generally a lender will allow your monthly mortgage payment and other housing expenses (insurance, taxes, interest) to total no more than 29% of your monthly gross income. The lender will also add up all your debt obligations to see if the total is more than 41% of our gross income. Ultimately, you must decide whether you can afford to repay a mortgage.
Make sure you understand your ability to repay the loan. Besides the monthly mortgage bill, you must also have a down payment, closing costs, insurance, and property taxes.
If you rent, know the hidden costs of deposit payments, late charges, rent increases, breaking leases. Know what is provided: snow removal, lawn care, utilities, trash?
Explore other options: long-term house sitting, finding roommates to share expenses, doing maintenance work in exchange for a place to live, temporarily living in a camper at a campground, fixing up an existing home to make a profit.
If you decide to buy, consider if this is the right time - for you and for the market.
Find a competent Realtor, who will work for you, not the seller. Does he/she know the local area well? Does he/she show you what you want to see? Are you of like-mind?
Detect any and all maintenance problems. Knowing the faults of the home is essential. Hire a home inspector to find the hidden problems. Remember that no house is perfect, and there are always other choices. Consider structural problems, health hazards, heating/cooling systems, water/sewer systems, and site problems.
Negotiate and prepare the contract carefully. Know what you are signing.
Shop for the best mortgage loan. Even a fraction of a percentage point could save you thousands of dollars during the life of your loan. Evaluate the kinds of loans available: fixed-rate, adjustable-rate, graduated-payment, or balloon. Understand the differences - and the benefits and drawbacks - of each.
From Living Smart, Spending Less Workbook by Stephen and Amanda Sorenson, copyright (c) 1994. Used by permission of Moody Press, Chicago, Ill., 1-800-678-6928.
Amanda S. Sorenson and Stephen W. Sorenson have personally worked through the issues presented in their book Living Smart, Spending Less, and have gained control of their own personal finances. As authors and editors of numerous books and hundreds of articles, Stephen has worked for organizations such as Compassion International and NavPress, and Amanda is a former editor of Bookstore Journal. They operate Sorenson Communications in Colorado Springs.