Finding College Scholarship Dollars

Only 10 percent of full time college students had a scholarship in 2007-08. The average for those who did received less than $3,000. Why? Well, you might think that the simple answer is because they're stupid. But, not so. 
Many were qualified to receive scholarships — yet they paid the full tuition themselves. 
Why? Because they were either lazy or uninformed. Many either didn't try, or they waited too late to qualify. The net result was that millions of dollars of scholarship money went unclaimed. 
As God's kids we should apply wisdom in every nook and cranny of our lives. Proverbs 2:6 tells us, "For the LORD gives wisdom, and from his mouth come knowledge and understanding." So, to avoid looking at our lives in the rearview mirror of missed opportunities, let me share a few thoughts on how to go to college with serious cash in hand.
1. Be your own public relations expert. Colleges everywhere are looking for great students. So it is your job to let them know how great you are. I encourage young people (and their parents) to start this process in junior high school. Open a file and begin filling it with notes, accolades, citations, newspaper clippings, school letters, and generally anything else that you accomplish. This way, when college counselors ask about your accomplishments, you have ready answers and written proof.  
2. Don't wait too late. Some scholarships must be applied for well ahead of fall semester at college. In some cases applications must be made as early as the student's junior year in high school. Start early.
3. Proof, proof, proof! There have been a lot of bright young people who failed to get scholarships because they didn't proof and re-reproof their scholarship applications and essays.  In a world filled with text messaging, it's more important than ever to be certain that you have spelled it correctly! 
4. Athletic scholarships may be easier to get than you think. You don't have to be big school, NCAA material to get an athletic scholarship. If you've been a moderately successful athlete in high school, consider a smaller college. Just last week I learned about a girl at our church who has received a full, four-year scholarship at a very good (but not particularly prestigious) university to play basketball. She wouldn't have gotten the same deal from a top tier basketball university.  But this smaller school was glad to have her — and rewarded her handsomely.
5. Talk to other scholarship winners. Ask friends who have received scholarships how they got theirs. And remember, scholarship winners tend to be favored students at their colleges. If you have friends who have won scholarships, ask if they will put in a good word for you at their schools.
6. Check out the local scene. Often there are scholarships available to local kids in your community. Ask around. Maybe the Lions Club or the women's groups have special scholarships that you are eligible to receive.
7. Troll the Internet. Google "scholarships." Go to scholarship websites like http://www.fastweb.com/ or http://www.finaid.org/.  After all, if you invest 10 or 20 hours of your time and get a $500/year scholarship at a four year school, you've earned $100-$200 per hour.  That beats flipping burgers at McDonalds any old time! 
---
Steve Diggs presents the No Debt No Sweat! Christian Money Management Seminar at churches and other venues nationwide. Visit Steve on the Web at www.stevediggs.com or call 615-834-3063. The author of several books, today Steve serves as a minister for the Antioch Church of Christ in Nashville. For 25 years he was President of the Franklin Group, Inc. Steve and Bonnie have four children whom they have home schooled. The family lives in Brentwood, Tennessee.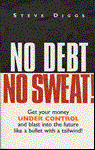 A complete financial compendium, 19 chapters
• What you can do today to get out of debt and kill the Debt Monster
• A,B,C's of handling your money God's way
• How to save, invest, and retire wisely
• How mutual funds work
• How to stop fighting over money
• What to teach your kids about money
• Learn how home & car buying, college financing and insurance work.
• How to develop a budget that works -- forever!
• Features simple charts, graphs, and easy-to-use forms.
Click here to learn more or to order.