Finding the Right Financial Advisor
Steve Diggs

No Debt No Sweat! Financial Seminar Ministry

2010

20 Sep
If you're like many Americans, you're concerned about the health of your nest egg.  And, you would really like some help — but how do you avoid running into Bernie Madoff's  first cousin?  The truth is, everybody and his brother is selling financial products today.  We have the traditional brokers, bankers, insurance salesmen, and dog groomers pitching stuff.  Some of these people are excellent — but many aren't. 
As a guy who speaks to audiences on personal finance over 250 times yearly, I like to tell my audiences that there are at least two things to look for in an advisor: Honesty and competence. Frankly, I don't believe most money managers are dishonest.  But I do believe most advisors really don't know enough to be doing what they're trying to do.  Sure they've gotten their Series 7 license, and they've gone to the company orientation day.  But while they've been taught how to market, many have never learned how to minister.  The net result is we have way too many people selling way too many money products to way too many other people.
Since most of us don't have the time or inclination to learn all the minutia of investing, it may be important to have someone you can trust to help you navigate the waters. But before we begin, understand the hard truth that there are no guarantees.  Despite all the glossy ads and wild claims, there is no way to be positively, 100 percent sure you will get a fair shake.  However there are some prudent things you can do to tilt the odds in your favor.  Below are a few thoughts you may find helpful:
1.  "Know thy advisor's income stream."  Don't be shy here.  Ask questions.  Ask about non-disclosed fees.  Put whoever you're talking to through his paces — then make him put it in writing.  Advisors tend to fall into two very broad categories. Some people have no problem hiring a commissioned broker.  Many others wouldn't do that on a bet because they feel it gives the advisor an incentive to sell you products you may not need.  You may want to consider hiring a qualified, fee-based advisor who will take a half to one-and-a-half percent of your account's value each year.  Hopefully, this way you'll both be on the same side of the fence. 
2.  Check your advisor out before you take his advice — or give him your money.  Ask around.  Talk to people who have known the advisor for a long period.  If possible visit previous employers. Go online to Internet look-ups like the Securities and Exchange Commission's site at www.sec.gov and click "Investment Advisor Search."  You might also go to a website provided by the financial industry's regulatory agency at www.finra.org.
3.  Stay in the Loop.  Pay attention to those monthly statements — and the investment world in general.  Be sure you are on par with comparable investment strategies. If not, find out why.  Generally, it's proper not to write your deposit checks directly to your advisor.  Instead such checks usually should be written to third parties like Trust Company of America, Vanguard Mutual Funds, or Charles Schwab and Company.  Also, be sure your account statement arrive regularly.  In most cases these should come directly to you — not from your advisor. 
4.  Understand how your advisor invests.  Ask questions.  Be sure he fully quizzes you on your goals.  Be certain his investment approach makes sense.  If you aren't sure, ask other trusted investors.  Then get your plan, its projections, and it's strategies in writing.
5.  Check out your advisor's professional credentials.  Unfortunately, this isn't fool proof, but having earned a Certified Financial Planners (CFP) and similar industry-respected degree is a positive sign.   
Sadly, the ghost of Bernie Madoff isn't going away soon.  But, we can turn his evil into positive, productive behavior by learning lessons from those who paid terribly high prices.  Proverbs 2:10 is an ageless reminder, "For wisdom will enter your heart, and knowledge will be pleasant to your soul."
September 20, 2010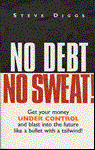 Steve Diggs presents the No Debt, No Sweat! Christian Money Management Seminar at churches and other venues nationwide. Visit Steve on the Web at www.stevediggs.com or call 615-834-3063. The author of several books, today Steve serves as a minister for the Antioch Church of Christ in Nashville. For 25 years he was President of the Franklin Group, Inc. Steve and Bonnie have four children whom they have home schooled. The family lives in Brentwood, Tennessee.

A complete financial compendium, 19 chapters
• What you can do today to get out of debt and kill the Debt Monster
• A,B,C's of handling your money God's way
• How to save, invest, and retire wisely
• How mutual funds work
• How to stop fighting over money
• What to teach your kids about money
• Learn how home & car buying, college financing and insurance work.
• How to develop a budget that works-FOREVER!
• Features simple charts, graphs, and easy-to-use forms.
Click here to LEARN MORE or to ORDER