Five Tips For Helping Kids Understand Money and Work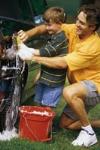 Parenting isn't easy. As a matter of fact, I think we parents deserve hazardous duty pay. As we raise our kids it's important to constantly ask yourself: "What can I teach today that will matter tomorrow?"
One of the best gifts a parent can give a child is a responsible understanding of money and a healthy appreciation for work. At the No Debt No Sweat! Christian Money Management Seminar that I've presented at nearly 150 churches, I encourage parents to teach their kids not to make the mistakes we've made. One of the best gifts a parent can give a youngster is a plan to stay out of debt and invest for the future. I love to see parents catch the vision and begin to inspire their children to avoid painful money mistakes that can literally sap the joy out of life.
Following are five ideas you may find helpful as your mentor your children in the areas of money and work:
1) Be a friend and partner to your child -- not a tyrant. Dealing with money and understanding its relationship to hard work doesn't come easy for any of us -- especially kids. A little gentleness and kindness will go a long way. Sure, there will be times of correction, and even discipline, but remember how tough all this stuff was for you to learn.
2) Don't be in a rush to bail the kids out of every financial problem. Help them process the situations they confront, and find solutions. Look for opportunities to teach life lessons.
3) Help your children learn the difference between short- and long-term goals. Usually money for short-term goals like birthday gifts, saving for summer camp, or buying a special shirt or top, is best kept in a simple bank or credit union savings account. These accounts make access relatively (but, not too) easy, and usually pay a little interest. Long-term goals like college savings or buying a car might be invested differently. If your timeline is at least five to seven years out, you might want to consider putting the money into a mutual fund. Remember, the real purpose in all of this is to help teach your children about how money and markets work.
4) Consider giving older kids larger allowances and supplying fewer of their needs. Teach them to budget their allowance for clothes and other items that you bought for them when they were younger.
5) Always remember that God is the Source of all wealth. Use money as an opportunity to teach about God's love and provision -- and, the responsibility that it places on us to use it, and share it, to His glory.
After all, when all is said and done, what better legacy could you leave than responsible, godly young adults who will be the light and reflect the true Life to a lost and hurting world?


Steve Diggs presents the No Debt No Sweat! Christian Money Management Seminar at churches and other venues nationwide. Visit Steve on the Web at  www.stevediggs.com or call 615-834-3063. The author of several books, today Steve serves as a minister for the Antioch Church of Christ in Nashville. For 25 years he was President of the Franklin Group, Inc. Steve and Bonnie have four children whom they have home schooled. The family lives in Brentwood, Tennessee.