Four Tricks for Taking Charge of Your Money
Steve Diggs

No Debt No Sweat! Financial Seminar Ministry

2005

30 Dec
I tell churches where I present my No Debt No Sweat! Seminar that dealing with our money the right way isn't complicated — it's very easy to understand. What's tough is making up our minds to do it. Good financial management has a lot less to do with our head knowledge than it does our actual behavior.
I want to share four tricks of money control. None of these are difficult to understand — but they are all tough to do.
1) Learn to recognize and avoid the desire for instant gratification. One of the major differences between children and adults is that an adult has learned to delay gratification for a greater goal. This applies to all aspects of our lives. Godly people know that sexual temptations will come and go. But the short-term pleasure will be eclipsed by a lifetime of regret and broken relationships. In the same way, mature people learn that buying stuff on a whim frequently leads to long-term financial agony. Remember, what one does in haste is often repented of in leisure.
Remember, it's a war out there. Advertisers, retailers, and creditors — they all want your money. Your job is to take control of your money and learn to say "no" a lot more often than you say "yes."
2) Realize that we are only stewards of the money we possess. Someday God will expect an accounting of what we did with what we had. In his letter to the Philippians, Paul tells the first century Christians to, "work out there own salvation with fear and trembling." I don't believe he was telling Christians that they are expected to "earn" their salvation solely on their own merit. Instead, I think Paul's point is that each one of us needs to do a "check up from the neck up" and consider our motives and our actions in the light of eternity. One day, each of us will be called on to give an account before the throne of God. Christians should have a world-view that differs from the popular bumper sticker that proclaimed: "He who dies with the most toys wins!"
3) Learn to recognize what motivates you to buy. What's going on between your ears? Why are you about to spend money? Is it something you really need or want? Or, is there a baser motive at work?

Before I make a questionable purchase, some questions that have helped me sharpen my focus include: Is this something that will tickle my vanity? Am I simply trying to impress others with my ability to outspend them? Do I hope that buying something else will fill an emptiness within? Am I trying to rebuild my self-esteem? Am I trying to fill the hole in my heart with more stuff? Maybe I need to examine that hole more carefully. If I look very closely, I may see the hole is shaped like Jesus — and nothing else will ever really fill it.
4) Understand the concept of accountability. Many people have found that one of the best ways to control their money is by having an accountability partner. Two people can be wiser than the sum of their individual parts. King Solomon talks about the strength of two in Ecclesiastes 4:9-12:
Two are better than one, because they have a good return for their work: If one falls down, his friend can help him up. But pity the man who falls and has no one to help him up! Also, if two lie down together, they will keep warm. But how can one keep warm alone? Though one may be overpowered, two can defend themselves. And a cord of three strands is not quickly broken.
Finding the right accountability partner is critical. And, no, that person isn't necessarily going to be your best bowling buddy or your shopaholic pal. We're not looking for a co-dependant, stuff-a-holic with whom to spend more money. This needs to be a person who really has your best interest at heart — and a little bit of maturity to go with it.

Hopefully, if you're married, this will be your spouse. But if both of you are fighting the same budgeting battles, it may be simply a case of the "blind leading the blind." Don't let pride or embarrassment get in the way of finding the right someone who can give you the needed counsel. Remember, the embarrassment associated with getting some help is nothing compared to the humiliation of crashing and burning in bankruptcy court.


________________________________________________
Steve Diggs presents the No Debt No Sweat! Christian Money Management Seminar at churches and other venues nationwide. Visit Steve on the Web at  www.stevediggs.com or call 615-834-3063. The author of several books, today Steve serves as a minister for the Antioch Church of Christ in Nashville. For 25 years he was President of the Franklin Group, Inc. Steve and Bonnie have four children whom they have home schooled. The family lives in Brentwood, Tennessee.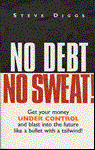 A complete financial compendium, 19 chapters
• What you can do today to get out of debt and kill the Debt Monster
• A,B,C's of handling your money God's way
• How to save, invest, and retire wisely
• How mutual funds work
• How to stop fighting over money
• What to teach your kids about money
• Learn how home & car buying, college financing and insurance work.
• How to develop a budget that works -- forever!
• Features simple charts, graphs, and easy-to-use forms.
Click here to learn more or to order.