Give money to change the world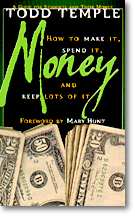 If your only giving is in the form of taxes, you're missing out on a thrilling and powerful way to give. Taxes are important - and compulsory. Giving on your own is not only voluntary, but filled with great benefits.
What happens when you give on your own:
You help the people you want. Congress decides where your tax dollars go. Often it goes to the agencies with the right political connections or the most media coverage. By giving on your own, you ensure the survival and growth of private agencies that don't get government funds and those without headline-grabbing missions.
It's fun. If you like Christmas because you enjoy watching your family open gifts you've made or bought for them, then why wait all year to feel that excitement? Giving a portion of your income each month spreads the Christmas spirit all over the calendar. Giving is a thrill: It's thrilling for the giver, for the recipient, and for God.
You feel significant. Your longing to be somebody can be achieved. For example, if you give \$24 each month to sponsor a child in another country, you are paying for his/her food, clothing, and education - you're risking your money to keep someone else alive.
You set people free. When you give to organizations that help the needy, you're giving others the opportunity to experience the freedom you enjoy. Many people in this world are trapped by something they can't get out of - hunger, disease, thirst, poverty, war, handicap, or spiritual darkness. People want to taste freedom. Your giving makes that possible.
You are a child of God. When you give, you're just giving God's money back to Him. If you believe that God is the ultimate provider of things, then giving to others is one of the ways you can thank Him for the opportunity to use His money to meet your own needs and desires.
How to give away your money:
Pick a percentage. Look at your budget to make sure that you can afford the amount you commit to. Keep track of all income so you'll know how much to base your percentage on. Many Christians take a tenth of what they have and use it to give thanks for the nine-tenths they have the privilege of using.
Pick a day. Decide which day of the month you plan to do your giving. Mark it in your calendar. Treat that day like a celebration - a festive ceremony in which you give back to God a portion He's given to you.
Decide whom you want to give to. Needs aren't hard to find. Do some homework to make sure the organizations are legitimate. Then pray about it. After all, it's God's money and He has something to say about where you send it.
Commit to giving a certain amount each month for one year. Make giving a long-term strategy for life. As your income increases, your giving can increase as well.
From Money: How to Make It, Spend It, and Keep Lots of It, copyright (c) 1998 by Todd Temple. Used by permission of Broadman & Holman Publishers, Nashville, Tenn., 1-800-233-1123.
Todd Temple is co-founder of "10 to 20" and has worked in association with Christian organizations such as Promise Keepers, Youth for Christ/USA, and The Salvation Army. He has written or co-authored 18 books for teens and adults and has written and produced several videos for Promise Keepers and the Youth for Christ DC/LA student evangelism conference.