Giving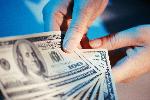 Where Does Wealth Come from?
 ... for it is he that giveth thee the power to get wealth, that he may establish his covenant which he swore unto thy fathers, as it is this day. (Deuteronomy 8:18 emphasis added)
"Power" -- from giant lizards to good fruit:  "to get" -- to create; our heart determines whether we will create giant lizards (drug lords) or Christ-centered behavior (good fruit).
Who Really Owns What We Give?
The silver is mine, and the gold is mine.... (Haggai 2:8)  We should never view giving from the perspective of how much do we want to keep? An example is the rich young ruler (Matthew 19:21). 
Do We Give to the Lord, the Church Or the Ministry?
The Lord.  Take ye from among you an offering unto the Lord.... (Exodus 35:5)
Why Must We Give to the Lord?
Giving shows God that we honor Him (Proverbs 3:9).

Many days after we give, what we have given will be returned to us (Ecclesiastes 11:1).

Giving a tithe to God causes Him to open the windows of Heaven and pour out a blessing on us that we cannot hold (Malachi 3:11).

If we give, at least a tithe, God will rebuke the devourer for our sakes (Malachi 3:11).

If we draw out our soul to the hungry and satisfy their afflicted soul, the Lord will give to us guidance in our everyday lives (Isaiah 58:10 & 11).
What Should Be Our Attitude When We Give?
The key to giving is to give as unto the Lord with a willing heart.  In Exodus 35: 5 & 21 the people were asked to give as unto the Lord with a willing heart.  They gave so much that they were asked to stop giving.
What Should We Give to the Lord?
A sacrifice of praise (Hebrews 13:15).

The first fruits of our increase (Proverbs 3:9-10).

Only unblemished items (Exodus 12:5).

He that pities the poor lends to the Lord, and He will pay him again (Proverbs 19:17). 
How Much Should We Give to the Lord?
We should be willing to give all that we have (Matthew 13:44).

We should give a least a tithe (Malachi 3:10).

We should give out of our need (Mark 12:38-44).

We should give as we are able according to what God has given to us (Deuteronomy 16:17).

We should approach the collection plate with the same mind that Jesus had as He approached the cross on Calvary.
What Does God See Us As When We Do Not Give at Least a Tithe?
Thieves and robbers (Malachi 3:8) ...Why?
And all of the tithe of the land, whether of the seed of the land, or of the fruit of the tree, is the Lord's: it is holy unto the Lord
(Leviticus 27:30).
The tithe belongs to God and is holy unto the Lord; therefore, we are thieves as to that portion of the tithe which we fail to give to God.  To fail to tithe is the same as stealing out of the collection plate.
What Keeps Us From Giving?
Pride.  Pride kept Sodom from strengthening the hand of the poor and needy (Ezekiel 16:49).
When we think in terms of what the scriptures say about giving, we will focus on what God gave for us and to us; we will not focus on what we can get by giving.  Our focus on giving to get leaves out Jesus and degrades the principle of giving to a "give and get syndrome."
The world says "We must keep, amass, and continually acquire in order to gain."  The Word says Give, and it shall be given unto you; good measure, pressed down, and shaken together, and running over, shall men give into your bosom.  For with the same measure that ye mete withal it shall be measured to you again (Luke 6:38).  Do not look at this scripture just in terms of money, look at it also in terms of love, time, wisdom, and the other intangibles in life.
There are many Christians who tithe faithfully and stay broke at the same time.  They stay broke because balance is missing in their lives.  The Word of God must be read as a whole and not picked apart to be used piece by piece when we deem it convenient.  For instance, we can give all that we have but if we harbor bitterness, what good is the giving? (I Corinthians 13:3)  



Insight to Freedom was founded in 1983 by John and Donna Deal.  This ministry was born out of John and Donna's walk out of $65,500,000 indebtedness from 1974-1986.  For more information, visit www.insighttofreedom.com.