Giving God's Way: High Purposes vs. High Pressure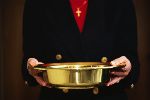 I get to see a lot of America in my travels. Many of those I am privileged to meet inspire and thrill me. I see godly people intent on doing God's work God's way.
But I also see some people intent on doing God's work their way. I see those charged with raising funds for God's kingdom use strategies that border on shame and manipulation. Allow me to contrast some of today's high pressure, coercive fund raising techniques with the way God encouraged His people to raise money. In 2 Corinthians 9:7, Paul tells us that giving should be on a free-will basis. There are several refreshing passages in Exodus where God encourages giving without tacky tactics:
"Tell the sons of Israel to raise a contribution for me; from every man whose heart moves him you shall raise My contribution." (25:2, emphasis mine, NASV)
"Take from among you a contribution to the Lord; whoever is of a willing heart, let him bring it as the Lord's contribution…" (35:5, emphasis mine, NASV)
"And everyone whose heart stirred him and everyone whose spirit moved him came and brought the Lord's contribution for the work of the tent of meeting and for all its service and for the holy garments." (35:20, NASV)
Look at the results when people with a holy goal and a heart for God give free of human manipulation and high pressure:
"And they received from Moses all the contributions which the sons of Israel had brought to perform the work in the construction of the sanctuary. And they still continued bringing to him freewill offerings every morning…So Moses issued a command, and a proclamation was circulated throughout the camp, saying, 'Let neither man nor woman any longer perform work for the contributions of the sanctuary.' Thus the people were constrained from bringing any more. For the material they had was sufficient and more than enough for all the work, to perform it." (36:3,6,7, NASV)
My goal here isn't to be critical of Christians who are charged with raising the funds needed for Kingdom work, but I have to wonder if sometimes we don't slip into the world's way of doing business. Honestly, I don't always know where the line should be drawn in these efforts, but I do know one thing: Greater good is accomplished when prayer takes precedence over strategy.
Maybe we need to loosen our grips and trust God's ability to provide more than we trust our own abilities. Maybe we need to challenge those who coerce and bully to rethink their approach. Maybe we need to fall more in love with the goal of reaching the lost and helping the hurting—and be less invested in using deceptive, worldly tactics. Maybe it's time for Christians to get back to the Book and do it God's way. After all, He owns it all and He's big enough to supply every need.
As George Mueller learned, more time on our knees may lead to less time knocking donors' doors.
Ultimately, no matter what strategy your church or ministry employs, let's not lose sight of the true purpose – to save souls and bring honor and glory to God. In Jesus' words, "It is more blessed to give than to receive."i My goal is not to get it backwards.
---
Steve Diggs presents the  No Debt No Sweat! Christian Money Management Seminar  at churches and other venues nationwide. Visit Steve on the Web at  www.stevediggs.com or call 615-834-3063. The author of several books, today Steve serves as a minister for the Antioch Church of Christ in Nashville. For 25 years he was President of the Franklin Group, Inc. Steve and Bonnie have four children whom they have home schooled. The family lives in Brentwood, Tennessee.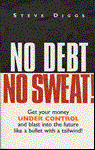 A complete financial compendium, 19 chapters
• What you can do today to get out of debt and kill the Debt Monster
• A,B,C's of handling your money God's way
• How to save, invest, and retire wisely
• How mutual funds work
• How to stop fighting over money
• What to teach your kids about money
• Learn how home & car buying, college financing and insurance work.
• How to develop a budget that works -- forever!
• Features simple charts, graphs, and easy-to-use forms.
Click here to learn more or to order.