How to Get Money for Your Used Clothing

Think back to earlier this year, when you were scrambling to file your federal income tax return. You were frustrated because you knew that, during the tax year, you had donated bags of clothing and household items to local charities and those donations might be tax deductible. But how much were they worth? And what if you couldn't remember exactly what you had donated? More than a few of my readers gave up and didn't take any deductions at all because they were unsure of exactly how much to claim. This year, you can avoid all of that last minute scrambling and estimating, but you need to start now.

When you itemize your tax return, you are allowed to deduct the fair market value of the items you donate to charity. How much you should deduct becomes the sticking point. If you overstate the value, you risk an audit, penalties and interest. If you under-estimate, you pay more taxes than you should. The secret is to determine each and every tax deduction to which you are entitled. Then, take those deductions to make sure you are paying only the taxes you are required to pay, and not one cent more.

The solution for the problem is Money For Your Used Clothing, Tax Year 2009, a 64-page booklet that provides uncertain taxpayers with certified valuations for over 750 clothing and household items commonly donated to charity, all in accordance with the latest IRS guidelines. This is a comprehensive guide to valuing your non-cash charitable contributions. The booklet also serves as a workbook, with space to record what you donate and instructions for how to document your donations properly. It even provides a place to keep your donation receipts.

Every year, this booklet is revised and updated to reflect the current year's values. If you itemize your deductions on your federal income tax return, you will save hundreds of dollars in taxes by using certified used clothing values.

I have personally relied on CPA William Lewis (author of this booklet) to help me assign market values to the items my husband and I donate to charities during the year. We can document that we have been able to deduct thousands from our tax returns over the years. Every year, we donate books and magazines to our local public library, all of which are deductible. Clothing and household goods that are in good condition are deductible, as well.

Believe me, if you itemize, what you spend on this booklet will be the best money that you spend this year because you will save at least ten times as much on your taxes, or we will refund every penny of the booklet's purchase price.
September 21, 2009

---
The cover price of
Money For Your Used Clothing, Tax Year 2009
is $25. However, we have arranged for a discounted price of just $20 for Everyday Cheapskate readers. Order online at
DebtProofLiving.com
(click on "
Bookstore
") or call 1-800-550-3502, M through F., 8:30 to 5 Pacific time.
---
Copyright © 2009 Mary Hunt. All rights reserved. Permission to reprint required.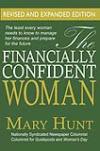 Check out Mary's recently released revised and expanded edition of The Financially Confident Woman (DPL Press, 2008).
Debt-Proof Living was founded in 1992 by Mary Hunt. What began as a newsletter to encourage and empower people to break free from the bondage of consumer debt has grown into a huge community of ordinary people who have achieved remarkable success in their quest to effectively manage their money and stay out of debt. Today, "Debt-Proof Living" is read by close to 100,000 cheapskates. Click here to subscribe. Also, you can receive Mary's free daily e-mail "Everyday Cheapskate" by signing up at EverydayCheapskate.com.