How to master your debt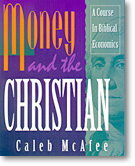 This is the second of a two-part column on debt. Part one dealt with the effects of borrowing and debt. Read part one in the Money & Management archives of Live It!
Getting out of debt does not have to be impossible. Here are steps you can take to take control of your financial obligations.
Have a family meeting and prayerfully set a goal to live God's way. Write the goal down, making it a visible and objective standard to work toward. Write out a schedule for accomplishment, establishing target dates. Your written goal should cover a workable plan including:

How to stop spending more than you make.
How to pay the interest on the debt you have accumulated.
How to repay the debt.

Start paying the Lord's tithes. Yes, you should tithe (Matt. 23:23).
Add no new debt. Do without - if that is what it takes. You may want to keep one credit card which has no annual fee and which offers at least a 25-day grace period before charging interest. This is to be used as a convenience only. If you don't have the discipline to use the card correctly, do not carry it in your wallet.
Face the facts of your situation. Don't ignore the seriousness of your predicament, and don't try to blame anyone but yourself. You cannot assume to live in the same manner as when you had uncontrolled spending.
Reduce your standard of living to allow a monthly debt-reduction program. After the payment of fixed expenses, and the cost of the necessities, apply all extra income to pay off debt. Apply any unexpected monies toward debt reduction (they may come from an income tax refund, inheritance, pay raise, overtime, or bonus).
Consolidate bills if you can save on interest. Do not use consolidation to extend debt, consolidate only if you can lower interest rate. Do not add to your debt - even if it is offered.
Move the outstanding balance on high interest rate cards to cards offering a lower rate. Choose a card with at least a 25-day grace period with low or no annual fee. When the balance is reduced to zero you can continue to use the card and pay for purchases within the grace period.
Ask the Lord for creative ways to earn extra funds to liquidate debt. Remember that your goal is to reduce and eliminate your debt as quickly as possible. I am the Lord your God who...leads you along the paths that you should follow (Is. 48:17).
Be determined to never give up until you are debt-free. Never despair. It may have taken years to accumulate the debt. Faithful application of these strategies, coupled with patience and trust, will extricate you. Believe God for a way of escape.
From Money and the Christian by Caleb McAfee, copyright (c) 1997. Used by permission of Caleb McAfee Ministries, Irving, Texas, 1-800-616-6654.
Caleb McAfee combines more than 25 years of business experience with diligent biblical research to write this coursebook. He is a popular speaker and seminar leader and the author of several books on godly success principles and income-building strategies.For information about how your church can sponsor a Money and the Christian Seminar, write or call: Caleb McAfee, P.O. Box 153989, Irving, Texas 75015, 972-438-1234.