Lessons From My Garden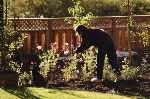 There's something magical about dirt. Digging in it clears my mind. It's like hitting "refresh" on my computer screen. Things pop into proper perspective.
I experience nature's therapy in the solitude of my tiny garden. And I have learned some important lessons, too.
Start early
I've made feeble attempts to grow sweet peas in years past but always with the same feeble results. Imagine my surprise when I read I was planting way too late. Sweet peas need to be sown into the ground long before winter-in the fall of the year. I was at least six months off.
The same is true for planting a financial nestegg. Starting early is the way to experience a spectacular harvest. Money needs the power of time for it to grow strong roots that run deep.
Starting to save early can be the difference between paying for a college education with earned interest or defaulting to dependence on student loans.
Starting to save early can be the difference between home ownership or a lifetime of renting.
Starting to save early can be the difference between a comfortable retirement and one's sunset years filled with fear, worry and financial dependence.
Hang on tight
I had no idea last fall when I planted my sweet peas what lay ahead for those tiny seeds. Not two months later, southern California experienced months of record-breaking precipitation. We got rain in spades. The ground became saturated. Nothing drained, lots of stuff floated away. Some areas suffered devastating damage.
The storms were harsh, yet my sweet peas hung on for dear life. They refused to let go and certainly not because they received encouragement from me. For all I knew they were long gone because the bed showed no signs of life. But in their own quiet way there were alive, burrow-ing down to ride it out.
Life's storms hit all of us from time to time. And when they do we have a choice: We can either cave in and let the storms carry us out to sea, or we can dig in and refuse to let go. What doesn't destroy us makes us stronger and ready to face even greater challenges.
Give or give up
Once my sweet peas began to bloom I was hesitant to cut them. They just looked so pretty on the trellis. But here's the deal with sweet peas-if you do not cut them regularly they stop blooming altogether. Then they dry up and die.
For many weeks I have faithfully cut as many long stemmed blooms as my vines have produced. If I cut one bouquet today, I'm sure to have two bouquets tomorrow. I have so many bouquets of sweet peas I'm running out of vases. I give them to neighbors, friends and family. Cheapskate Central has so many sweet peas, staffers beg me to move them into another room to gain relief from the fragrance. The more my sweet peas give up the more they have to give the next day and the greater their abundance. I wish you could see them.
Giving is the secret of never running out. But it takes a leap of faith to cut that first harvest. But soon you realize you have more than you had before. So you give again and you give more. And the more you give, the more you have to give. The more you bless others, the more blessed you become.
Winter's coming
No matter how beautiful my garden is today, I know it won't last forever. So each day I try to enjoy the garden for the moment and also save a mental picture for the future. This way, when the days grow short and winter settles in I know I can always reach back into my memory bank..
Being diligent to always save something for the future is the secret
for how to come through the difficult seasons of life. It's nice to know you'll always have sweet peas in December.


© 2005 The Cheapskate Monthly. All rights reserved. Used with permission.


"The Cheapskate Monthly" was founded in 1992 by Mary Hunt.  What began as a newsletter to encourage and empower people to break free from the bondage of consumer debt has grown into a huge community of ordinary people who have achieved remarkable success in their quest to effectively manage their money and stay out of debt.  Today, "The Cheapskate Monthly" is read by close to 100,000 Cheapskates.  Click here to subscribe.