Money, Purpose, Joy
Matt Bell

Author

2009

23 Sep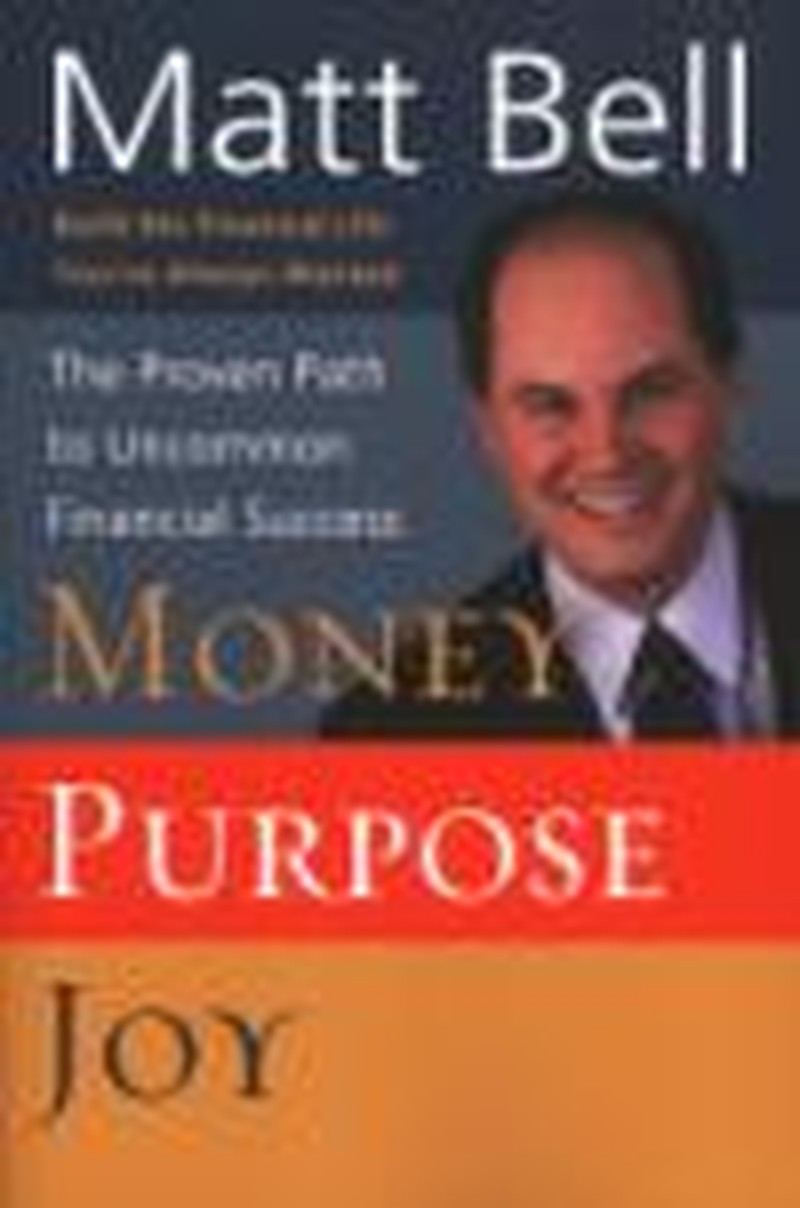 EDITOR'S NOTE: The following in an excerpt from
"Money, Purpose, Joy: The Proven Path to Uncommon Financial Success"
by Matt Bell (NavPress).
Wandering from Home
After one of my first financial workshops, in which I shared part of my journey, a participant approached me with a question and casually referred to my "prodigal son story." Until then, I hadn't made the connection. That night, as I reread the biblical story of the prodigal son, I was amazed at how similar it was to my own story.
There was a man who had two sons. The younger one said to his father, "Father, give me my share of the estate." So he divided his property between them.
Not long after that, the younger son got together all he had, set off for a distant country and there squandered his wealth in wild living.
Three years after graduating from college, I received an inheritance of $60,000 from an uncle. At the time, I was earning around $25,000 a year working as a freelance radio journalist. When I received the unexpected check for more than twice my annual income, I felt as if I'd won the lottery. I saw the inheritance as an incredible, once-in-a-lifetime opportunity.
I decided to use the windfall to create my dream job. I wanted to be one of those rare people who actually looked forward to Mondays. I took a quick inventory of the things I most enjoyed; golf and travel topped the list. Then I stirred in my profession of journalism and came up with the idea of writing a newsletter for people who take golf vacations. What could be better than trekking around the world, traveling from resort to resort, reporting on the best places to play? I bought some desktop publishing software, took out an ad for the newsletter in a golf magazine, booked my first trip, and Links Review was born.
Once a month I traveled to a beautiful vacation spot to review, photograph, and, of course, play the best golf courses in the area. I went to Puerto Rico; southern Spain and Portugal; Orlando, Florida; Pinehurst, North Carolina; and the Pebble Beach/Carmel area of California. Stories about my newsletter appeared in publications such as Golf Magazine and the Chicago Sun-Times. When I was home, I used my newfound wealth to enjoy the better restaurants Chicago has to offer and to buy clothing from the city's higher-end shops. I looked the part of a successful, young entrepreneur. Never mind that my newsletter had few paid subscribers. That seemed like a minor detail since I had what felt like an endless supply of money in the bank. So I kept traveling, writing, and enjoying myself. The entrepreneurial life was everything I dreamed it would be — except profitable.
After he had spent everything, there was a severe famine in that whole country, and he began to be in need. So he went and hired himself out to a citizen of that country, who sent him to his fields to feed pigs. He longed to fill his stomach with the pods that the pigs were eating, but no one gave him anything.
I soon discovered that when you spend a lot more than you make every month, even when you start with a healthy cash cushion, it doesn't take long to get in a jam. Two years after receiving the inheritance, I was in financial trouble. Deep trouble. Not only had I squandered the $60,000 but I'd spent so much more — $20,000 more — that I could not make the minimum payments on my credit cards while still paying for food and rent.
When he came to his senses, he said, "How many of my father's hired men have food to spare, and here I am starving to death! I will set out and go back to my father and say to him: Father, I have sinned against heaven and against you. I am no longer worthy to be called your son; make me like one of your hired men." So he got up and went to his father.3
As I began realizing the depth of my financial problems, my parents sensed that all was not right and asked me to come see them for a little chat.
While he was still a long way off, his father saw him and was filled with compassion for him; he ran to his son, threw his arms around him and kissed him.
The son said to him, "Father, I have sinned against heaven and against you. I am no longer worthy to be called your son."
But the father said to his servants, "Quick! Bring the best robe and put it on him. Put a ring on his finger and sandals on his feet. Bring the fattened calf and kill it. Let's have a feast and celebrate. For this son of mine was dead and is alive again; he was lost and is found." So they began to celebrate.
My parents didn't hold a celebration in my honor, but they graciously invited me to move in with them in order to help me turn my situation around. I will always be grateful for their support. I don't know what I would have done otherwise. However, to go from the good life I was living to residing in my parents' basement in the small town where I grew up? That was brutal.
For two months of what would become a six-month stay, I was depressed. I looked forward to the nighttime, when I could close my eyes and sleep. I wanted to forget about the way I had mismanaged my uncle's money and wasted the chance to live my dream. I dreaded the coming of each new day, when I had to face the reality of my situation. Over and over I reminded myself of the obvious: I didn't know the first thing about managing money. Anyone who could take $60,000 and turn it into negative $20,000 was not exactly a money-management genius.
A New Beginning But hitting bottom became a catalyst for some positive changes in my life. First, I became motivated to learn how to manage money well. I devoured every personal-finance book and magazine I could get my hands on, and I've been studying the topic ever since.
Second, I started thinking about the big questions of life: What's my purpose? Where do I go from here? Right about then, I received a phone call that marked the beginning of a life-changing spiritual journey. Wayne and I had been in the same broadcast journalism program in college, and we had worked together at a public radio station while we were students. I graduated a year ahead of him and moved out of state for a job, and we fell out of touch. When Wayne heard that financial problems had led me to move back home with my parents, which wasn't far from where he lived, he gave me a call. Unknown to me, during his last year in college, Wayne's faith had become the center of his life.
I grew up in a family that rarely went to church. My father was a nonpracticing Jew, my mother a nonpracticing Catholic. Even though my father had told my mother he would not marry her if she insisted on raising their children as Catholics, she somehow passed down to me her basic beliefs. I grew up believing that Jesus is the Son of God and in heaven. But that's about as far as it went; those beliefs had little influence on how I lived my life.
When Wayne and I got together to talk, I'll never forget his stark conclusion about the mess I'd made of my finances: "The more you've leaned on your own understanding, Matt, the more things haven't worked out so well." He also offered a few hopeful comments, such as, "God has a plan for your life." As I thought about it, I had to agree with his first statement, and his second one intrigued me. I had no idea what might be next, so the suggestion that someone did know got my attention. My respect for Wayne, his passion for his convictions, my circumstances, and the notion that there may be some plan for my life made me want to learn more about matters of faith. While maintaining the skepticism of a journalist, I began reading the Bible. I even started going to church.
Four months after moving in with my parents, I went back to work as a freelance radio reporter. A couple of months later, I was back in Chicago, living in a studio apartment. Committed to getting out from under my pile of debt, I was taking on any story assignment I could get — working nights, weekends, whatever it took to earn as much money as possible. I also had begun dating someone I met at church.
One night, after an upsetting argument that put the future of the relationship in doubt, I found myself in the quiet of my tiny apartment, feeling very broken. It was all too similar to the feeling I had when my golf newsletter was going under. Wayne's observations echoed in my head: The more you've leaned on your own understanding, Matt, the more things haven't worked out so well and God has a plan for your life. I realized that I was still working my plan and, once again, it wasn't working out so well. I bowed my head and prayed a simple prayer: God, if you really do exist, I'd like to know you. If you really do have a plan for my life, I'd sure like to know what it is. I'm sorry for the many ways I must have disappointed you and for making myself the focus of my life. From this point forward, my life is in your hands. Do with it what you will. Amen.
Two Journeys Become One
I didn't see any lightning bolts, the clouds didn't part, and no weeping angels appeared. But after committing my life to Christ, I began to study the Bible more closely. The more I read it, the more I realized that it has a lot to say about money. Much of what I was learning about a life of faith was directly relevant to how I managed my finances. What I'd thought were two separate journeys — my financial journey and my spiritual journey— were tightly bound together.
One of my biggest aha moments was when I realized that many of the cultural messages about managing money are completely wrong. Instead of moving us toward greater success and happiness, they push us in the opposite direction. As I began helping others with their finances, I started seeing that our acceptance of the common beliefs about money management has turned many of us into prodigal sons and daughters, leading us away from home — home being a metaphor for all that truly matters and makes life meaningful.
Many financial teachers who want to help people move in a better direction with their money share a common recommendation — namely, to stop stretching so far. It's a reasonable-sounding idea, logical even, what with the savings rate and debt levels where they are. But it, too, is wrong. The real solution is that we need to stop settling for so little.
Turning toward home, toward uncommon financial success, requires that we set our sights higher, that we become clear about what truly matters and who we were made to be. It involves looking beyond the many cultural distractions that seem intent on pulling us off course, and keeping our eyes fixed and our money focused on that which gives our lives meaning, purpose, and joy. It involves refusing to settle for anything less. When we turn toward home, our use of money becomes a powerful expression of who we are and what we're about.
I wrote this book to help you make that turn and stay on the financial path toward all that's most important to you. The rest of part 1 will help you see how far you may have wandered from home in your use of money and why; part 2 will help you clarify what really matters so that you can orient your financial choices around those priorities; in parts 3 and 4 you'll learn specific steps that'll help you use money in a way that expresses those priorities.
At the end of each chapter, you'll find a short summary of the chapter's key points, some action steps, and a verse of Scripture related to the chapter for further reflection. Throughout the book, you'll also find several forms to help you act on what you're learning. If you are using the personal workbook, it contains full-sized versions of the forms along with additional forms and other tools that will help you go further with the practical applications. In addition to the workbook, a companion study guide is available for group or individual use. It will help you dig deeper into matters of the heart as they pertain to money and dive more deeply into God's Word.
Lasting behavioral changes begin with internal changes — changes in how you think and what you believe — so that's where we're going to start. For a financial book, this is an uncommon approach. But I assume you're interested in uncommon results. Not just the appearance of success or short-term success, but true and lasting success. Not just financial peace, but financial joy.
The process you are about to learn has enabled many of the people I've worked with over the past eighteen years to achieve their financial goals, such as getting and staying out of debt or building savings. For others, it has meant learning how to use money in a way that brings greater meaning and fulfillment. For most, it has meant some of both.
Much of what follows will feel countercultural because it contradicts many of the messages that surround us — messages that more often than not hurt our finances and hinder our happiness. But it won't feel counterintuitive because this book is about getting reacquainted with some of your deepest desires and allowing them to guide you toward home, toward the most effective, joyful use of money.


Money, Purpose, Joy: The Proven Path to Uncommon Financial Success
Copyright © 2008 NavPress Publishing. All rights reserved. To order copies of this resource, come back to www.navpress.com.